The Top 10 CMS Platforms your Business Should Consider Using
By Amalie Widerberg
on July 11, 2022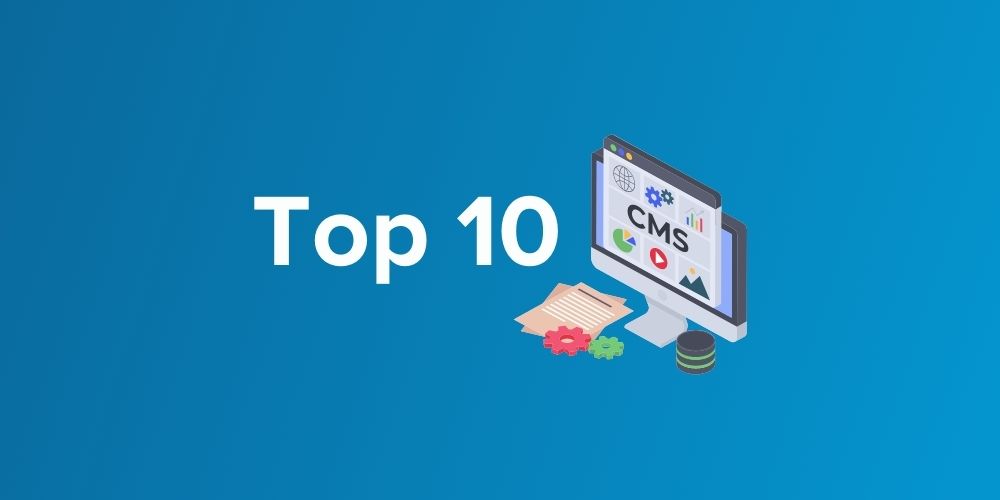 A Content Management System (CMS) is a platform that enables you to manage and publish content on a website - from publishing web pages and blog posts, to embedding images and videos, to adding categories and tags, and much more. There are many different CMSes to choose from today and which system to choose is often dependent on several factors like the complexity of your needs, the amount of content published, and the experience of your team, to name a few. All of these variations can make it difficult to evaluate whether or not you need to replace your current system or compare the different options.
In this article, we take a look at the top 10 CMS platforms on the market and their suitability for different businesses and user needs.
What to look for in a CMS platform
There are many things to consider when choosing a CMS for your business. Firstly, you want to ensure the system fits your team's experience level. For many companies, this means investing in a user-friendly CMS with a drag-and-drop interface.

Another important factor is the system's design possibilities. Ideally, you should have a lot of templates to choose from, which should also be easy to edit or customize. It's also crucial that your content is easy to manage within the platform and can be published, edited, or revoked with minimum effort. Many companies chose to integrate their CMS with other tools to improve this functionality further, leading us to another central point: scalability.

You should make sure that your CMS is flexible and easy to scale. As your business grows or the market changes, you might find the need to invest in additional software. Integrating your CMS can greatly boost the efficiency of your tools and enhance the return on investment of any additions to your tech stack.


Regular CMS or Headless CMS?
In recent years, some CMS providers have invested in providing a headless structure, meaning that the server or cloud where you store your content is separated from the outputs to where it's published. This can be a great benefit if you need to publish your content on different sites and applications but doesn't remove the need for additional software and integrations, as these systems tend to lack some core functionality related to metadata management and automation.


The top 10 CMS platforms
The following list is not ranked in order of best to worst, but is rather a collection of the 10 CMS platforms that we believe most businesses should consider, with varying suitability for different needs and use cases.
1. WordPress

WordPress is undoubtedly the most well-known and adapted CMS platform, hosting 43% of all web content. There are multiple reasons for this, one of them being the platform's very reasonable pricing, even having a free version available for basic web publishing.

Due to its popularity, WordPress has become somewhat of an industry standard and is often easy to integrate with other software. At FotoWare, for instance, we offer an out-of-the-box plugin specifically designed to enhance the system's value. If you already use WordPress, read more about the plugin here.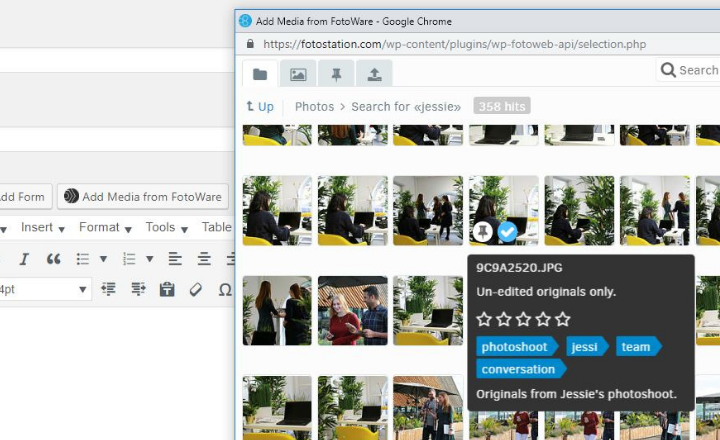 LEARN MORE: 4 Reasons Why WordPress Users Need a Digital Asset Management Plugin
2. Drupal

As a highly flexible, open-source CMS, Drupal is the perfect choice for large enterprises with advanced publishing needs. Several companies across industries and public institutions rely on its customizable system, which offers a plethora of sought-after features.

Drupal can also be integrated with many other types of software and is one of the most secure platforms on the market. However, due to its advanced setup, it's not ideal for inexperienced teams. Has your organization got the Drupal CMS? See how you can connect it with FotoWare here.
3. Optimizely (formerly Episerver)

With its headless structure, Optimizely describes itself as a Digital Experience Platform, and with good reason. The platform offers a particularly flexible structure and good workflow capabilities and allows users to publish content on several sites and applications simultaneously.

The headless structure is perfect for enterprises with advanced content needs, and when paired with a DAM, you're sure to keep complete control of all your content no matter where it's published. It's also known to be easy to use and offers a high degree of flexibility. However, it's regarded as one of the more expensive CMSes on the market and is, therefore, not ideal for companies on a tight budget.
Are you using Optimizely as your CMS? Learn more about the FotoWare Connector integration here.
4. TYPO3

Originally released in 1998, TYPO3 is one of the market's most reliable open-source CMS platforms. It's tailored towards enterprises and supports massive websites with multiple subpages and language variations. This CMS integrates with thousands of other systems and applications and is a great fit for companies with advanced and complex needs.

While TYPO3 is great for enterprises, it might not be ideal for smaller businesses, as it's not for beginners. It also has certain limitations regarding ready-made templates, often requiring some coding experience from its users to get the full value from the setup. Does your organization use TYPO3? Take a look at the FotoWare integration here.
5. HubSpot CMS hub

Built upon the HubSpot CRM system, this CMS platform specifically targets marketers. It's known for being easy to use and inhabits a high volume of features. The drag-and-drop interface makes it a good choice for creative teams lacking technical experience, and the built-in security measures also decrease the need for additional expertise.

Unfortunately, HubSpot doesn't offer the same integration possibilities as other platforms on this list. However, since it's connected to the rest of the HubSpot ecosystem, you can enable several features without integrating with another CRM, for example.

On the downside, HubSpot is quite expensive and lacks certain e-commerce functionalities.
6. Enonic

The Norwegian CMS provider, Enonic, is one of the most advanced headless CMS platforms on the market, offering several core features related to content management, all in one hub. To get full value from the system, some UX expertise is required, but the CMS is still considered rather easy to set up and use in light of its powerful capabilities.

If you're simply interested in a single website, Enonic may be too advanced for your needs. Still, if you're looking for a solution that can scale and build custom web applications and experiences, it's one of the best options on the market. Do you already use Enonic? Check out the FotoWare integration here.
7. Sitecore

Describing itself as a Digital Experience Platform, Sitecore is an incredibly powerful tool for content management. The platform can handle almost any challenge you throw at it and offers a plethora of features and integration possibilities. However, since the software aims to solve a high number of problems in one solution, some might find it a bit difficult to implement and use. If you already use Sitecore, you can take a look at the FotoWare extension here.
Video: the FotoWare extension in Sitecore
8. Joomla

A bit similar to WordPress, Joomla is an open-source CMS with most of the standard functionalities available. The pricing is very reasonable, with a free version available to download, that can be used both by developers and beginners with a minimum of experience.

While the ability to code isn't necessary for using the system, it's recommended to at least have a little knowledge if you want to build something more complex-looking. In addition, Joomla lacks quite a bit in terms of integrations but has several features available and can also be used for e-commerce purposes.
9. Shopify

This all-in-one CMS is great for retailers who want an easy-to-use solution. With its drag-and-drop interface and built-in e-commerce functionalities, Shopify suits most retail companies with basic to somewhat advanced needs. The main downside is its lack of available add-ons and integrations, which may be limiting if you're looking for something very specific.
10. Wix

For beginners with simple needs, Wix can be just right. It's incredibly easy to use, with a drag-and-drop interface and many pre-made templates. However, it's quite limited in integrations and special features and is not the easiest platform to scale.
How to build a content ecosystem with your CMS
Once you have chosen your desired CMS, it is important to remember that, while a CMS is a great tool for web content management, it should not be used as a storage platform for your visual files. If so, you may start to experience difficulties when it comes to finding, managing, and sharing your content. For more about these challenges, you can read our article on 10 reasons why your CMS is not a good place to store your photo and video collection.
To avoid these problems, many organizations integrate their CMS with a Digital Asset Management (DAM) solution to build a content ecosystem and streamline their content workflows. This enables them to store, manage, find, and share all visual files securely and efficiently.
When your assets are managed in a DAM, you have a single source of truth for all your files, which are easily searchable by adding metadata, like keywords and descriptions. You can also instantly access the files through plugins and integrations to other systems in your tech stack, like your CMS. Such an integration enables you to save time by reducing repetitive tasks, like downloads and uploads between systems, editing images for various formats/sizes, and revoking images in all locations when the rights have expired.

LEARN MORE: How to work faster with metadata-based workflows

In short, a DAM sits at the core of your content ecosystem, while a CMS is used to manage the web outlets where your content is made available to the public. At FotoWare, we offer integrations with several of the CMS platforms on the list above, making it easy to manage visuals across multiple different outputs. You can see the full list of integrations here. If you already have a CMS and want to learn more about how you can create your own content ecosystem with FotoWare DAM, you can book a demo with one of our experts to see how.