Digital Asset Management vs Cloud Storage - What's the difference?
By Amalie Widerberg
on November 3, 2020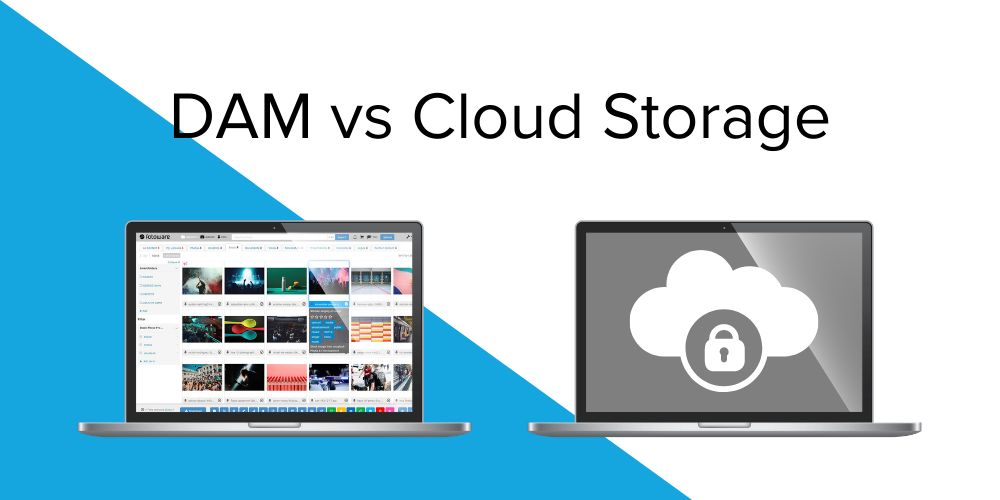 Does your organization use a cloud storage system like Dropbox, Google Drive, SharePoint or OneDrive to store files? If so, you're probably wondering what exactly is the difference between those types of systems and a Digital Asset Management solution. In this article, we break down the key differences between them and show why it's not always a question of having one or the other. Plus, you can also find some direct comparisons between the FotoWare DAM and the most common cloud storage systems.
What is a Digital Asset Management (DAM) system?
Digital Asset Management is the business process of organizing, storing, and distributing rich media and managing digital rights and permissions. In other words, it gives you a single place to store your valuable files, add information to them, and organize them in such a way that your coworkers don't need your help to find them.
This is made possible because a DAM system relies on metadata being added to your files, which is essentially just extra information added by the user, like keywords and descriptions. It might also be info that can be extracted automatically such as creation date, file size, file type etc. By adding metadata to the files, you make them assets – their value increases since they can be found and reused when you need them again.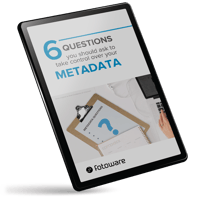 The Fundamental Difference
A Digital Asset Management system is designed to organize your files in a way that cloud storage systems do not. The main difference between a DAM system and other cloud storage solutions is that a DAM is centered around the assets, while most cloud solutions are centered around the user. This means that content uploaded to a DAM is accessible to everybody in the organization by default. Of course, you can still restrict access to your assets (for certain users, departments, or teams within the organization, for example), but the idea behind a DAM is that the system serves as a common hub for digital assets within your organization.
In contrast, when you add files to a cloud storage system, they are private until the user decides to share them. This makes it difficult for other users to find the files they need without asking for help from others. Cloud storage solutions therefore rely on the users knowing exactly how and where to find files, remember the specific folder a file was stored in, and the folder structure leading to it, or even the exact filename.
Another benefit of adding metadata to your files in a DAM system, is that it also ensures that the right files are used at the right times - or more importantly, it avoids files being used at the wrong times! This is done through visible markers which can be displayed on an asset, based on its metadata. For example, markers are commonly used to show the usage rights and licenses for stock content or GDPR consent information.
DAM vs. Cloud storage systems
While all cloud storage systems fill a similar role in an organization, there are a number of differences between them and how they compare to a Digital Asset Management solution like FotoWare. We've compared some of the most common platforms so that you can see a direct comparison between them and the FotoWare DAM.
It's also important to bear in mind that cloud storage systems and DAM solutions can complement each other and work together. As you will see, you don't necessarily have to choose one type of system over another. Oftentimes, a cloud storage system can be used for day-to-day files that you and your team are working on, but a file only becomes an asset once it is in its final state and available to others within the organization. In this way, keeping these files in a DAM can transform your organization's efficiency.
However, if your main goal is simply to store all of your files in one program, you should definitely spend some time evaluating exactly which type of solution is the best fit for your particular needs. Click on the links below to read direct comparisons between the FotoWare DAM and the most popular cloud storage systems:
According to Microsoft, SharePoint empowers teamwork with dynamic and productive team sites for every project team, department, and division. It allows you to share files, data, news, and resources. Your SharePoint site can also be customized to streamline your team's work. Discover how it differs from a DAM solution and how you can tell if you need one or the other - or both. Read our article DAM vs SharePoint here.


Microsoft describes Microsoft 365 as a productivity cloud across work and life. The platform delivers tools for collaboration, communication, device security, and IT management, and it integrates with plenty of other applications. Find out how Microsoft 365's cloud storage tool OneDrive compares to a DAM, and how they can also complement each other. Read our article DAM vs Microsoft OneDrive here.


Google Drive is described as a safe place for all your files, where you can store, share and collaborate on files and folders from any device. But how is this different from a DAM system? Read our article DAM vs Google Drive here.


As a solution for storage and sharing for both individuals and businesses, Dropbox might seem similar to DAM, but there are a number of vital differences around how you can work with those files once they are stored. These are integral in deciding whether you should choose one solution over the other. Read our article DAM vs Dropbox here.


Microsoft Teams is called 'The hub of teamwork in Microsoft 365' and is predominantly a communication tool where you can chat, meet, call and collaborate with people in your team or organization and externals. However, it shares many similarities with a DAM system - we've created this comparison so you can know exactly how the two differ from each other. Read our article DAM vs Microsoft Teams here.
Are you considering a DAM for your organization, or do you want more information about the FotoWare solution? Click the link below to book a noncommittal demo with one of our experts.