Why IPTC Metadata matters for Image Management - Interview with Denise Kremer
By Eunbyeol Koh
on August 19, 2022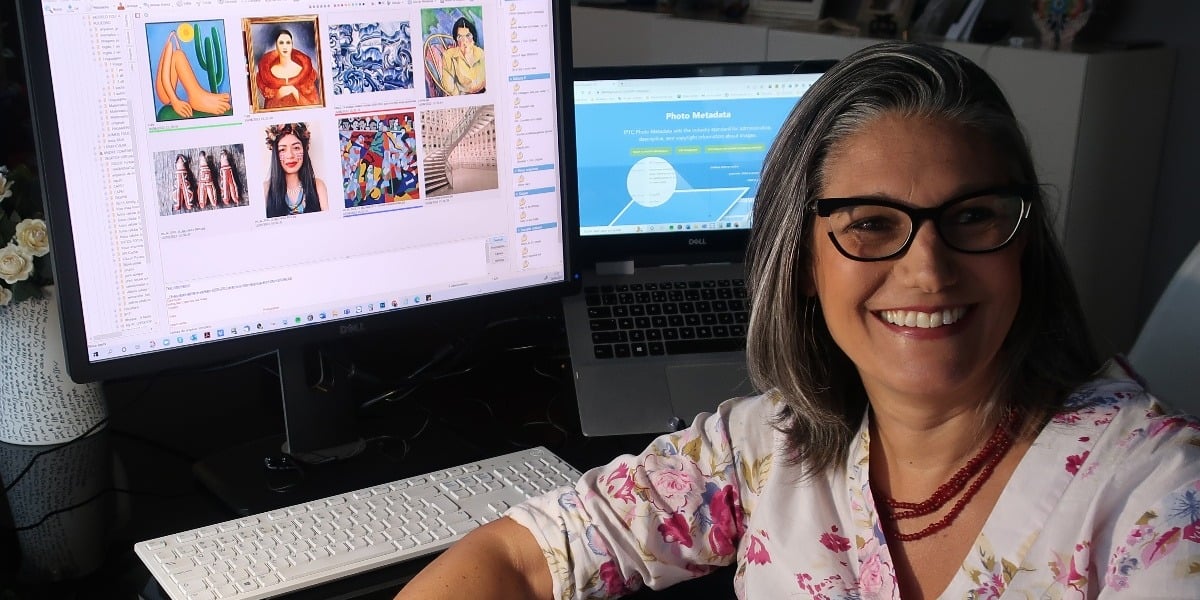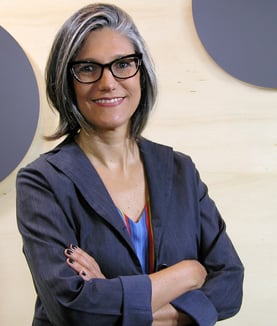 Denise Durand Kremer is a picture researcher in São Paulo, Brazil. She's been working in the publishing industry since 1997. Having worked with image processing for Brazil's main publishing groups over the past 25 years - and using a DAM solution for image management for over 20 - she has a deep understanding of the standards and protocols for handling visual content.
As the volume of content has been growing exponentially in the digital era, she's highlighted the importance of metadata in consistent image management. This year, she became an individual member of the IPTC Organization with the intent to help Brazilian companies better deal with image metadata.
We caught up with Denise to hear more about what IPTC metadata means for digital content, and how to keep up with the challenges of image management.
What is IPTC?
Founded in 1965 and based in London, the IPTC arose from the need to ensure that text and image remained interconnected. As photography moved into the digital age, it was common for a photo to lose its caption or credit when being electronically transmitted. IPTC´s main goal is to develop and promote industry standards for the exchange of data. The organization deals not only with photos, but also video standardization.
IPTC's focus is to simplify and promote technical standards, and spread them among providers, intermediaries, and consumers. They have direct contact with creators, developers, and vendors like FotoWare, Adobe, AFP, AP, Reuters, Getty, and Smithsonian. For example, we're currently working on accessibility field standardization. The last IPTC Conference, "Accessibility, Interoperability, and Authenticity", announced the new accessibility field standards.
IPTC is also participating in discussions about very important contemporary questions. In the last Spring Meeting, for example, subjects such as synthetic media, FakeNews, authenticity, metadata on NFTs, image generation by AI, and machine learning improving OCR techniques, were discussed over the three-day event.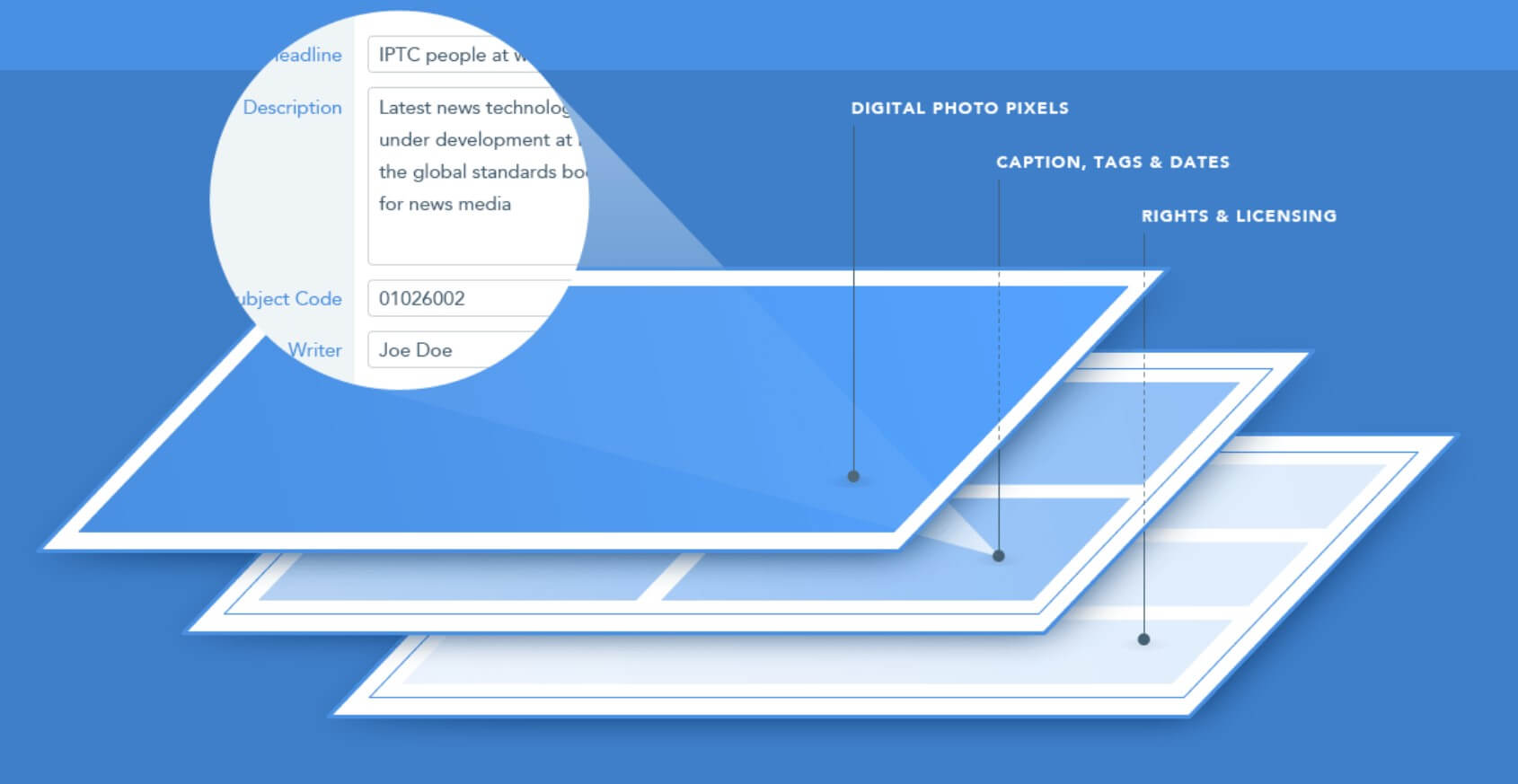 Image by IPTC. Photo metadata is a set of data describing and providing information about the rights and administration of an image. It allows information to be transported with an image file.
Why did you decide to be a member of IPTC, and what's your main responsibility as a member?
I decided to become a member because I believe standardization should be more well-known in Brazil. It´s common for a company to choose how to use the fields according to its internal needs but very often it compromises the interoperability (which means making sure the information is read correctly when changing software/platforms). By the way, on the website, we have three interesting Interoperability Tests that everyone can use.
Last year, I was working for a publishing house that made a lot of accessible material for Brazilian students. I was studying how to improve the image workflow to quickly convert the material for visually impaired students. That´s how I approached the organization and decided to reach out to them. IPTC has just recently included the fields Alt Text and Extended Description in the Metadata Standard 2021.1, both for accessibility purposes.
IPTC has also created a table comparing Social Media Sites' Photo Metadata, where we can see how Facebook, Flickr, Dropbox, Instagram, and Google Photos, among others, deal with image metadata. With it, you can see how there's still a lot of discrepancy in the handling of metadata. And there's much more on the institution's website, with open access to the general public.
What role does Metadata play in image management?
Metadata is fundamental in image management. It is through it that we guarantee the information contained in the image is read correctly. It also allows the correct inclusion of new data. This is where a DAM solution comes into play: a DAM solution guarantees control of indexing, workflow, versions, and secure access of the images.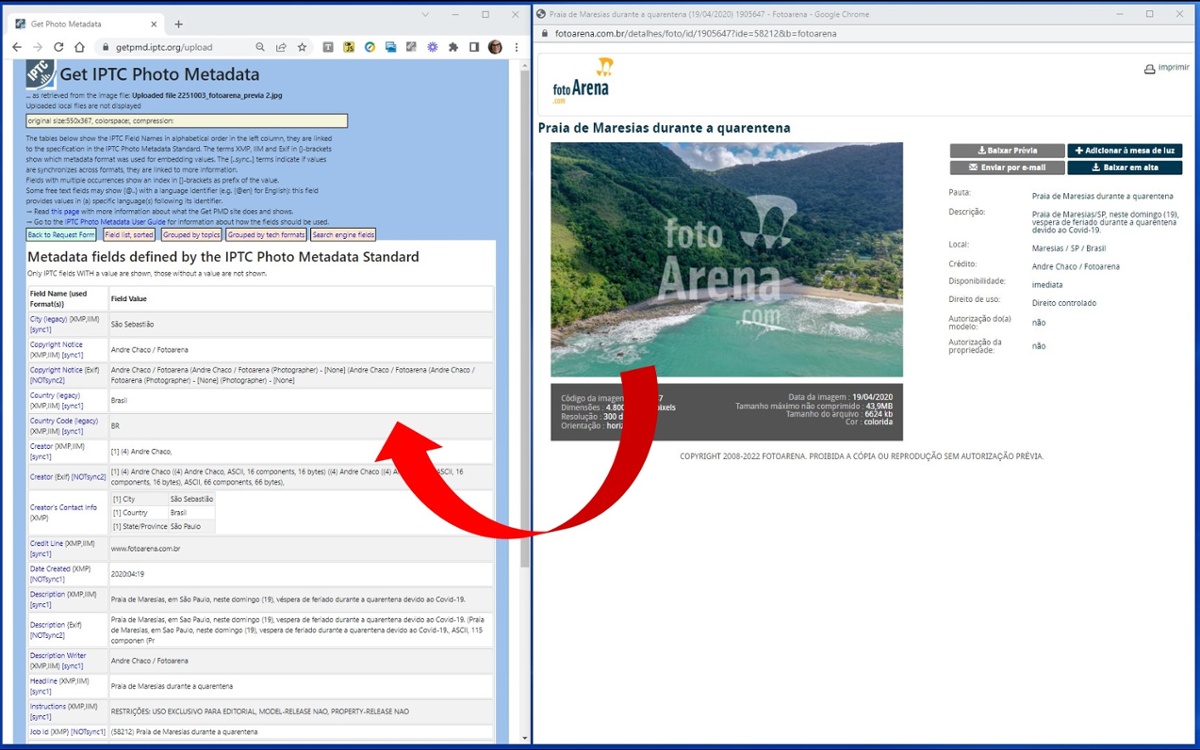 Image by Denise Kremer. Getting metadata from an image belonging to the FotoArena agency using an IPTC tool. The user can upload an image or indicate a URL at the IPTC website.
How can a DAM solution help keep up with image management?
Today's publishing houses (and perhaps all industries at large) must deal with agility with all kinds of assets: photos, videos, music, maps, pdfs, contracts, etc. The nature of communication is becoming more and more reliant on multimedia. Globalization and multitasking demand even more agility to deal with different types of content. For example, a picture researcher needs to deal with different versions of an image, deliver it quickly in a high-resolution archive, completely indexed, while also generating a licensing contract. Sometimes they need to find a file from a previous publication and control its licensing to reuse it as well. And the amount of assets is always growing exponentially.
Another aspect is the sharing between areas. The production process is no longer linear and a DAM solution that allows access by more than one workgroup team simultaneously means greater efficiency.
LEARN MORE: Why Digital Asset Management is Essential for Publishing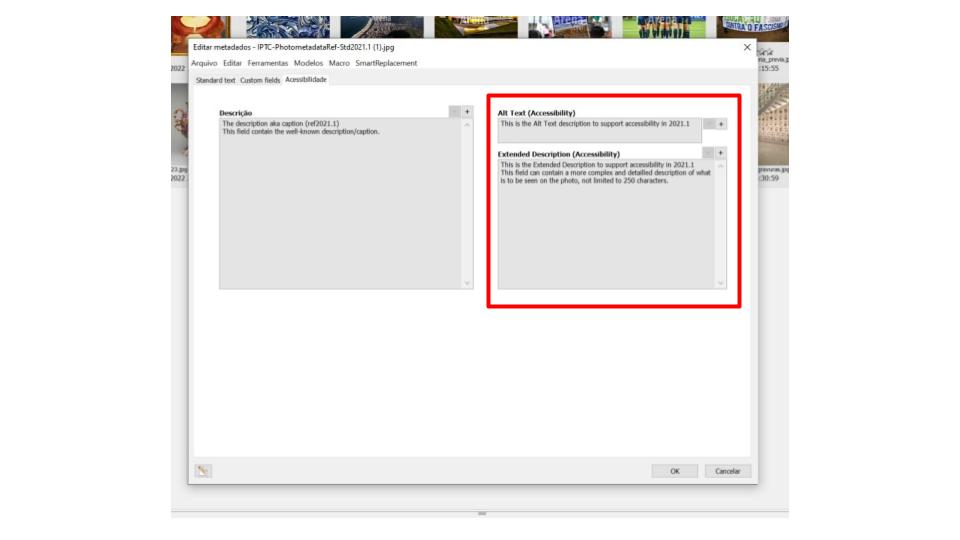 Image by Denise Kremer. Fotostation editor showing the two new accessibility fields, presented by IPTC during the last Conference in 2021. Browers, software and platforms will need to be updated and/or configured to be able to read them.
What kind of industries can benefit from DAM?
I've used the solution in several different companies in the editorial industry. Last year, I faced my hardest challenge with the DAM: installing and setting up the platform from scratch inside a completely new publishing house during the coronavirus pandemic. We had to compose and train the teams to produce a whole textbook collection within a very short period, remotely. We designed a workflow for picture researchers, illustrators, cartographers, proofreaders, and editors. It was an extremely quick and very successful project.
I believe a DAM can be very helpful not only in the publishing area, but also in the GLAM area. In Brazil, it's very difficult to research and license images from galleries, libraries, and museums. The Biblioteca Nacional, Biblioteca Brasiliana Mindlin/USP and Instituto Moreira Salles are examples of good sources, but we need many more. Brazilian art and culture must be preserved and promoted. We have, for example, a variety of contemporary indigenous artists, whose work would certainly be of global interest. And if the National Museum of Brazil (Museu Nacional) at Rio de Janeiro had a good DAM, with everything digitalized and backed up, we'd at least have a copy of the 20 million items that got burned in a fire in 2018.
LEARN MORE: Beyond digitization: How DAM helps Museums streamline operations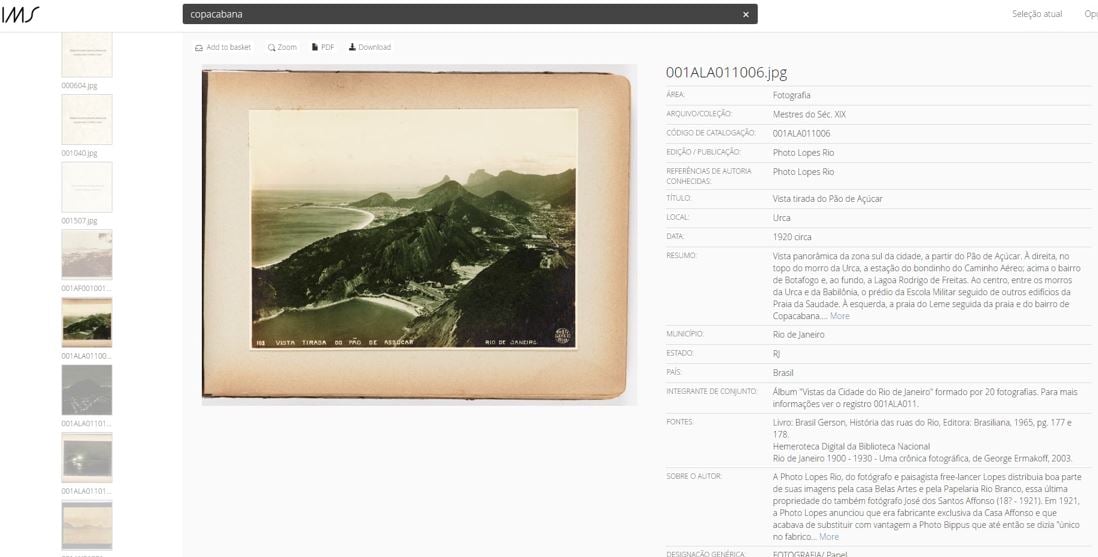 Image by Denise Kremer. Web page from IMS - Instituto Moreira Salles.
What are your top 3 favorite features of FotoWare DAM?
Customized editor, actions, and workflow; along with total control of fields management, visual markers, and priorities are some of FotoWare's best-known features. I'm also very interested in learning more about some new features, like contract management and version control. And as a suggestion, it would also be great if FotoWare could offer a complete editor with all metadata fields – it could help the user find out exactly which fields they need to add to their own editor.
Do you have any tips on managing media more efficiently?
First of all, it´s important to check what information you have in your media before you start changing it. Only after that can you determine good policies and workflow. Some questions must be answered: whether a SaaS or on-premises version is better for the company, who's going to use the assets and how, and which privileges each team should have, among others.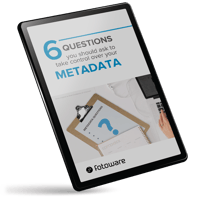 FotoWare eBook
6 Questions you should ask to take control of your metadata

Learn how to ensure metadata governance for your organization.