Managing Media during an Arctic Mass Rescue Operation Exercise
By Amalie Widerberg
on November 1, 2021
As our society continues to evolve and innovate, we are constantly improving our chances of survival. However, this does not eliminate the risks of accidents or disasters, and several societies experience a pressing need to stay prepared if a sudden problem is to arise. One society of this sort is Svalbard: The Norwegian archipelago is situated between mainland Norway and the North Pole, surrounded by the Arctic Ocean frequently traveled by international ships of different sorts.

The arctic climate, remote location, and the amount of sea traffic surrounding Svalbard all increase the chance of potential accidents, resulting in a great need for the local community in Longyearbyen (the main settlement in Svalbard) to be prepared for a large variety of situations. For this reason, the joint Arctic Mass Rescue Operation (AMRO) exercise was conducted on October 8th under the auspices of the Governor of Svalbard and the Norwegian Coastal Administration. During the exercise, several videos and images were taken and stored for documentation and press releases, the managing of which were conducted using the FotoWare DAM solution.

About AMRO
AMRO's objective is to simulate a rescue mission of 200 people onboard a cruise ship crashing far north of Svalbard. There are no roads, houses, or modes of transport nearby, and time is of the essence in order to save lives. A scenario like this is not unlikely, since there are a lot of cruise ships and other ships traveling in the Arctic Ocean and oftentimes it's a long way to the nearest point of rescue. However, if an accident of this sort occurs, there has to be a functioning system in place in order to ensure that the rescue operation works as efficiently as possible.

"[Longyearbyen] is a small community. We have limited resources and we only have a small hospital. So, if a major accident happens, for example, a cruise ship with 200 passengers runs ashore further north of Svalbard, we need to be able to act on that by ourselves before we get assistance from mainland Norway." - Eva Therese Jenssen, Information Manager at the University Centre at Svalbard and Leader of the AMRO 2021 Media Group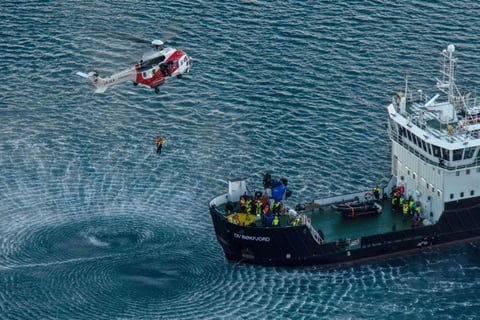 Managing media files during the exercise
Visual files are important elements in most operations, both for documentation and communication. At the 2021 AMRO exercise, images and videos played an important role in generating awareness through the media, as visual elements are essential for storytelling.
"We had a lot of media that was interested and did cover the story, but had no way of coming up here, so it was clear from the beginning that we needed good photographers and a platform where we could share [the files], making it easy for media to get access to pictures and videos from the exercise." - Eva Therese Jenssen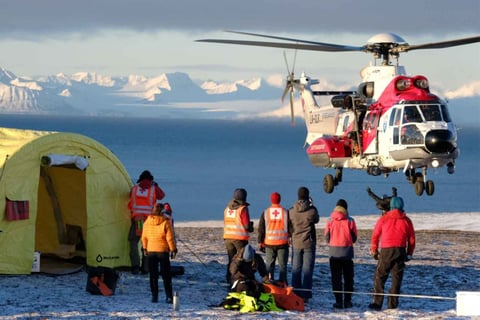 Through hired photographers, drone footage taken by UAS Norway, and an online media library provided by FotoWare, journalists and media houses have been able to efficiently share the story without needing to contact the AMRO media group directly, which has saved a lot of time and made the process of collaborating with the press much faster and more seamless.

"[The online media library] was a good way to communicate to the media and give them access to images that they can also use later in connection with relevant issues if they arise. […] We could decide which ones we should make public, and it worked very well." - Eva Therese Jenssen
LEARN MORE: Telling the History of the White House to a Digital Audience

Enabling collaboration across teams and departments
In real-life rescue operations, imagery is also a crucial part of the investigation, and being able to use a central image database for all the files can be an important step in ensuring efficiency. This will enable all teams and departments to upload and find documentation using the same platform and will minimize time spent on media communication.
"I have a few times assisted the Governor of Svalbard's office in connection with larger accidents and one of the main things the media contacted us for was images. Because they were situated on the mainland, they didn't have the opportunity to document the accident themselves, and there was a constant need for images and videos. […] When something happens, the Governor's office takes a lot of photos and videos because they use it for documentation for the later investigation into the accident, so it's very good to have a system so that when something happens, and the media calls you to have a place to direct them to that is easily accessible." - Eva Therese Jenssen
Just like a real-life rescue mission, the AMRO 2021 exercise has required extensive collaboration across several organizations. Such operations also require solutions facilitating for efficient cooperation across teams, and we are so proud to have been able to support AMRO in managing and distributing their visual materials, which you may check out for yourself in their open press archive.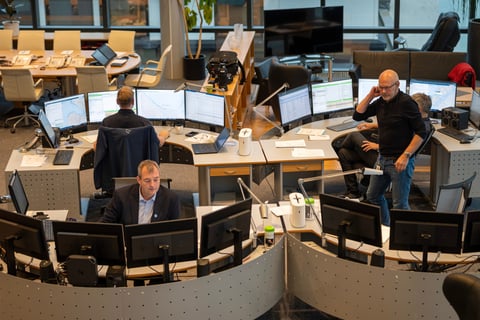 Background for the exercise and partners
The exercise was in part inspired by the Viking Sky incident back in 2019, where about 470 people were evacuated by helicopter from the ship after its engines lost power and drifted towards the shore, where a crash was just barely avoided. Situations of this kind could just as well happen in proximity to the Svalbard coastline, where comprehensive collaboration and routines are necessary for a successful evacuation.
The AMRO exercise is not just relevant for the local Governor, but include a lot of Norwegian organizations and institutions, including the Norwegian Coastguard, the Joint Rescue Coordination Centre of Northern Norway, Lufttransport AS, Barentswatch, the University Centre in Svalbard, Longyearbyen Local Council, UiT - The Arctic University of Norway, the 330 Squadron, UAS Norway, Avinor, Norwegian Space Centre, Longyearbyen Red Cross Auxiliary Corps, and many volunteers.
Want to learn more?
Are you working with media files or asset management and want to learn more about what the FotoWare solution can offer your team? Don't hesitate to book a non-committal demo with one of our experts and see the FotoWare DAM solution with your own eyes!