How Metadata Transforms Image Management for the Art Gallery of New South Wales
By Alex Kronenberg
on March 19, 2018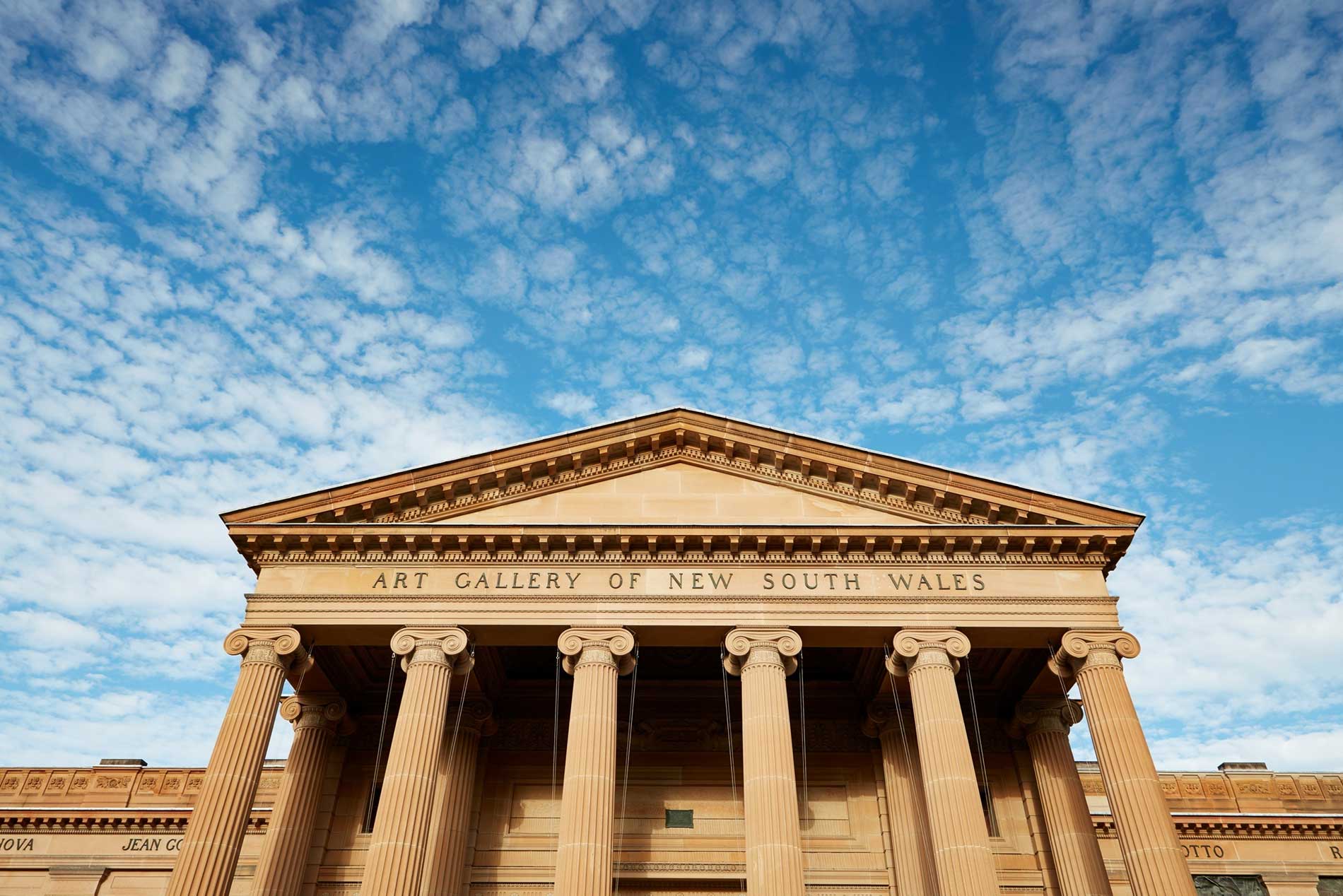 The Art Gallery of New South Wales is one of the most popular art galleries in Australia, visited by over 1 million people annually. With a vast collection of artworks in their possession, they require a Digital Asset Management system to help them manage their visual assets. We caught up with Jenni Carter, to understand why the gallery adopted Digital Asset Management and learn about the impact it has had on Sydney's most important public gallery.
What is your role at the Art Gallery of New South Wales, and what does this entail?
I'm the head of the photography studio at the Art Gallery of New South Wales. I head a team of five photographers and we photograph the Art Gallery collection, exhibitions and all events and activities associated with the business of the Art Gallery.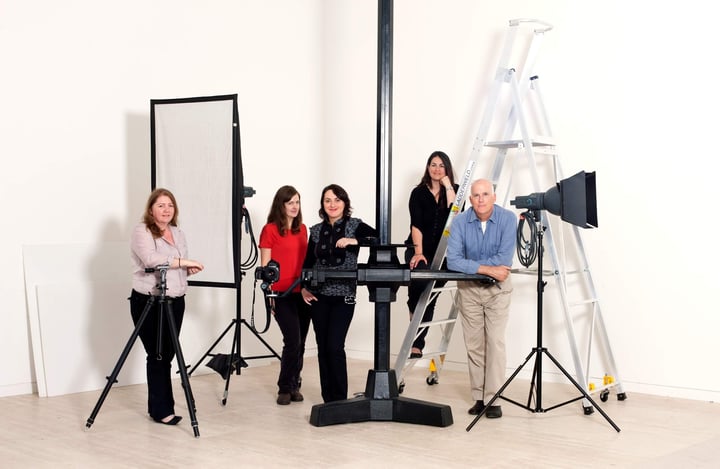 The Photography Studio team in the Collection Store studio. From left: Felicity Jenkins, Mim Stirling, Jenni Carter, Diana Panuccio and Christopher Snee.
What is the purpose of your Digital Asset Management system at the Art Gallery?
It's pretty multipurpose. Firstly, it's for documentation of the artwork and for our website, but it's also for publishing. Not only our own publication, but sometimes other museums may want to borrow the artworks or somebody on the other side of the world might be writing a monograph on a particular artist, so they want images for publication. It's also for our conservation department and our curators, for research – they want to be able to see the condition and details of the artworks.
How were the Art Gallery's digital images managed before you started using Digital Asset Management?
We started with Digital Asset Management in 2008, and before that we had nothing! We started actively digitizing things in about 2001, but we were just using folder structures with lots of sub-folders ordered in years. It was very, very messy with no metadata. We relied a lot on peoples' memories for where to find things – who had seen the photo, and where, last!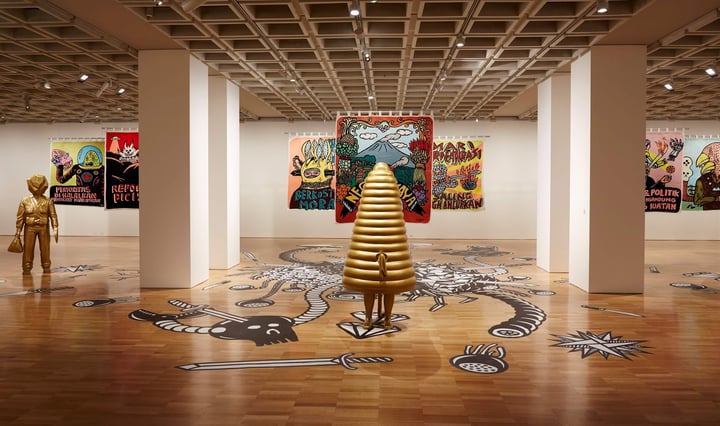 An installation view of Eko Nugroho Kercerdasan bukan untuk mengelabuhi from the installation Lot Lost 2013–15 - synthetic polymer paint on fibreglass, machine embroidery rayon thread on fabric, and vinyl dimensions variable - Art Gallery of New South Wales - Purchased with funds provided by the Neilson Foundation and Dr Dick Quan 2015 - © Eko Nugroho
What were the main problems or frustrations you had without a Digital Asset Management system?
We simply couldn't find anything quickly, we were trawling for files rather than searching. We also had the description [of each image] in the filename, this had very limited data and was very fragile. The way that we file images of artworks is by accession number, so it was previously impossible for people to find things without the metadata, unless you knew that information. It was a very clunky way to try and find things.
On average, how much time is saved when searching for files now, compared to the previous system?
It's a pretty seamless operation now to find images. Previously, the photography department would have to supply all the images to other departments, but now that we have a Digital Asset Management system that's available to all staff, they can actually self-serve to a large extent. That has been a great thing. Before, you'd have to look in a few different places; you'd have to find the number first and then you'd have to go and search around for the image, so just having to type in a keyword now is fantastic!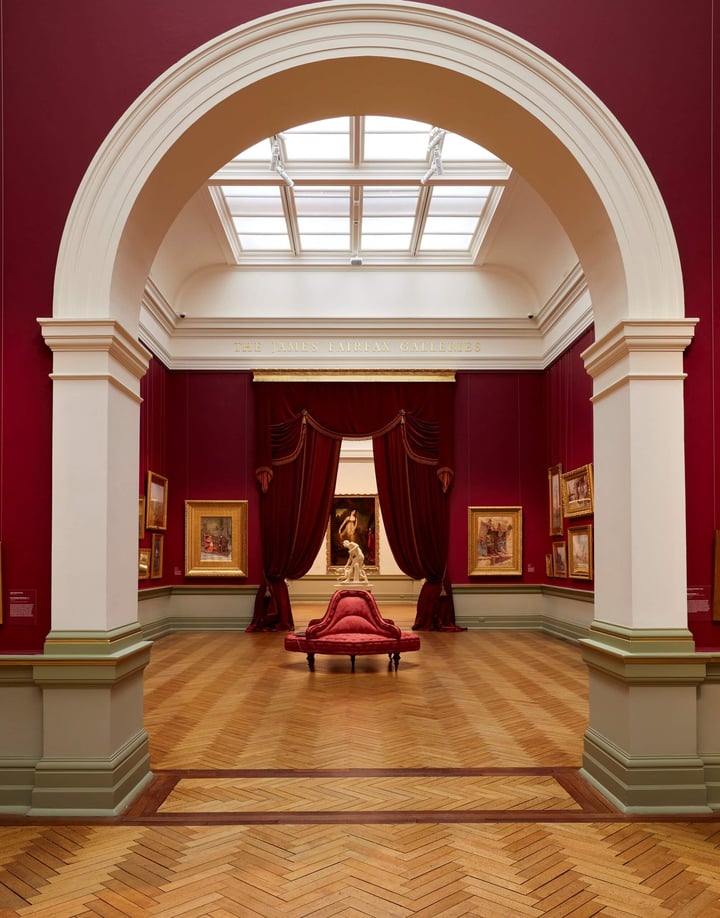 An installation view of Victorian Watercolours exhibition at the Art Gallery of New South Wales from 2 June - 3 December 2017. Featuring over 80 seldom-seen watercolours made between the 1830s and 1900 from the Gallery's collection are presented in a Victorian-style display in the Grand Courts. Photography: AGNSW - Jenni Carter
Who are the main users of the system, and how many people have access to it?
Currently, it's only available to Art Gallery staff and volunteers, and I think there's about 300 people that can access it. We have higher-end users as well, so we have a hierarchy for the more power users, like our design department and our copyright departments. We set permissions for various reasons, some images are restricted and we've been able to filter out certain images because some things have secret and sacred associations with them, so we can't make them accessible to everyone. We also filter who can access the high-resolution files because of copyright restrictions, so we don't give carte blanche access to those files but have low resolution files available for everybody to view. We have a secure hierarchy, setting permissions for who can download, who can edit, and who can change text.
How many assets are stored in the system?
At last count we have around 35,000 artworks in our collection. The Art Gallery has been going since the 1870's and is a state-run gallery, so it's part of the New South Wales government. There's a mix of international art, Asian art, Aboriginal art and Australian art. We try and make sure we have photographed the entire collection, we're currently at about 75% because there's been a photography studio since 1973, so we also have a lot of film archives. We used to photograph everything on 4x5 inch transparency and black and white, so that acts as a record of condition of the artwork as well. When we started digitizing the collection in 2001, we started with scanning transparencies as well as new photography with digital cameras as the technology emerged. One artwork might have 1,000 photos because it might be an installation work that's got many parts, so we might photograph each part separately and do the underside, the back and the inside, there's a lot of detailed information with photography.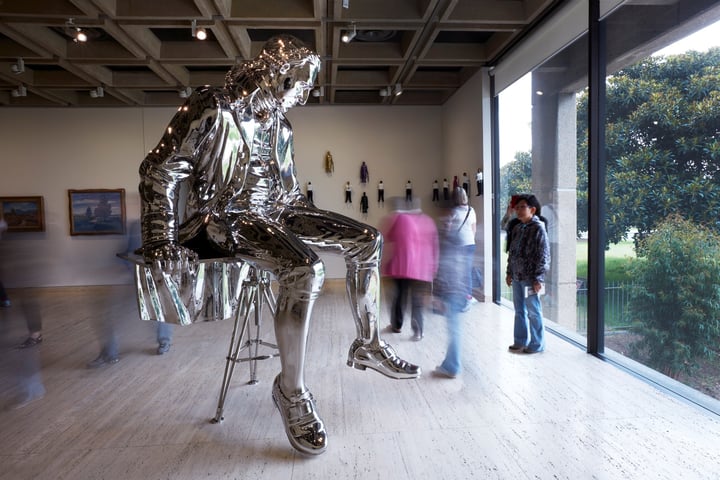 Installation view of Michael Parekowhai, The English Channel 2015, stainless steel, ed. 2/3. Purchased with funds provided by Peter Weiss AO. Photo: AGNSW - Diana Panuccio
What customizations have you been able to make to your current Digital Asset Management system?
With our implementation of our Digital Asset Management system, we've actually been able to integrate it with our collection management system. There's very detailed documentation of all the artworks in the collection, which shows where their current location is, their location history, how much it cost, who they bought it from, and we pull a select number of fields from that database and embed it in the metadata of our images. It automatically happens when we upload our images into the database, so it's been great. This save us a lot of time, we never have to re-type information and we know that the data on the image is always correct. It's a really smooth integration too, just one button!
We were able to customize our DAM system, so it's an upload master action. We shoot at very high resolution and the photographers will make a quick edit, put the photographer credit and a colour code on it which says whether we think it's publishable or not, and then we hit the upload button. From that, it makes derivative files and it pulls the metadata from our collection management database and adds it. That's a live connection so if somebody changes any of the information of the collection management system then it automatically updates all the images, so that means its current and active. Even though it is ostensibly a museum, it's always changing and being updated, so nothing is static. It was easy to customize our systems and we like that it supports an 'open' standard for metadata.
Find out more about the Art Gallery of New South Wales at https://www.artgallery.nsw.gov.au/ or follow them on Facebook, Instagram and Twitter @ArtGalleryofNSW