The seamless integration of Imagga's visual A.I. technology enables FotoWare's users to automatically add keywords and crop photos in a new way. The A.I. solution is now available to all in FotoWare products.
Via its award-winning deep learning technology, Imagga suggests intelligent keywords by automatically analyzing the content of images. With one click, FotoWare's users can easily add relevant keywords to their photos and other visuals. Processing happens behind the scenes on the FotoWare Color Factory server and the resulting keywords are immediately available to users of FotoWeb and FotoStation.
Imagga empowers FotoWare users with one of the most comprehensive keyword libraries with over 23,000 keywords. Auto tagging can be at an object level - identifying what is in the image - as well as at a conceptual level - such as love, happiness, etc.
This partnership also enables the possibility to highlight content in an image using content aware automatic image crop. By analyzing the objects in the image using Imagga Smart Cropping, Color Factory will automatically suggest a crop around the main subject of your image, regardless of its position, using your preferred aspect ratio. The crop can be applied directly to the file or stored as a soft crop in the metadata.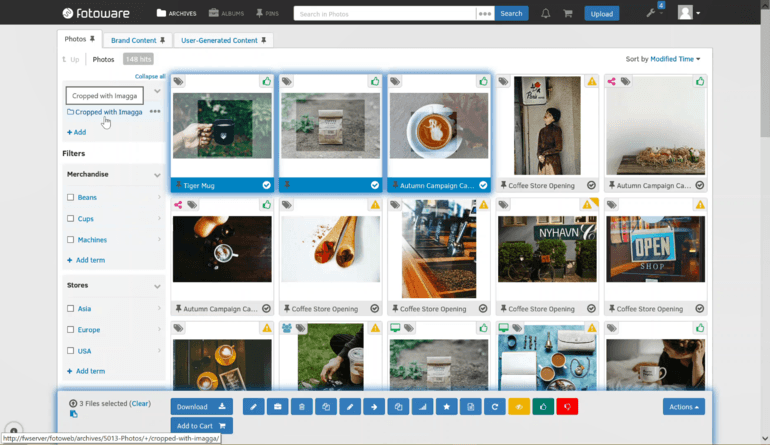 "Considering the importance of keywords in visual asset management, this integration offers the best of two worlds; the ability to quickly process new content knowing that important keywords will not be forgotten," Says FotoWare Marketing Manager Radmila Milenkovich. "Imagga has one of the most powerful, scalable and easiest solutions on the market. As a marketing manager, I use it every day."
"Imagga's visual A.I. is a perfect addition to FotoWare's top of the line image workflow solution", says Georgi Kadrev, Imagga's CEO. "Imagga is proud to provide powerful image tagging and cropping tools that makes FotoWare one of the most advanced DAM solutions on the market."
It is estimated that as much as 10% of images in a collection become unsearchable because of no or poor keywording, making them impossible to retrieve. With Imagga's intelligent keyword suggestions integration, FotoWare dramatically reduces this issue. FotoWare users can considerably reduce the time it takes to tag photos, and their collections become more complete with additional searchable information.
"Our customers are already using auto tagging and content aware cropping, showing how AI has significantly reduced the time they spend in organizing their photos" says Radmila. "It is always a great feeling when we can add a wow-factor to a product and excite our customers".
The integration is currently available in FotoWare's Color Factory workflow automation server. More information is available on www.fotoware.com.
About FotoWare:
FotoWare (https://fotoware.com/) is a Norwegian software company that delivers Digital Asset Management in more than 40 countries, together with our partners. We are 27 employees in Norway, Australia, Sweden, and Russia. FotoWare's solution empowers teams and companies to find, manage, store and share digital content easily. Our solution is available on-premise, in the Microsoft Azure and Amazon AWS marketplaces and as a service (SaaS) leveraging the Azure cloud. FotoWare is the preferred choice of over 4000 customers globally, including the White House Historical Association, Wings of Support, The Financial Times, Volkswagen, and the Metropolitan Police.
About Imagga:
Imagga (https://imagga.com/) is a Visual A.I. Platform-as-a-Service providing restful APIs for developers & businesses to build scalable, image and video intensive capabilities. Built for scalability and easy deployment, Imagga optimizes machine learning to deliver auto-tagging, auto-categorization, smart-cropping, color analysis, content monitoring, face recognition and custom classification to the most demanding image-centric applications. Imagga has been recognized by IDC as one of the top innovators in its space for the year 2016.