How the White House Historical Association Increased the FotoWare ROI
By Mariana Mehedyniuk
on February 24, 2021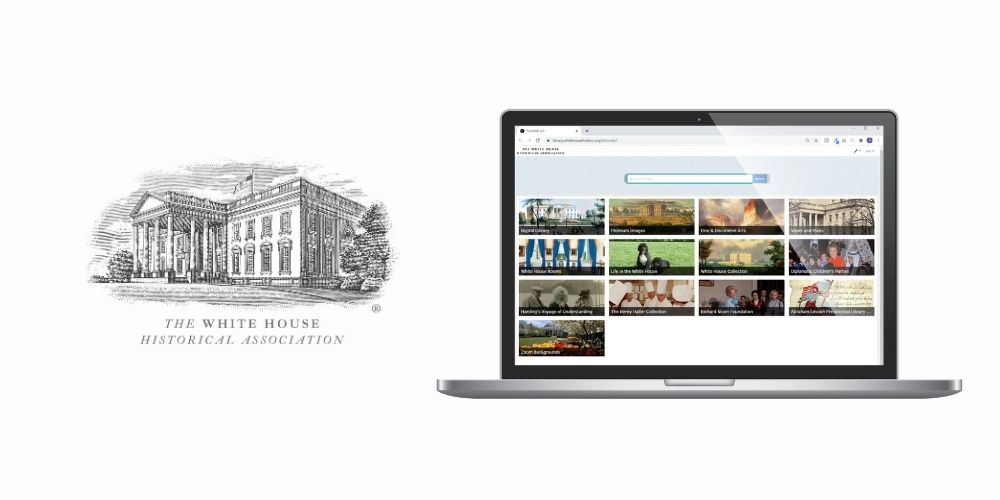 The White House Historical Association (WHHA) is a nonprofit, nonpartisan institution, that aims to enhance the understanding, appreciation, and enjoyment of the White House's history.
To provide public access to its historical collection covering the history of the White House, WHHA established the Digital Library, using the FotoWare DAM solution. The Digital Library also serves as an important internal resource for WHHA and has a Shopping Cart feature, so external users can license images from the WHHA website.
Leslie Calderone, Director of the Digital Library at WHHA and the finalist of Media Management Award 2020, takes us through the process of setting up the Digital Library. This is a great example of how a DAM solution can be used internally and externally, and ultimately bringing a higher return on investment.
Background
The White House Historical Association's (WHHA) Digital Library was launched in March 2016. Previously, WHHA used an in-house database capable of exporting only Microsoft Word documents or CSV files, and a smaller digital asset management system. It contained 2,000 assets, had limited metadata, and no integrated system for licensing requests.
As of January 2021, the Digital Library contains over 20,000 publicly-available assets, over 300,000 internally-available assets, 4,000 registered users, and uses over 60 descriptive metadata fields.
The Digital Library supports the day-to-day work of multiple departments of WHHA and it has been developed to include a user-friendly Shopping Cart that incorporates WHHA's licensing program into the FotoWare solution. It allows users to purchase and license images from the WHHA website easily.
How WHHA increased the ROI of their FotoWare
1. Setting up external and internal archives in FotoWare
To create a system that serves both public visitors and the various departments of WHHA, the Digital Library team set up both internal and external archives. They collaborated with Martin MacDonald from SCS, FotoWare's partner in the USA.
An archive in FotoWare is a place where you upload your files. You can think of them like a folder on your computer that contains all the files of a certain type that you choose.
Public archives are available to all and enable registered users to access free low-resolution images. Such archives contain assets that have historical significance and research value. In this way, public archives enhance WHHA's mission to inform the public about the history of the White House.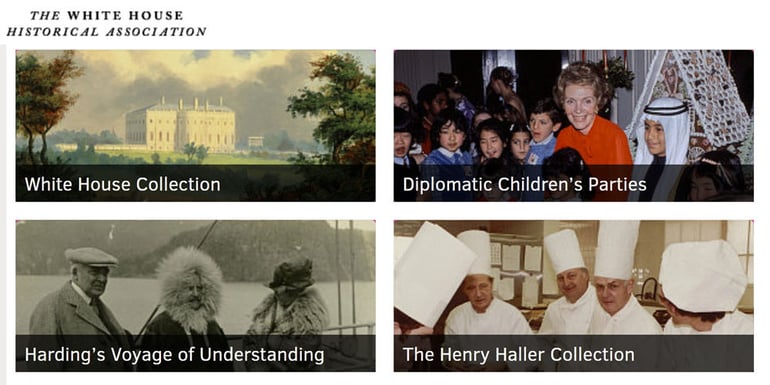 You can visit the public archives at library.whitehousehistory.org/fotoweb/
Internal archives, on the other hand, are available only to the WHHA staff, contractors, consultants, interns, and fellows. Different archives support different WHHA departments. For example: event photos, marketing materials, and retail images are used by the Marketing and Communications department. The assets are also used across different channels, such as on the website, newsletters, and pamphlets.
A number of archives were also designed as work areas, where the Digital Library team can collaborate with other departments.
2. Setting up Multi-Department Workflows
In 2018, the Digital Library team started processing approximately 25,000 digitized 35mm slides. This required a multi-step review process to ensure consistent quality of the robust historic descriptions. The process involved the WHHA's team of historians as they had to review the accuracy of each description.
To optimize the process, a special workflow was created. It delivered slides to and from the WHHA Historian team without the need to use external tools.
A workflow in FotoWare is a sequence of actions to simplify tasks you regularly execute in your DAM system.
On the front end, this workflow consisted of a couple of Set Review actions. This action sends assets to different members of the Historian team or Librarian team.
As seen on the screenshot below, every member of the historian team has his or her own action. There is also an action called Set Review – LIB that sends an asset for a final review by the Digital Library team.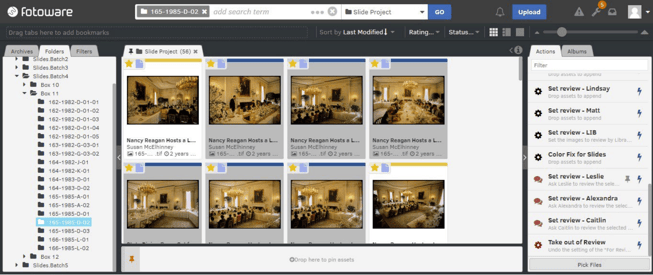 In this way, the whole reviewing process can be done in FotoWare, without using any external tools like emails or Excel to record each step.
Once assets had been sent to be reviewed by a specific Historian or Librarian, the Digital Library used FotoWare's markers to distinguish one user from the other.
Markers in FotoWare are icons that work as visual indicators about an asset to users. You can customize them to alert users about a certain state of the asset.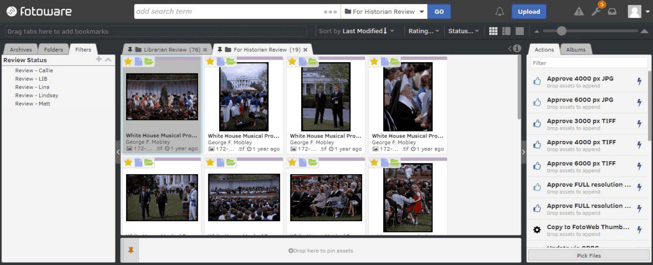 The screenshot above shows the Historian Review archive. The green folder icon is a marker which is used to denote assets that have been sent to one of the historians, Matt. This allows the Digital Library to send assets to multiple historians at once and create an evenly-distributed workload.
Although this workflow was created specifically for the Slide Project in 2018, it has become the standard practice for collaborating on descriptions and metadata with the Historian team.

3. Connecting FotoWare DAM System to the CMS
To further complement their support of the various departments within WHHA, the Digital Library worked with FotoWare, website developers Viget, and Amazon Web Services, to build an application programming interface (API) in the summer of 2018. The API built a link between the Digital Library, using FotoWare and WHHA's main website, which uses the content management system (CMS) Craft.
The FotoWare API allows WHHA to send the assets directly into the Craft CMS. This has enabled WHHA staff to seamlessly work within one system instead of downloading assets from FotoWare and uploading into Craft.
Are you using FotoWare and would like to add extra features?
Message us at customercare@fotoware.com and we will help you out!
4. Development of the Shopping Cart
The licensing of WHHA's assets provides the Digital Library with significant annual revenue. Therefore, creating a system that united the Digital Library with a licensing program was helpful both for the WHHA and its users. The first iteration of the shopping cart was custom-built for WHHA and enables users to make requests for assets in high-resolution.
LEARN MORE: Configuring a shopping cart in FotoWare DAM
As previously mentioned, low-resolution images are available for all registered users, but in order to request high-resolution images, users fill out a form with their information with the sizes needed and the reason they need the files.

The shopping cart is fully integrated within the system. It has a clean intuitive interface which provides a customer-centric experience for the Digital Library users. Due to its success, the improved shopping cart feature has been extended through FotoWare to other organizations. In this way, it benefits image processing workflows beyond WHHA.

The Results
WHHA's reach has grown significantly in the past ten years, especially in the past year of 2020, as focus has shifted to virtual outreach and initiatives. As a non-profit, the organization has attracted over 18,000 individual donors in the 2019 fiscal year, and they now have close to 300,000 followers on Facebook, 170,000 followers on Twitter, and 73,000 followers on Instagram. Recent digital initiatives, such as the weekly White House History Happy Hour, have attracted over 20,000 viewers in the first year.
The increase in a social media presence is vital for WHHA. As a non-profit, the organization is always looking for different channels to reach people and share their resources. WHHA's rapid expansion has been supported by its investment in the FotoWare digital asset management system. It allows assets from the Digital Library to bolster public outreach on these platforms.
"Our choice of FotoWare has expanded our potential, broadened our user base, and allowed for the rapid growth of our collection. The Digital Library is technologically integrated with WHHA through the use of the Shopping Cart feature and API. It is also integrated with its central role in many aspects of WHHA's day-to-day work."

- Leslie Calderone, Amazon Web Services Director of the Digital Library
Simplification has been key to achieving a higher ROI, particularly with the licensing program and shopping cart integration. Now, the Digital Library can quickly and efficiently license assets. This, in return, creates revenue to cover the Digital Library's expenses and contributes to the growing number of returning customers. Moreover, it helps to establish the WHHA's reputation as a reliable resource on White House history.