Storytelling Through Sweat, Smiles and Suffering - Norseman: The Xtreme Triathlon That's Not For You.
By Alex Kronenberg
on July 29, 2019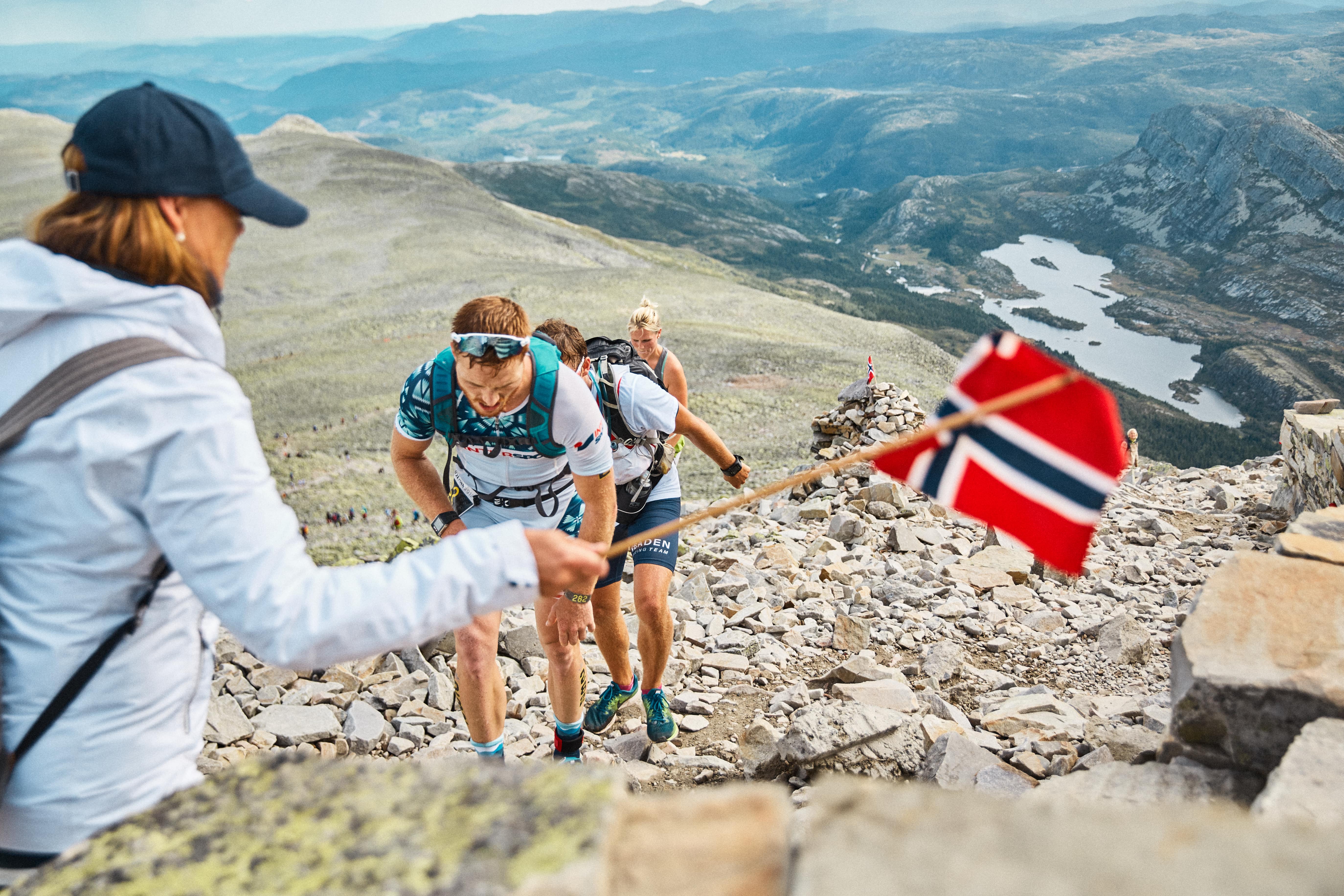 Norseman Xtreme Triathlon is one of the toughest, most exclusive endurance races on planet earth. Taking place in the heart of Norway, the 250 chosen competitors will find the landscape almost as breath-taking as the jump from the ferry into the cold, dark water of Eidfjord. Almost.

As the world's first ever extreme triathlon, they embarked on a mission of convincing people from all corners of the globe to come to Norway and put themselves through some kind of fresh hell. And it worked! A key component, right from the outset, has been capturing incredible emotive imagery that gives an insight into the minds of those who dare to take on the challenge.
Earlier this year, FotoWare became a sponsor of the Norseman Xtreme Triathlon, helping to ensure more efficient management of their growing image and video archive. We caught up with General Manager, Dag Oliver, about the inspiration behind Norseman, what it takes to compete, and why visual content plays such an important role.
Feature Image by Torgeir Storflor Moen / nxtri.com
Why was Norseman created?
In the early 2000's, triathlon in Norway was basically down with a broken back. Hardly anyone did triathlon. We only had a handful of people who had done Ironman distance races: 3.86 km (2.4-mile) swim, a 180.25 km (112-mile) bicycle ride and a marathon 42.20 km (26.22-mile) run.
Norseman founder, Hårek Stranheim, was fascinated by both the sport of triathlon and the fact that there was hardly anyone doing it here. His idea was to stage a race that was spectacular and tough enough that it would attract people from abroad to come to Norway to race!
How was the location for Norseman decided?
When Hårek was sitting down looking at the map, he realized that if you start the bike ride in the little town of Eidfjord in Hardanger on the west coast, and you make two right turns (one at 90 km and one at 140 km) you end up by Tinnsjøen in Telemark. And that's exactly 180 km. From Tinnsjøen, Norway's highest mountain, Gaustatoppen, takes you down to southern Norway, and it is the most spectacular view where you can see 1/6th of Norway. It is also exactly 42.20 km. So, something told him that this is the place to put on a race.
"Norseman is not just a race, it's an experience"
When was the first Norseman race?
The first race was in 2003 with 21 participants, all of whom were basically invited and convinced that this was a good idea by Hårek! Prior to Hårek inventing Norseman, there was no such thing as extreme triathlon. Norseman was the first, it's a Norwegian invention! Our passion for extreme triathlon comes from handling the legacy of the invention of it.
What sets Norseman apart from other triathlon events?
The extreme factor sets it a notch higher than other events. We add a bit of coolness on the swim (typically 12-16°C) and we add elevation both to the run (1819 meters ascent) and the bike ride (3416 meters ascent). When you organize something in the mountains of Norway you can expect any kind of weather at any time of year, so we're not making this easier on our athletes. That sets us apart as being an extreme triathlon.
Another important feature of Norseman is the size of the race – we only accept 250 athletes. Every athlete needs to bring their own support team, 1 or 2 people, that will follow them throughout the race, so you have someone to share the experience with after the race. Norseman is not just a race, it's an experience.
What is the selection process like?
We open for enrollment into our draw in late August every year, and for 2019 we had close to 4,500 applications from 84 nations. We actually did our draw live on YouTube with a 3-hour broadcast where we pulled the names out at random, one by one.
This year we have our extreme triathlon world championship alongside Norseman with elite athletes coming from other extreme triathlons for the XTRI World Championships. We will have a separate field with athletes that have actually qualified by winning the others races in the tour. But the majority come through the Norseman draw. It is open for anyone, so if you can read our athletes guide and think "I can do this", then we will not question that decision. After that, it comes down to luck.
On the Norseman website, you're greeted by the following warm, friendly message of encouragement:
"This is not for you. Nothing personal. But it's not. This is for people with fight. Resilience. And minds tougher than their bodies…"
What does it require for someone to take part in Norseman?
Either you are very fit already, and this is just another challenge that you can do because you're fit and prepared for anything, or if not you have 9 months to prepare in a disciplined way. With a good, structured training plan, Norseman is achievable for most people. You don't need massive volumes of training, but the most important part is that it's structured. We have athletes that manage to prepare themselves very well for Norseman with 7 or 8 hours of training a week.
How did you begin working with Norseman?
I started triathlon because I needed the variation in training because just running wasn't good for my legs, and I came got involved with Norseman because of my interest in photography. I joined the organization to coordinate photography, and as a photographer myself, and then I became more involved with running the event.
"We want to be there when you can really feel what's going on in the minds of our participants."
Why is visual content important to Norseman?
When Norseman was established, it was started like a start-up company. They looked at the market and figured out the personas who they would expect to be part of the race, etc. It was also very clear that to succeed with a race like this, and to attract people from all over the world, they would need spectacular imagery. With the nature, the athletes, the triathlon gear, there was lots of potential – but you need good photographers to make sure you get the great shots. That was a clearly stated task already from year one: we need good imagery. We've documented the race over time with fantastic photographers on the course, and we still do, but as time has gone by and technology has changed, it's become just as important now for us to get good film.
What's the thinking behind Norseman's content style?
It's part of our job description to our photographers, and how we want to present ourselves visually – we want close-up shots of people showing emotions: pushing themselves, laughing, crying. We want to be there when you can really feel what's going on in the minds of our participants. That's why we want to go close.
We also want to go wide because we're in the middle of some of Norway's most spectacular landscapes. We want to capture the people in the landscapes and the vastness of what they're taking on. They're pushing themselves over 226 km and we need to try to capture what that means.
When did you realize that you needed a tool to help you manage your content?
I think we've known it for some time, but it was of course also about our threshold as we're a small volunteer event. We'd rather give money to charity than pay lots of money for things, but we have so much good imagery by so many excellent photographers which is all stored in one place, and there's only one person that knows their way around this – that's me! So, when we'd have press release requests and I was away, those had to wait until I was back.
Having worked with photography for some time, and having my own archive of personal stuff, I can see the value in being able to do qualified searches in the content. It just makes a lot of sense. It's a big benefit that these tools are web accessible now too, and you don't have to put a server under your bed any longer or try to keep these things running on some operation system and constantly upgrade. The technology is maturing. I've been aware of the FotoWare solution for a long time, and now it made sense for us to start the implementation process.
What tools were you using before?
We had a big folder on box.com – that's it.
Do you use Box, Google Drive, or DropBox to manage your files? Find out why Digital Asset Management is different - and why it's not necessarily a case of needing one or the other...
How much content has Norseman generated over the years?
Currently, we're looking at moving about 8,000 images over to the FotoWare system, and we'll need to go through them and add some vital data.
How will FotoWare help you manage the content created during the 2019 race?
Our plan is to have our photographers uploading their content immediately into FotoWare once they've prepped their images. We'll get images throughout the day that we'll handle in a central location and as soon as the photographers are in-house, running through and processing their imagery, they'll put it straight into FotoWare.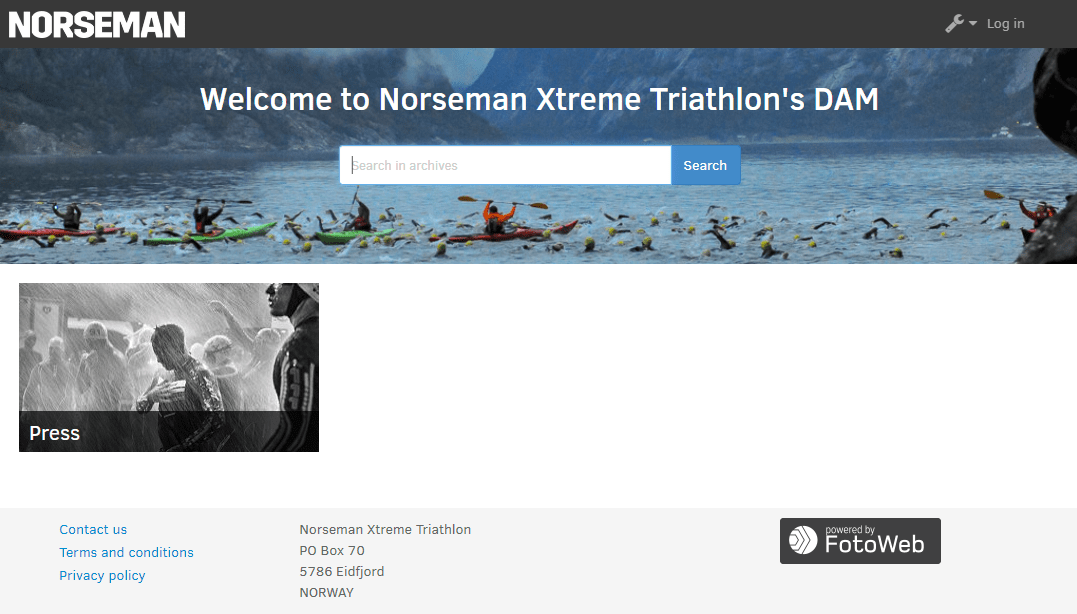 What do you see as the main benefits of the system for Norseman?
The most important thing is the benefit of all the imagery being tagged and searchable. If possible, we'll also try to identify people in the images, so that when we get requests from media outlets saying "Do you have a photo of such and such athlete?", we can quickly reply with the best images. Just as important will be having photos tagged with locations, so our local communities around the course can make requests or do searches in the system themselves and look for images that are related to their part of the course, so they can use them. There's great value in having this data and being able to search in a smart manner and share it more easily.

FotoWare is proud to be a sponsor of Norseman Xtreme Triathlon 2019. Learn more about Norseman Xtreme Triathlon and stay tuned for exclusive images of this year's race on 03/08/19, powered by FotoWare.