Digital Asset Management vs Microsoft OneDrive -What's the difference?
By Bettina Berntsen
on May 22, 2020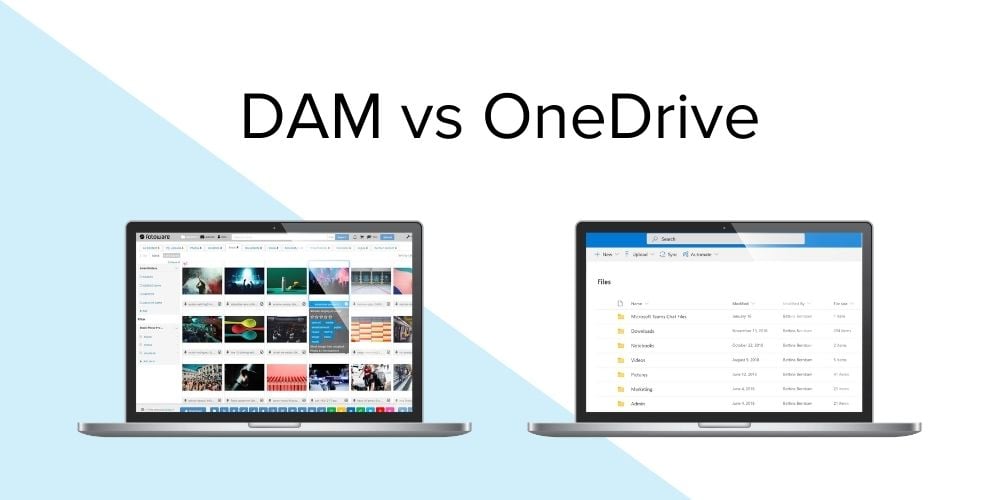 Have you ever wondered what the difference is between Digital Asset Management and other Cloud Sync Storage services? Maybe you want to learn more about why you should invest in a Digital Asset Management system when you already are using Microsoft 365? In this article, we look at the similarities and the differences between Digital Asset Management systems and Microsoft 365 – in particular, Microsoft's cloud storage tool, OneDrive.
Microsoft describes Microsoft 365 as a productivity cloud across work and life. The platform delivers tools for collaboration, communication, device security, and IT management, and it integrates with plenty of other applications.
Digital Asset Management gives you a single place to store your valuable files and organize them in such a way that your coworkers don't need your help to find them. By adding metadata to the files, you make them assets – their value increases since they can be found, shared, and reused when you need them again.
An important differentiator is that a Digital Asset Management system like FotoWare is shared and open to the company's employees from the get-go. While OneDrive is your cloud file storage where files are private, and you choose which ones to share if you want to share.
Benefits of FotoWare DAM
Easy access to digital assets:

The key benefit of DAM is the ability to easily find, access, retrieve and use all digital assets from one single point of entry. It ensures all files are indexed and structured appropriately with metadata so that they can later be searched for and retrieved easily. Even if you can't remember the title of a certain file, you can search using a variety of parameters, such as tags, descriptions, categories, indexed document content and more.



Use your assets everywhere:

With plugins and an open API you can integrate and connect with almost any other tool, including Microsoft 365! Out-of-the-box, you can use FotoWare when adding images or graphics to a PowerPoint presentation in the works and rest assured that these files are approved for use, or you can open and edit a file from FotoWare within Adobe InDesign or Photoshop for example.



Share and collaborate on assets:

Share assets with colleagues or external parties. Control if they should have download or just preview rights. Share assets and let your collaboration partner make annotations (comments) within the asset. For example, if you're working on a creative project where visuals are an important part of it and you want feedback on a graphic file, such as logos or Social Media imagery.



Boost efficiency with automated tasks and processes:

With a DAM system, you can be more productive when being creative. In FotoWare, features like crop and download mean you can easily find assets and quickly download them in the size and file type you need. You can even create presets, making it even quicker to get the assets you require.
Benefits of OneDrive
Access all of your files within your productivity cloud:

Since Microsoft 365 is a platform with several applications for work and life you can rest assured that OneDrive connects with all of them, giving you easy access no matter where you are, or which device you are using.



Work on files simultaneously:

Collaboration is key within work and life, and Microsoft 365 and OneDrive enables you to work simultaneously on a file, such as a word document or a PowerPoint presentation together with many others. This allows for efficiency and immediate access to the latest updated file in a project that you're working on. Instead of sharing working documents in email attachments, you can share them via links or email invites. That way,everyone is sure that they're working on the same file instead of sending revisions back and forth between many stakeholders.



Keep control over access rights:

In OneDrive, you can easily see which files have been shared with you, and which files you have shared with others, making it easy to sort between what's private and what's not. You can set access rights, allowing users to preview or edit files, set expiration dates, and even password protect documents that you want to keep private between a certain group of people, or just yourself.
What's the difference between DAM and OneDrive?
File status:

OneDrive is perfect for assets that are work-in-progress between people and by yourself. Get easy access to the files and continue your work from another device, as long as you log in with your credentials.
A DAM system is perfect for assets that are finished and should be available to all or parts of the organization and/or externals. For example, marketing campaign material, company wide presentations, brand material like logos and other visuals, images for press and much more.

Storing files:

Storing files in OneDrive is quick. With your subscription you have a certain amount of free storage that comes with your plan. The assets are stored in folder structures, by file names, date uploaded and modified, modified by, and file size.
In a DAM, uploading files is easy. Tag them with the correct metadata, for example what the asset contains, which campaign or department it belongs to, and similar. Most companies decide on a set routine for adding metadata to their assets, making it even easier for employees to find them. The uploader can be configured to each organization's need to make sure all assets are added correctly. In a DAM, you often have included storage in the plan of your choice.



Customize your upload window and secure that necessary data about the assets is added at upload.

Search & Find Files:

In OneDrive you search for file names, look through a folder structure or search for the author/the one who shared the asset with you to find and retrieve files. Often, in one's private OneDrive it's easy to keep track of everything, because your file and folder structure is decided by you. When finding and retrieving files others have shared with you it can become more difficult as you only have file names or the name of the person that shared the file with you to lean on.
In a DAM, searching and finding assets are easy. For all assets you can search for the different tags the asset is associated with, for example time and date, the author of the asset, the department it belongs to, campaign ID, employee ID, consent status relating to GDPR and anything else. It's only up to you and your organization. Furthermore, all text documents are indexed on upload, so you only have to remember a word from a presentation or a text document to be able to search and find it again.


Approved images from a photo shoot is available in FotoWare with necessary information connected to each asset (image).

File Access

In OneDrive you can decide if the asset you have stored should be available to you or to someone else. You can share your asset with another colleague or many people, to a specific group, and more. You can set expiry dates and password-protect documents and you can withdraw access at any point. With OneDrive you have full control over the assets you upload.
In a DAM, the concept is that it's a shared asset as soon as it's uploaded. However, you can still decide if the whole organization, different parts of the organization, or just admins should have access, for example. When sharing assets internally and externally, you can also decide if they should be able to only preview or to download as well. Furthermore, you can set expiry dates on assets and withdraw sharing at any point.

File Formats

In OneDrive you can store any file type up to 100GB and preview almost any file type without downloading the specialty software needed. However, there are some restraints on file size to be able to preview file types. Source
In a DAM, and speaking for FotoWare, you can preview any file type without the specialty software needed.

Collaboration

OneDrive is made for easy collaboration between people. Work simultaneously on a document or presentation for example to ensure high productivity. When others are working in a document or presentation at the same time as you it's easy to see where and what the other person(s) have contributed with. Add comments and edit within the document all in one go.
In a DAM you can easily collaborate on assets with what we call annotations. Add comments in the comment field on the asset. You can even add comments within the asset! For example, if you're working on a graphic design for an upcoming campaign you can comment if you want objects to move a little to the right or left, change color etc.

Plugins

Since OneDrive is part of Microsoft 365's productivity cloud, all applications within this platform work seamlessly together. Opening a Word Document from OneDrive or adding it into Teams is a breeze. Furthermore, you can find many third-party applications with already access to OneDrive as an application, making it easy to log in and retrieve files.
In a DAM, plugins and integrations are crucial. FotoWare offers out-of-the-box plugins to Microsoft PowerPoint and Word, making it easy to search, find and insert the assets, such as images, you need in a working document or presentation. For the more creative crows, FotoWare offers out-of-the-box plugins to Adobe Photoshop and InDesign. Plugins for EPiServer's CMS and WordPress is also available. Furthermore, FotoWare offers an open API that enables you to create any integration.



Add images or graphics directly from FotoWare to your PowerPoint presentation with the plugin.
Conclusion
DAM isn't a way of replacing Microsoft 365 OneDrive as a storage application. We hope you see that these two applications can complement each other. Creating and collaborating on documents, such as Word or PowerPoint is a breeze when you work within a Microsoft 365 environment and storing and sharing from OneDrive. What's great is that you can open a shared PowerPoint presentation from a colleague and insert imagery and visuals directly from FotoWare within the presentation itself, rest assured that the files you choose to insert are approved for use, are not infringing copyright, and have a valid usage license, for example. Furthermore, when you have finished the presentation and it's approved by all stakeholders, you can upload it to FotoWare, making it available for the whole or only parts of your organization, enabling your colleagues to create new files faster, by being inspired using the one you and your team have already created!
FotoWare is an application that can benefit you as an existing Microsoft 365 user. We dare say that adding FotoWare to your Microsoft 365 productivity cloud can make you even more productive!
Do you want to see what the FotoWare solution can offer your organization?
Book a non-committal meeting with one of our experts to see it live!