Streamline workflows
Create custom workflows to process and optimize your assets. Automate and schedule workflows, including metadata operations, for specific content and users.

Work in batch
Select multiple files to compare and edit the metadata of all selected assets in the editor. There is no faster metadata editing tool on the market.

Make it your own
Customize the user interface: promote your favorite collections, files, and workflows using pins and bookmarks. Create custom searches and filters for easy access.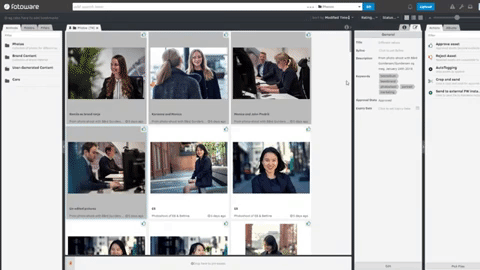 Batch Metadata Operations
Select multiple files and add, remove, or edit any piece of metadata one-by-one or in batch. You can even add or remove tags in the keyword field, unify the contents of fields based on existing values, create a brand new caption, or delete text content from other fields - all in a single, intuitive metadata editor.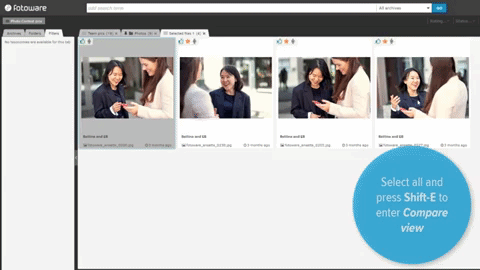 Image Comparison
Work with photoshoots like a pro: our full screen image comparison tool shows every picture with crisp and sharp detail to help you quickly pick out and isolate your favorites. Work even faster by using only the keyboard!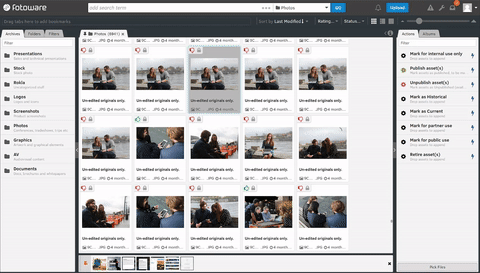 Selection & Culling Tools
We give you the most effective tools for culling large collections of pictures. Make your initial selection, isolate and review it on a separate tab, and then reduce it further or add additional assets to it. There are so many ways to select and keep your favorites, you'll want to try them all. We're certain you'll find that FotoWare Pro adapts to your preferred way or working.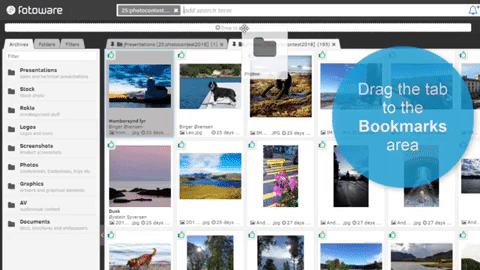 Save Your Favorite Searches
Don't repeat yourself. Create bookmarks of the searches you often perform, or pin a result so it opens and refreshes each time you log in. For example, if you are working as a sports photo editor, simply save your search parameters for the Premier League, US Open, or Formula One as bookmarks.