FEATURE OVERVIEW
Digital Asset Management Tools
Everyone can find, share and reuse their images, graphics and videos more efficiently with the FotoWare Digital Asset Management solution.
FREE DOWNLOAD
Get the full feature overview
All features and benefits collected in one PDF.
DOWNLOAD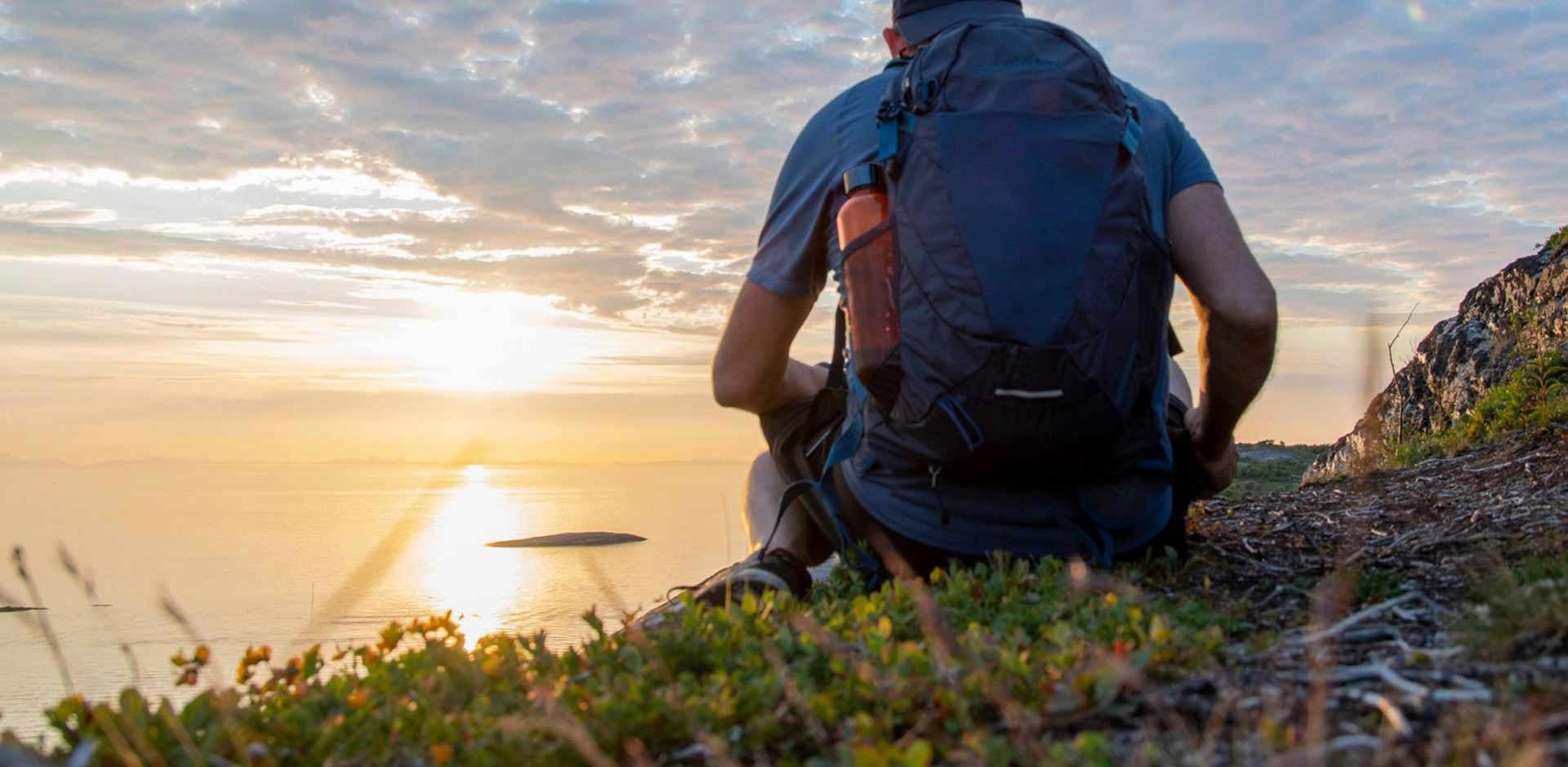 UPLOAD & ADD METADATA
Metadata is keywords and descriptions about your files that make them searchable. It also makes it possible to build automations. Filenames are great, but We ❤️ Metadata.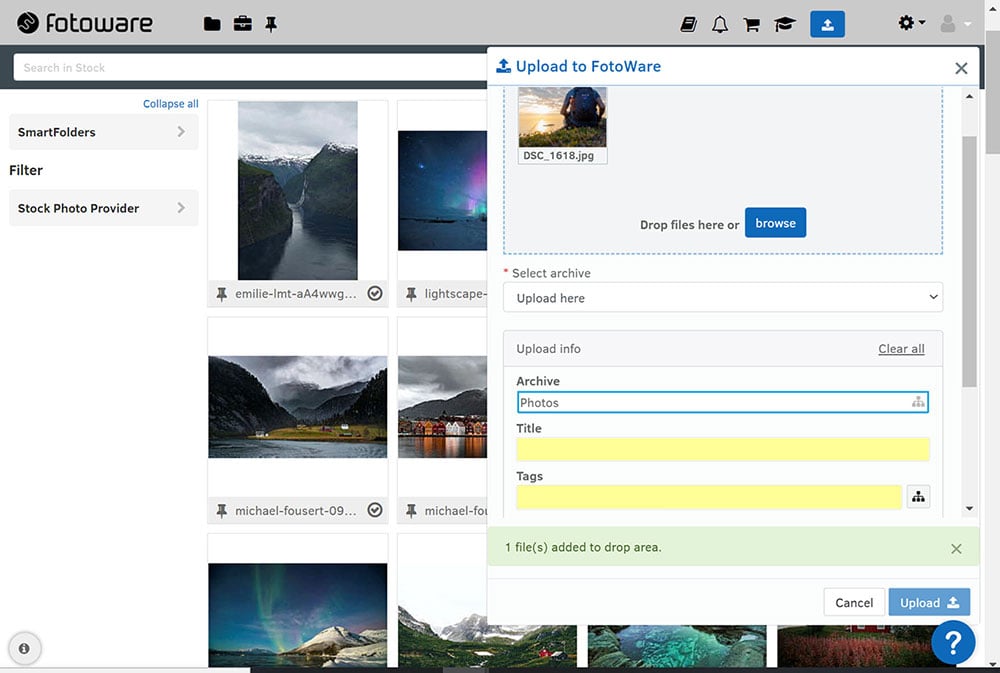 Upload tools
Add single or multiple files via the browser upload tool or use the Desktop Uploader to populate your archives. Metadata can be added to one file at a time or on large batches of files.

Metadata standards
Build custom schemas to describe your assets or use the extensive built-in XMP, IPTC, and EXIF fields that come as standard.

Metadata Macros on Ingestions
Automatically add all the necessary metadata on asset ingestion using macros.

No Metadata? It's in Your Documents
All text content inside PDFs, Office documents, and vector graphics files are also fully searchable.
SEARCH & ORGANIZE
Store your assets safely in multiple collections and search across all of them at once. Group and arrange content precisely how your users prefer.

Create SmartFolders
Combine different search terms in virtual folders, such as time frames or asset owner, and get instant hits without having to type a single word.

Powerful Taxonomies
Make it easy for users to find what they need using visual filters that also aid quick and consistent tagging.

Organize in Folders
Import your existing folder structure or start afresh - in any case, your users will feel at home with assets organized in folders enhanced by a powerful search.

Advanced Search
Versatile and extended search that narrows down your search results. Search in the metadata or use file properties, and file type data.
FotoWare offers one of the world's first DAM solutions with fully digital Consent Management. Keep tabs on usage approval and consent forms. Respond swiftly to requests for access, rectification, or erasure.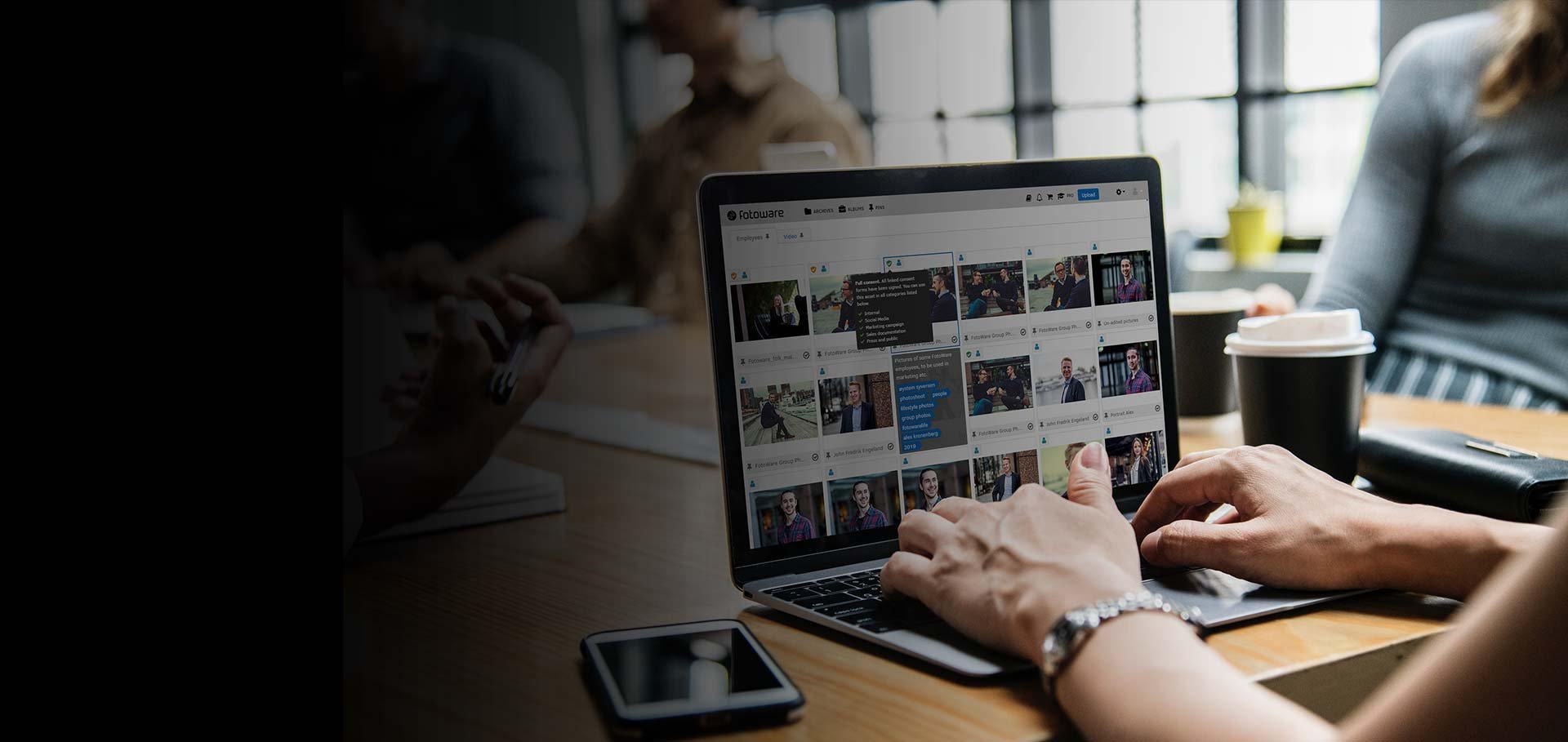 SELECT & PREVIEW FILES
Preview any file type and select one or multiple files to perform actions. Scroll the search result page or open the preview and click next to browse. Find more metadata and permalink on the asset preview page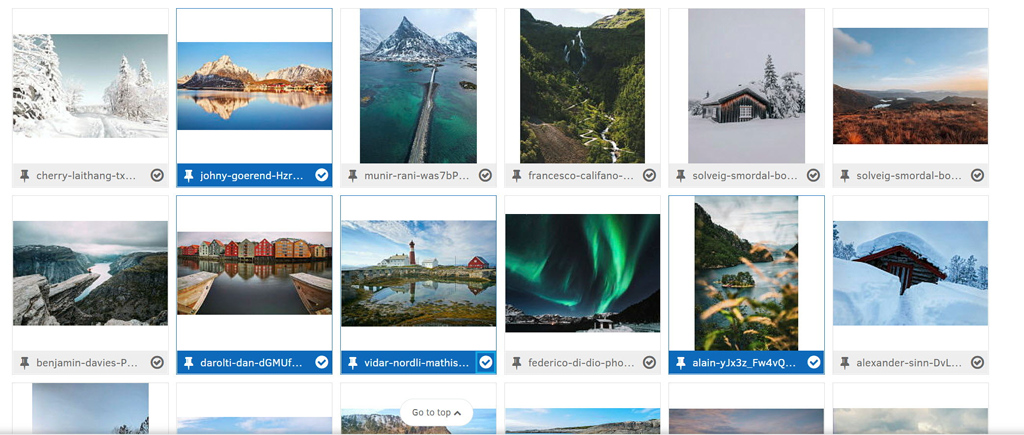 Color Correct Thumbnails and Previews
FotoWare is color correct all the way through advanced color management, no matter if you use Adobe RGB, sRGB or other color spaces, or even with CMYK files.

Deep-Zoom in Images
Get close-up details from large image files directly in your browser, all in HTML5 and without downloading the original file.

Advanced Playback
Play back any video format! Control playback speed, jump between scenes using keyframes, apply live color filters, extract stills, and more.

Flick Through Multi-page Documents
Looking for something specific? Quickly find any document or PDF, then leaf through their pages to find what you need.
COLLABORATE & SHARE FILES WITH YOUR TEAM AND THIRD-PARTIES
Easily share your selection with others via email, as a public link, or create an album and share directly. Collaborate on files with your team or third parties by adding comments and markers.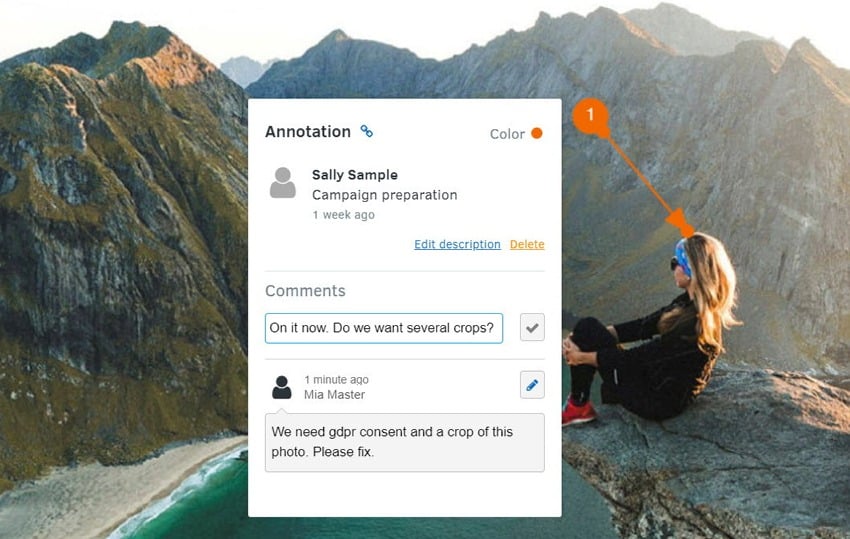 Create and Share Albums
Make selections and add files to albums. Easily share them with others via email or link, while controlling download or preview rights.

Third-Party Invitations
Invite partners and third parties to collaborate on an intuitive and easy-to-use self-service platform.

Annotations
Highlight an area in a picture that requires attention and add mark-ups and comments to collaborate on-the-fly.

Enable Commenting
Collaborate effectively with your team by using the integrated comments feature to give immediate feedback.
- puts the power of a complete Digital Asset Management system in your pocket.
Share files, run approval workflows and more
All the DAM features you find on-site
Freedom to work from everywhere
Workflows & Automations
Automate mundane tasks and streamline content management by easily creating workflows for designing, reviewing, approving, and publishing assets.
Set up efficient workflows to reduce the time spent managing your visuals. Many of the mundane tasks that used too much time to complete can be completely eradicated with one-click operations.
ACTIONS & MARKERS
Actions are used when you want to send a file to a destination such as a network share or a workflow process. Visual markers can be attached to any action for example to quickly see how assets may be used.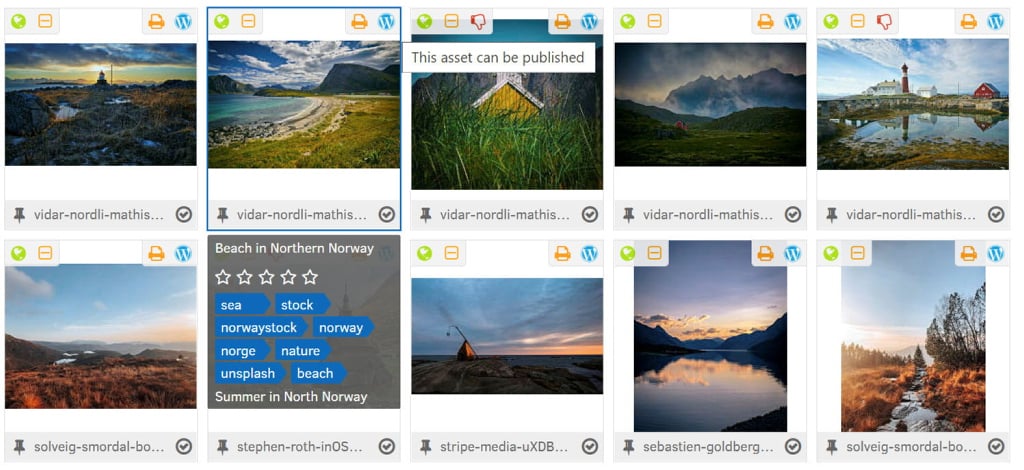 Customize Actions
In addition to the built-in actions, you can create actions that automate your processes and enable your team to perform drag-n-drop and one-click operations.
Responsive Markers
Create clickable, interactive markers to edit an asset's metadata, trigger a webhook, or lookup additional asset information in a PIM, for example.
Control How Files Are Used
Get the overview of the who, the what, and the where. Manage usage with visual markers, notes, and ID tags on your collections.
Action Bar
Select one or multiple assets and click on the correct button in the action bar to process. Create actions with a dedicated button available for one-click operations.
Plugins & Integrations
Using FotoWare APIs, you can build custom integrations for your FotoWare. You can also access media right from the tools they use the most - whether it be the Adobe Suite, Microsoft Office, the web CMS or a Product Information Management system.
Popular integrations
Office Plugins
Adobe CC Extensions
Connectors for CMS
User Interface Integration
and many more...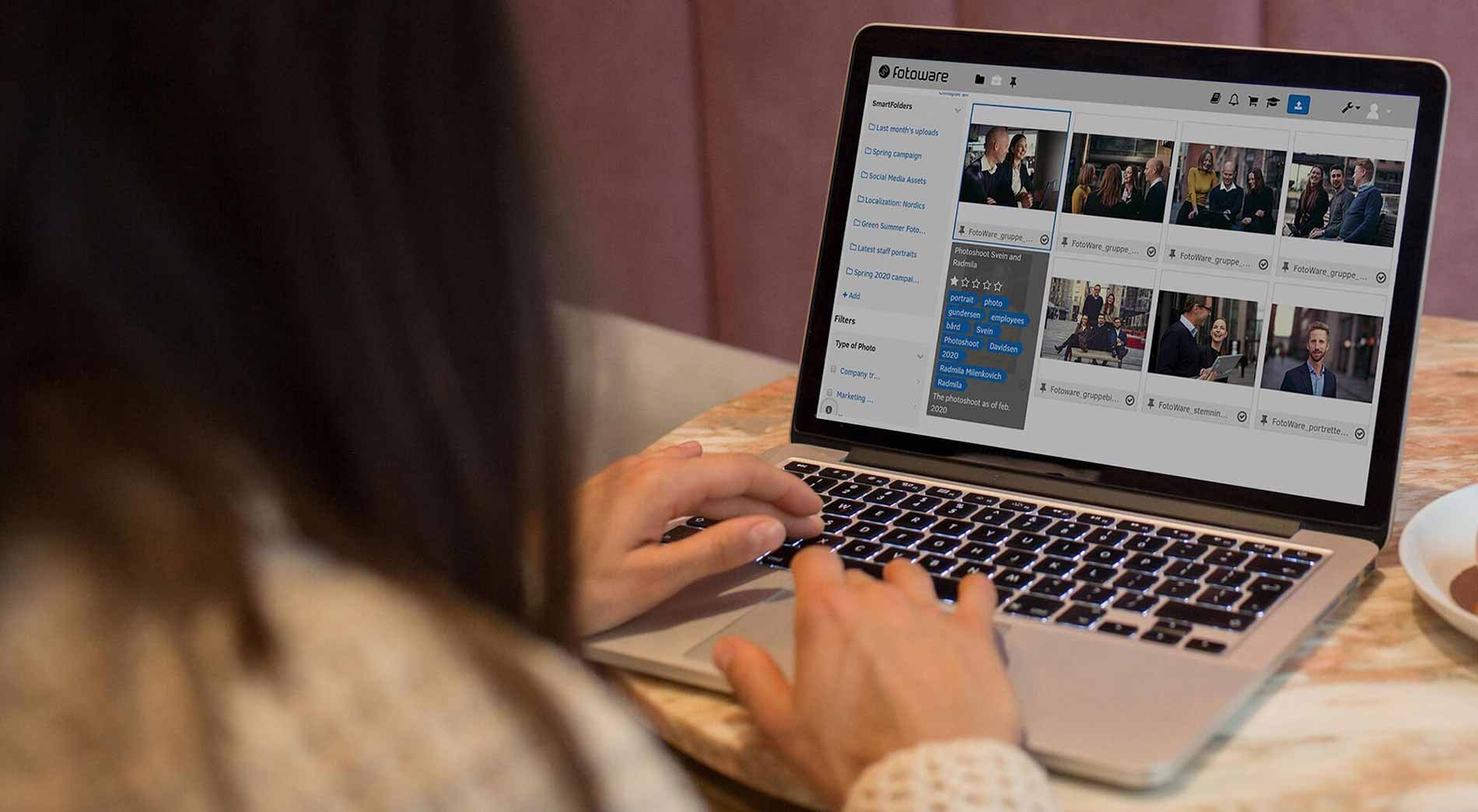 ACCESS CONTROL & SECURITY
Secure your assets by preventing unauthorized access based on user management. Audit the use and access of a file to make sure your assets are used in the right way.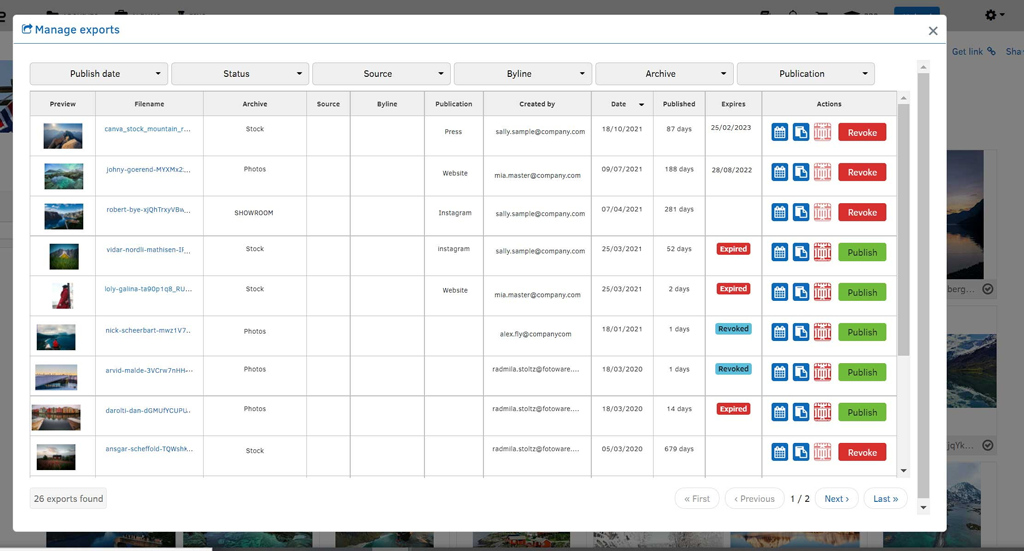 Don't worry about passwords
Use SSO with Azure AD, SAML2, OneLogin, Active Directory and more, to manage access and leverage the convenience of automatic login.
Secure your Visuals
Access to visuals can be set at multiple levels, affording you fine-grained control of who sees what and how assets can be used. Users only see files they have the correct rights to.
Manage and Revoke Asset Usage
Respond to requests for rectification and erasure, making sure withdrawn assets are never used without proper authorization.
DEPLOYMENT OPTIONS
FotoWare in the cloud or on your servers
At FotoWare, we offer both cloud-based and on-premises deployment options to suit your unique digital asset management needs. Our cloud-based solution takes care of hosting and maintenance for you, while our on-premises option gives you complete control over your data.
No matter what you choose, we're committed to providing you with the flexibility and support you need to manage your digital assets with confidence.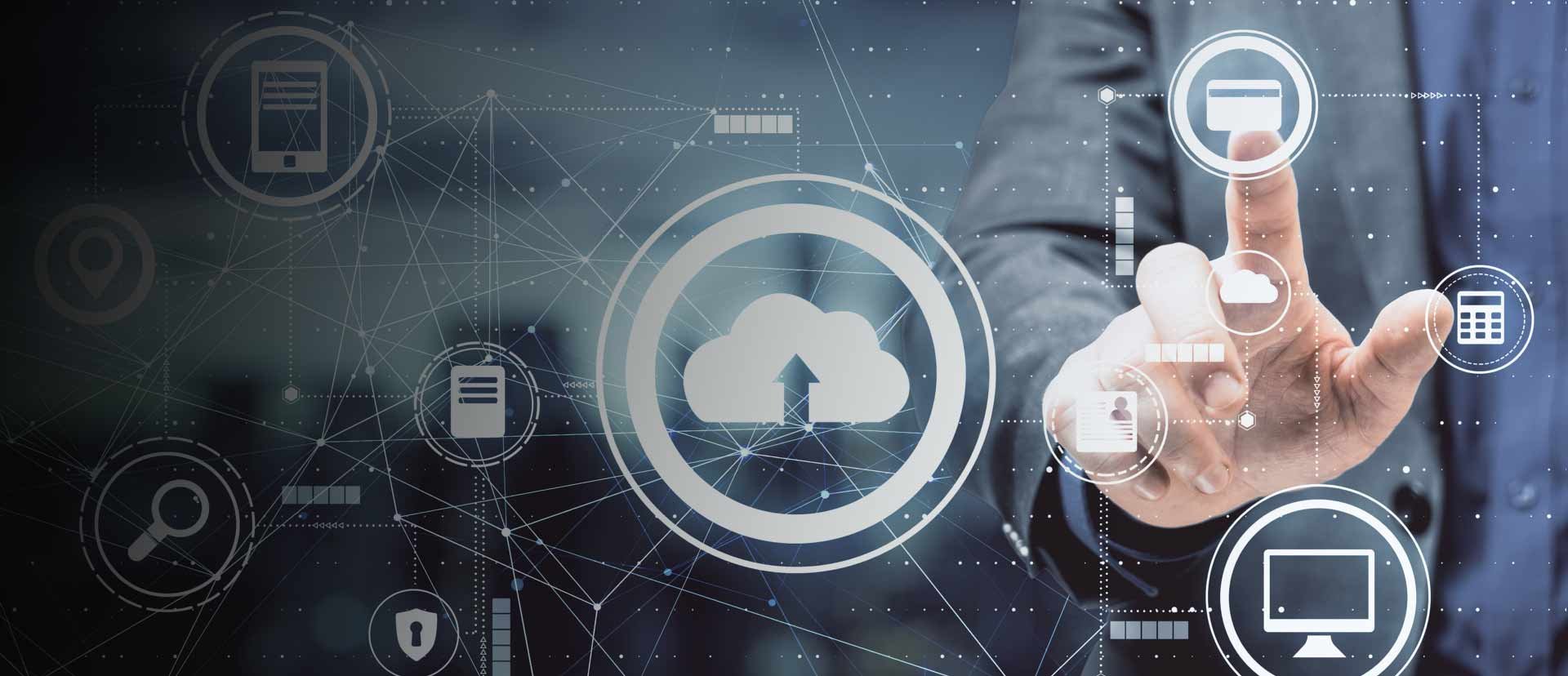 VERSION CONTROL
Keep track of file changes over time. Compare different revisions side by side to see what has changed and restore a previous version if necessary.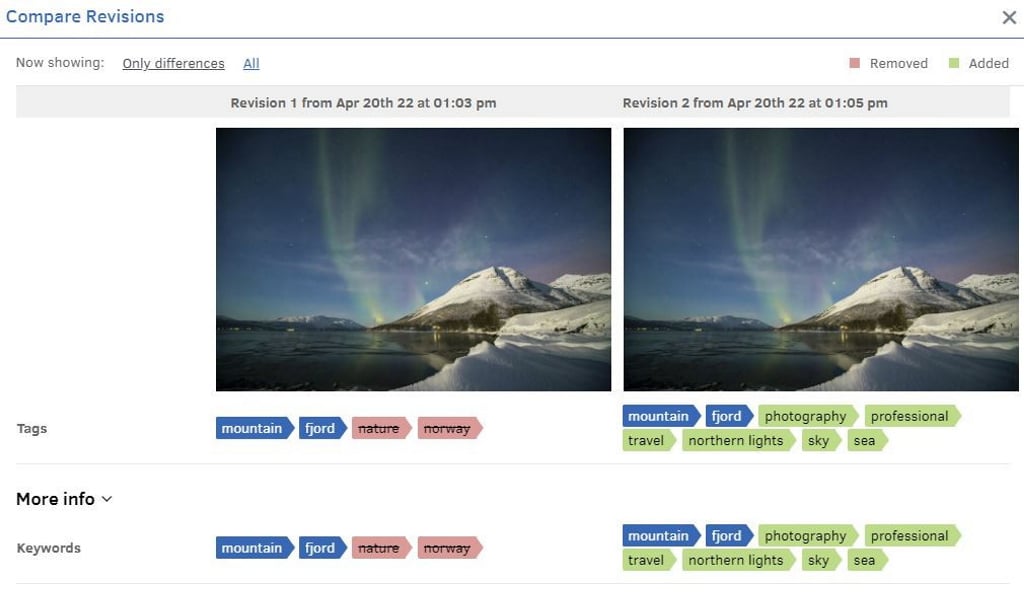 Track changes
See all changes to an asset, including metadata and content changes.
Update Assets
In addition to regular updates via FWDT Edit, Photoshop edit, FotoStation edit, it's possible to manually update through upload.
Compare
Side by side image comparison and metadata difference.
Restore
Restore any revision, and choose whether to restore metadata, content, or both.
PERSONALIZE & CUSTOMIZE
FotoWare can be styled to match your corporate profile and help users feel right at home.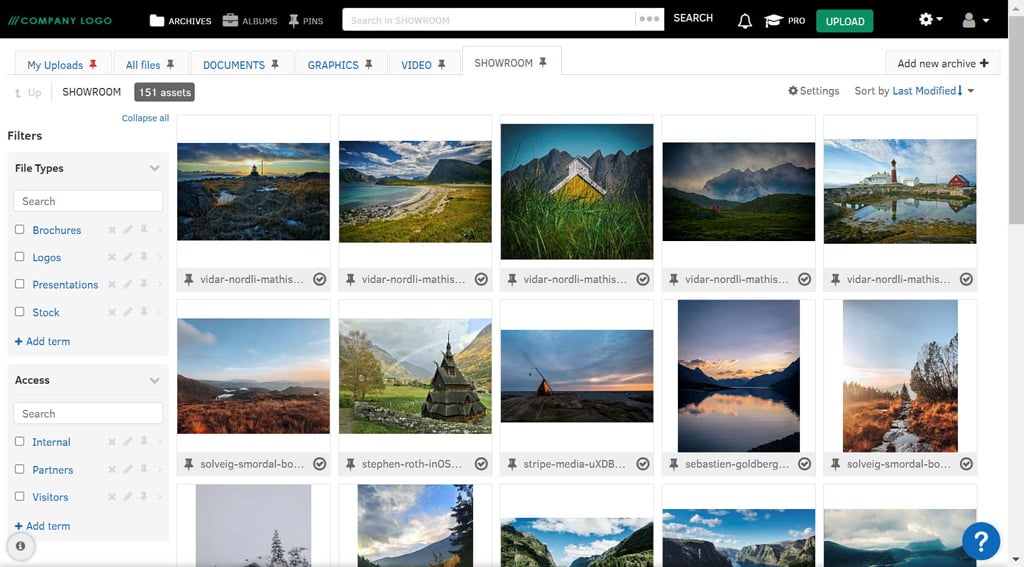 Site Branding & White Labeling
Style your site with corporate logos, custom CSS, contact info, and terms of use that uniquely represent your brand.
Guest Portal
Make an open portal for visitors on your site, that doesn't require a login. For example, a press archive with images and videos.
Personalize your UI
Branding and configuration go hand in hand. Create a unique, navigable tour of your most valued brand assets, by customizing archives, taxonomies, and SmartFolders to guide users to your content with minimal friction.
Fully Customizable
Set up your own archives with automation and markers. The entire site configuration is easily available to managers. Best of all, most of the customization can be made by ticking off the options of your choice and requires no technical expertise.
Pro Interface
The Pro Interface is a built-in extension for Professional and Enterprise licenses. Increase productivity and work even quicker with large amounts of files.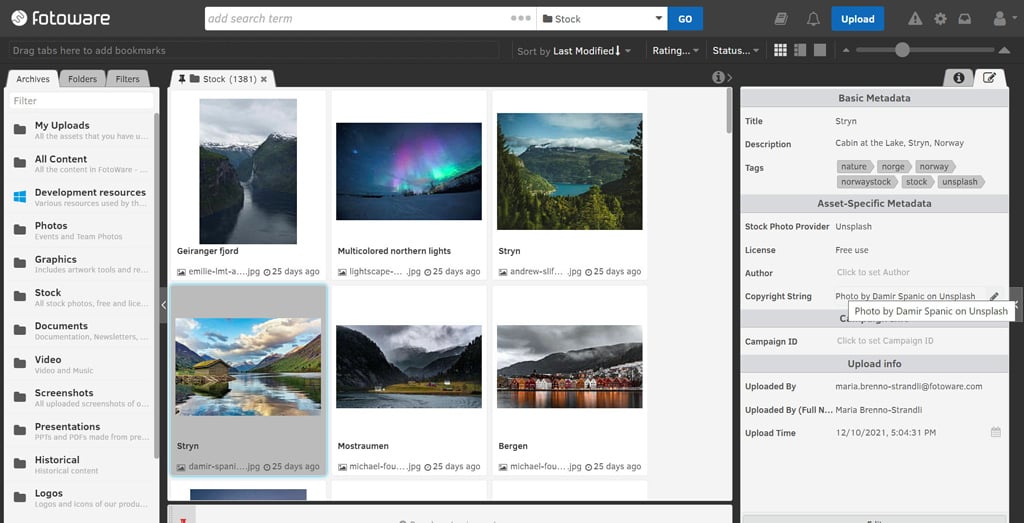 Video Playback in Search Result
Quickly get an overview of video content with previews directly available in your search results and options to adjust playback speed for rapid playback of long sequences.
Keyboard Shortcuts & "hidden" Productivity Features
With keyboard shortcuts, you can manage, organize and edit your assets at the highest speed possible. Type ? to find the
overview of all shortcuts.
Image Comparison
Our full-screen image comparison tool shows every picture with crisp and sharp detail. Use the compare view when you're working with a range of visually similar assets and need to reduce the selection.
Selection & Culling Tools
We give you the most effective tools for culling large collections of pictures with flexible selection tools and efficient workflows.
Batch Metadata Operations
Select multiple files and add, remove or edit any piece of metadata one-by-one or in batch. There is no faster metadata editing tool on the market
Save Your Favorite Searches
Don't repeat yourself. Create bookmarks with searches you often perform or pin a result, so it opens each time you log in. The search will be actively updated when new assets matching your search criteria are uploaded.
FREE DOWNLOAD
Get the full feature overview!
More features and benefits - collected in one PDF.
DOWNLOAD