FotoWare is expanding and seeks a Web Designer
FotoWare makes innovative Digital Asset Management (DAM) solutions for customers all over the world. Our mission is to enable people and organizations to do more with their content, and our employees have a large impact on the future of FotoWare.

We are determined to keep attracting new and delighting our existing customers with our products and services. The buyer- and customer journey is a vital part of this, and this is where you come in!
As Web Designer, you are creative and love to bring ideas to life ensuring that it will enhance the experience on our website and our graphical materials. You get excited when thinking about contributing to and creating great user experiences on our websites. Besides creativity, we love the "I have never done this before, but I am sure I can figure it out" attitude at FotoWare.
As Web Designer at FotoWare, you will be part of the Marketing team, where we focus on attracting new customers to FotoWare while at the same time making sure that our existing customers are delighted and have a good experience visiting our pages.
If you have a passion for creating great designs, an eye for details, and like to take responsibility – keep reading!
As a Web Designer you will...
Own and develop FotoWare's websites

Re-design and create a modern look for our customer and partner channels such as Partner Portal, Customer Portal, Customer Community and Support Portal

Establish and maintain a consistent design across our websites

Design the look and feel of our in-product guides (hosted on Pendo)

Design and develop campaign material such as landing pages, web sites, premium content and marketing templates

Act as an internal advisor when it comes to website experience and address questions regarding the technical aspects

Impress users with great visual design while prioritizing usability

Monitor and analyze user activities on our websites and execute on areas of improvement

Professionally you have...
Minimum 3 years of relevant working experience with Web Design

Education within Web Design, UX Design, Graphical Design or another relevant area

Practical experience with CSS and HTML

A passion for great web design and buyer journeys, and giving visitors a first-class experience

Drive, ability to take initiative and thrive in a fast-paced team environment

Good organizational and analytical skills; ability to plan, track tasks and deliver to agreed timescales

The ability to prioritize and manage workload efficiently

No problem speaking English – FotoWare has customers and colleagues from all over the world, and fluency in English is a requirement
It's a benefit if you have...
Experience working with these platforms

HubSpot (HubL) and their design manager

Password locked portals

Umbraco

Have international experience, through education or working experience
As a person you...
Are curious of new technology and how it can benefit our prospective and existing customers

Are a team player, with good structure skills
Are accountable and solution-oriented
Work well independently and take responsibility and ownership
Have a growth mindset and are willing to learn new things
Are positive, and service-minded with good communication skills

Identify with our values: Innovative, Passionate, Responsible and Caring
FotoWare offers you...
A position in an international environment filled with possibilities for personal and professional growth

A position in a company which prioritizes diversity, with 45% of the team made up of women and 35% international colleagues.

A culture of social interaction and sharing in a diverse and including work environment

Access to learning resources, training, and courses

Opportunities for employee input and inclusion

A workplace that values flexible workstyles, workhours, diversity and is certified Great Place to Work

A company with more than 20 years' experience with 4.000 customers globally, including the White House Historical Association, Wings of Support, The Financial Times, Volkswagen and the Metropolitan Police

We have a culture of integrity, collaboration, and curiosity. In FotoWare, everyone can make a difference.
Do you want to be part of our team? We would like to hear from you!
Please send your CV and Cover Letter in either English or Norwegian to Arna Storm (arna.storm@fotoware.com ) as soon as possible, or before 20th of October
For more information about FotoWare visit: www.fotoware.com and www.fotoware.com/blog.
Social Profiles: Facebook: @FotoWare, Twitter: @fotoware, and LinkedIn FotoWare.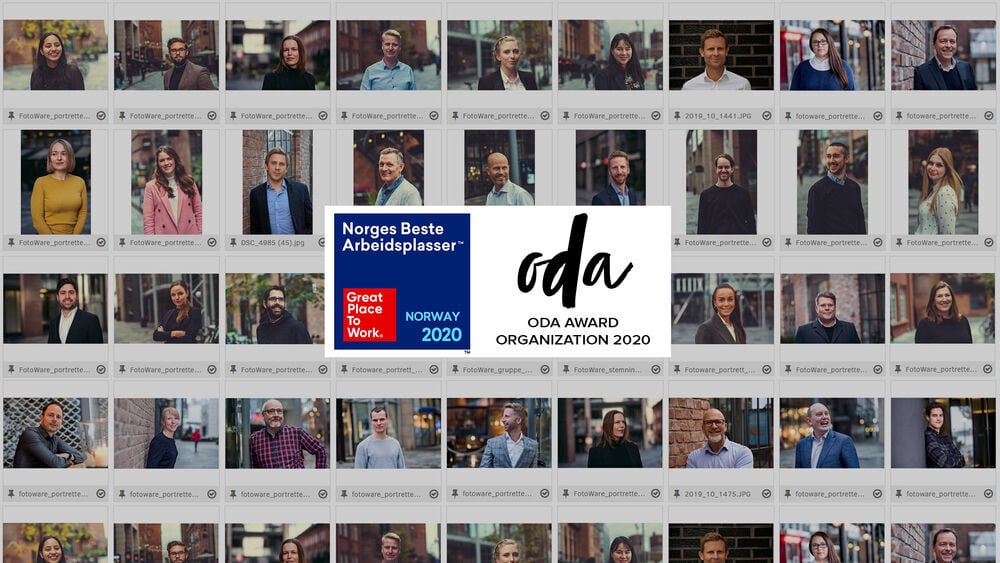 For more information about FotoWare visit: www.fotoware.com and www.fotoware.com/blog
Social Profiles: Facebook: @FotoWare, Twitter: @fotoware, and LinkedIn FotoWare.