Learn how to plan and manage your content structure with taxonomies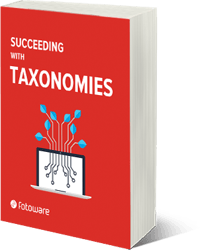 While the subject of taxonomies may not be a brilliant conversation starter at social events, they are absolutely instrumental in organizing large volumes of content.
We know that organizing digital content usually involves some heavy lifting.
The good news is that we have effective tools that can take some of the pain out of the undertaking. Taxonomies is just one of the tools available to organize content in a FotoWare DAM, and in the e-Book you can download here we provide tips to help you:
Plan your content structure

Involve the right people

Ask the right questions as you go along
It's a useful and entertaining read, whether you currently have a FotoWare system or not. That's a promise!
Taxonomy Fun Fact: The Swedish botanist and zoologist Carl von Linné (aka. Carl Linnaeus) is known as "the father of taxonomy" because he formalized the modern system of naming and categorizing organisms.
Get the Free e-Book Now
Simply fill out this form to start download.