Embracing New Technologies, Overcoming Challenges & Seizing the Opportunity Gap
While many retail and e-commerce companies today are embracing the new technologies to meet increasing consumer demands, there are still challenges that must be tackled and strategies that need re-thinking.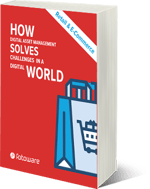 Download this eBook to learn about:
Status quo on digitalization for retailers and e-commerce companies

Common challenges faced and how to overcome them




How you can seize an opportunity gap and get more out of the digital assets you already have.
Get the Free eBook Now
Simply fill out this form to start download.