Webinar Recording:
GDPR and Corporate Image-use
How to ensure GDPR compliance for your organization's use of employee images.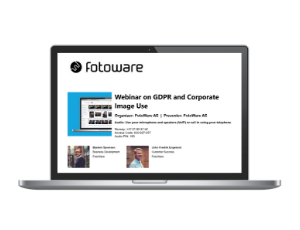 In the context of GDPR, managing images that feature identifiable persons, such as employees, can be an incredibly difficult and time-consuming process for many businesses.
Fill out the form to watch the recording of our webinar on this topic, which looked at the three main challenges of GDPR compliance for images:
How to keep track of image consent

(Article 7 - Conditions of Consent)
How to quickly and easily find images of a specific person

(Article 15 - Right of Access)
How to respond to a request to erase a subject's personal data

(Article 17 - Right to Erasure)
This webinar was recorded live and includes a demo of the FotoWare Digital Asset Management system, and answers to questions asked by attendees.