It's really important to support your children – they might find themselves in situations that they can't find their way through by themselves.
© Vanessa 2015 | PhotoVoice | NWG | Having Our Say 3 | UK
About
PhotoVoice is a UK-based charity which uses photography to help bring about positive social change through projects all over the world. They work in deprived communities, helping people whose lives are affected by issues ranging from underrepresentation to being at risk in some form, or simply experiencing challenges. Their aim is to enable these people to share their experiences through photography with others who, as a result, can bring about positive change.
Behind The Scenes
Over the last 13 years PhotoVoice have been involved in 75 projects in 35 countries. This adds up to hundreds of archives filled with thousands of digital images. How can one five-person organisation manage projects of such scale?
The Challenge
Up until late 2015, PhotoVoice had no database for their ever-growing library and no workflows for distributing and communicating their message globally through their images.
"We had them all scattered across different hard drives and in various locations and there wasn't a consistency in the way that the formatting of the folders was done, every project had a slightly different approach to it."
This frequent struggle meant it was exceedingly difficult to locate images which they wanted to use and having multiple individual hard drives meant that only one person at a time could have access to part of their collection. Keeping track of new images was also a challenge, as well as ensuring that images were ordered in consistent formats with the correct headings and captions. In particular, images often had to be captioned in two languages for foreign projects; the original language that the caption was given in by participants and the translated version which would be used to promote the content to different audiences. With a total of 75 projects this had built up to beyond a level that required a more efficient method of management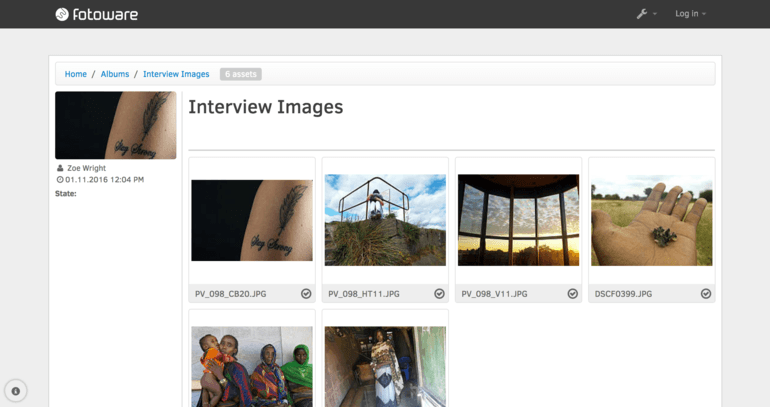 The Solution
The amount of management required with the continuously growing database of images and 13-years old archives placed understandably heavy demands which were too great for a 5 person charity. The strive for efficiency brought the need for a system that can store, organize, manage, license and distribute images in more than one language across 35 countries. Digital Asset Management was the key answer for these multiple challenges.
With Digital Asset Management, images can be easily organised with consistency, via titles, keywords and custom metadata which also makes the processes of searching and filtering images a much simpler task. In PhotoVoice's case, user management has also been able to improve as files are now accessible remotely, as opposed to previously having to be in possession of the correct hard drives.
PhotoVoice regularly need to showcase or share the images from their projects with partners. Using a DAM has enabled them to define user restrictions for specific images or albums, meaning different external parties ranging from partners, trustees, volunteers and public media are able to view particular subsets or tagged images, rather than having to access the entire database. It is no longer a time-consuming process to source and send multiple image files, and shared albums can be tailored to allow comments and download permissions.
DAM has helped PhotoVoice to focus more time and energy on the most important aspects of their work. Eliminating the stresses of previously time-consuming tasks and simplifying these processes has meant that more resources can be spent on delivering their mission through their projects and helping the people who need it most.
To learn about the incredible work PhotoVoice do read our interview with Tom Elkins (CEO) here: http://www.fotoware.com/blog/m... and subscribe to the blog for more.