What Is It Like To Be A Woman Working In Tech? [Interview: Shauna Gordon]
By Eunbyeol Koh
on January 9, 2019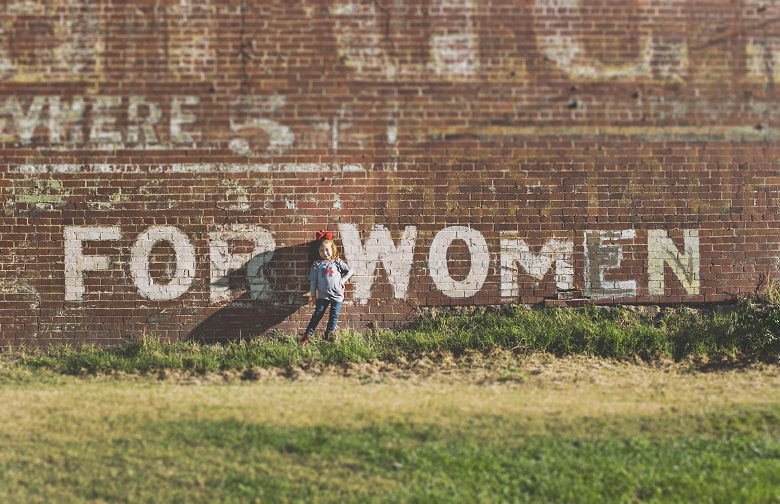 Photo by Katherine Hanlon
A survey of more than 200 women working in Silicon Valley revealed that 84 percent of women had been called "too aggressive", 75 percent were asked about family life, marital status and children in interviews, and 60 percent have experienced unwanted sexual advances. - Elephant in the Valley
Despite certain improvement of gender equality in today's society, men continue to dominate some industries - and the gender bias is prominent in the tech industry. Women make up less than 20 percent of the US's tech jobs, even though they make up more than half of the US workforce. According to the survey, girls become interested in tech careers at age 11, but lose interest soon after. Experts believe lack of female mentors and gender inequality are some of the factors responsible for this trend. (Small Business Trend, 2018)
Shauna Gordon is a software engineer who has been inthe tech field in the past decade, and she has shared inspiring and stimulating perspectives on a range of topics relating to technology, diversity and workplace culture on her social media channel and blog. We caught up with her to hear about what it's like to be a woman working in tech, and what inspires her in her daily life.


Can you share a little bit about yourself?
My name's Shauna. I'm a Senior Software Engineer in the Midwestern United States. I primarily specialize in web application development, with a spattering of (mainly Linux) systems administration.

What influenced you to pursue a career in IT?
My dad was a big factor in my interest in tech. He's an old-school geek an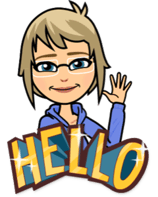 d he built me my first computer when I was 8. The iconic beige case housed a shiny Cyrix processor and ran the fancy new Windows 95 operating system. I then proceeded, over the next several years to poke, explore, and learn. As tech evolved over the next decade, my little brother and I had many adventures building, upgrading, and networking our computers from dad 's ever-present stash of parts.
It was in my Junior year of high school when I found programming. It was the only "computer" course available outside of the vocational school, so I picked it up and enjoyed it so much that I ran with it and ended up leaps and bounds ahead of the pace of the class. I realized then that it was something I could see myself doing as a career (which was good, because by that time I knew I wanted to do IT, but tech support was starting to get outsourced, so I knew I wouldn't be able to get very far with my previous skills, alone).


What is it like to be a woman working in technology for you?
For me, it's typical being the only woman on a team, department, or even in an entire company. Of all the companies I've worked for, I can probably count on one hand (with fingers left over) where at least one of these wasn't the case. Even in college, there was a running joke regarding the lack of women. I historically got along better with my male peers than my female ones, so I never really thought much of it, but it definitely didn't go unnoticed and I can see how it could put off women who don't have as much innate passion or drive, or who are not as used to the arrangement. And it does mean dealing with various incarnations of sexism/discrimination.
The Wachowskis illustrated beautifully back in 1999 with their cast in The Matrix (whereof the 10 members of the Nebuchadnezzar, only 2 were women), and especially Neo 's reaction upon first meeting Trinity:
Source: YouTube
Neo: Who are you?
Trinity: My name is Trinity.
Neo: (does a double-take) Trinity? The Trinity? That cracked the IRS d-base?
Trinity: That was a long time ago.
Neo: Jeez-us.
Trinity: What?
Neo: I just thought...you were a guy.
Trinity: Most guys do.
And then there's the "pipeline" issue that starts all the way back in elementary school. I've been a geek since elementary school, it made me a target back then. Who would want to engage in something that makes you an outcast even among outcasts? What girl would want to be ostracized by her female peers and seen as a threat by the boys? Anything less than the most deep-seated passion and drive for it was weeded out and redirected from an early age.
What advice would you give to a woman considering technology as her career?
Go for it and don't be afraid to be the only woman in your team/department/company, or to go into a niche that's even more heavily male-dominated. Even if you don't/didn't have female tech role models to look up to, remember that you are now (or can be) one of those role models. We can't fix the past, but we can change the future. Even if you're the only woman on your team, you're not alone. Check out groups like Black Girls Code, Women In Analytics, and Women In Technology International for networking with and mentorship from other women in the industry.
Who are your role models for women in tech?
I have to say, I don't really have anyone that I'd really consider a "role model," simply because I'm not the type to have role models in general. I am very intrinsically driven and tend to do things because there aren't many already doing it. That said, I do want to be like Shirley Curry when I grow up. 😄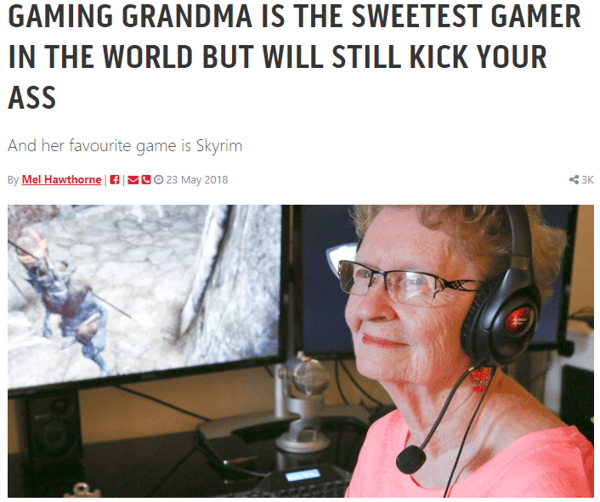 Source: Gamebyte.com
At FotoWare, we aim towards having a more diverse workplace. What do you think companies can do to encourage more women to choose careers in tech and rectify the imbalance?
Get involved in the various women-in-tech communities and value them as a resource. I've run several job postings by them for feedback to take back to company HR departments, and they unearthed quite an array of subtle messages in the wording that turn off people (particularly women and non-binary folk) from applying. Take a good look at your company culture. Bottomless beer kegs, outings always at bars and unused ping pong tables can not only be superficial, but tend to attract a certain group of candidates. It's not to say that they can't be part of the perks and culture package, but don't forget about highlighting your retirement and paid time off (PTO) policies too. Give your people benefits that truly show you care and invest in your employees:
A results-oriented work environment that de-emphasizes what time people come in or leave (or even that they're in the office when doing work, unless you have a compelling, objective reason that requires being onsite).
Generous paid time off and encouraging actually using it for time off (if you don't want to go the unlimited route, consider this policy - if someone is on PTO and gets called, that requires their attention, they get that PTO day back, even if the call only requires 5 minutes of work, because it interrupts their time off; this method also comes with the requirement that work communication not be on personal devices, at least during PTO).
Paid parental leave that allows parents to stay home with their child during the crucial bonding time.
Don't expect the entirety of your employee's continuous learning to be on their dime and their time, allocate time and resources to learning
Provide growth paths for your employees, including mentoring programs. Being a "flat organization" should not be code for "no raises or career progression." Growth paths shouldn't also all lead into management, either. Good engineers/ individual contributors don't necessarily make good managers.
For management growth paths, provide management training. Poor management is the biggest reason people leave companies ("people don't quit jobs, they quit managers"), and a lot of it comes down to the fact that most managers don't actually know how to be a manager, let alone do it well. Also, if you hire any manager who does not have a background in the type of work the group they're managing does, give them training on that, too. They don't have to be experts, but they do need to have some understanding and appreciation for the work their people are doing.
Rotate off-site outings so that bars and similar environments are not the only venues.
Respect people's time outside of work; don't expect your salaried employees to work more than 40 hours per week as a matter of course, "salaried" does not equal "free labor."
Offer the little perks that people actually value and will use. Feminine hygiene products available in the women's restrooms, for example. Healthy snacks are a good one, too. Yes, this means that the ping pong table can stay, if people can and are using it. The keys here are value to a range of employees and little, everyday things after the bigger, more impactful items are planned for. These things shouldn't be the centerpiece of your benefits package.
Run your job posts by one or more women in tech groups (you are engaging with them, right?). They can identify all the things that turn off women/non-binary and non-traditionally-educated people.
Be transparent about your hiring process. Outline the next steps, make a note that there'll be a "take home challenge" to complete later, etc. There's nothing special about your interview process that needs to be kept secret, trust me.
Evaluate whether your "requirements" are actually required. If you have requirements listed that aren't actually required, then don't list them as requirements. They are nice-to-haves or shouldn't even be listed.
Be clear on "what candidate must know coming in" versus "what is used on the job, but can be learned." It's perfectly fine to say "these are the duties, but don't feel like you need to know everything. Knowing some of it and a willingness to learn the rest is great."
Don't expect any new person to be fully up to speed (aka "hit the ground running") the moment you hire them. That's not realistic, even with experienced people. You're doing yourself more harm than good, then, by expecting, say, senior-level experience for a junior or mid-level job, just because you don't want to train people (Side note: this kind of reluctance to provide proper onboarding also shows that you're not willing to invest in your employees, making them more likely to leave after a while, if they even take the job.)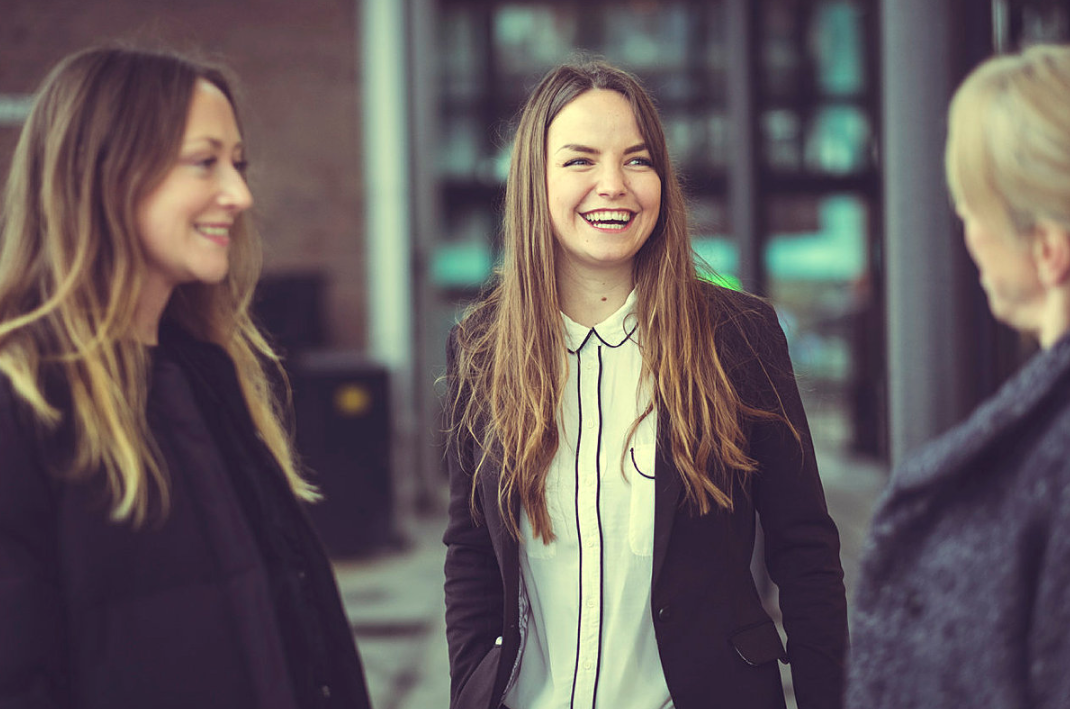 Can you recommend us what you enjoy reading in your daily life?