@Photo Credit: Alex Knight
As one of the longest-standing FotoWare partners, Pivotal has provided FotoWare solutions across Australia and New Zealand for the past 18 years. Pivotal has been playing a key role in pioneering innovative technology, and recently integrated AI-based image recognition with FotoWare Digital Asset Management. We caught up with Michael Dorgan at Pivotal to learn about their efforts to bring this integration to fruition and how this helps their customers to achieve their goals.
Can you introduce your role at Pivotal and about the company?
I'm one of the founders and directors at Pivotal. I like working closely with clients to make sure they are getting the maximum benefit from the software.
Pivotal has been working with FotoWare in Australia since 2000. Initially we had a client (a paparazzi agency) who were moving to digital and needed a solution. We found FotoWare and saw that it was a great fit for this client.
Since then we have introduced FotoWare to customers in Australia and New Zealand. Our clients are in industries such as:
Government

Museums and Art Galleries

Police and

Defense

Printing and Publishing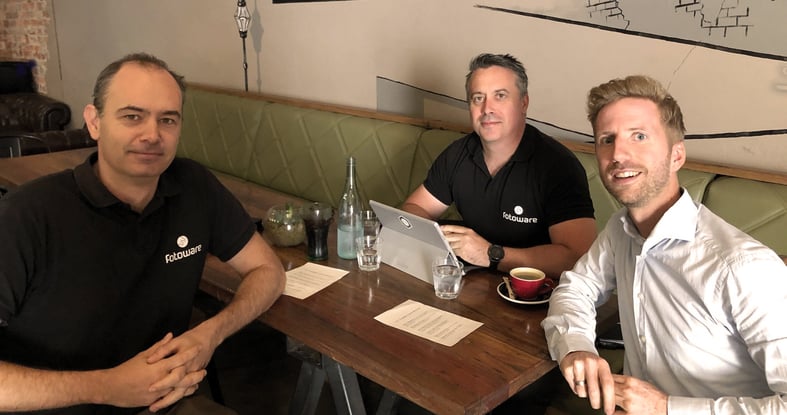 @From the left: Mark Curach and Michael Dorgan at Pivotal, Andreas Gnutzmann at FotoWare
Pivotal has been playing a key role in developing integrations with FotoWare, and it has recently created image recognition possibilities for the customers – can you tell us a little bit about this?
It's always been something that clients have asked about; for many years clients have been asking if there is an easier way to add metadata to assets. We've been monitoring the solutions and now the technology has hit a point where it is genuinely useful.
There are several cloud vision APIs available - these allow us to upload an image and automatically get some more information about the image. These can return tags such as keywords that describe the contents of the images, but they can also return data such as the age, gender and emotion of the people in the image. If the person is a celebrity, it will return their name.
Clients are always looking for a way to do more with less. Adding metadata to assets is always the most labor-intensive process in a DAM system; anything that can be done to make this process better for the clients is going to mean cost and time saving for the customer.
@Running image recognition using Google Tag Manager and Microsoft Cognitive Service in FotoWare Digital Asset Management
What made you start working on the image recognition and what kind of challenges did you have to make it possible?
We have a client who is a large transportation company. They were looking for a way to make it easier for their mechanics to get information into the system. By taking photos of number plates and barcodes and uploading these with the job, we can auto-tag these and store them with the job.
We had some clients with an existing collection, without any metadata. This would give them an easy way to add some metadata to assets.
Technically the solution was straight-forward to build, although we did spend some time evaluating the various AI tagging engines that were available. We found that Microsoft and Google gave the best results and gave results that complemented each other.
Google gave back better tags/keywords.

Microsoft did better celebrity recognition and gave back a description/caption that was usually quite accurate.
We also evaluated the solutions for barcodes and number plates, and we decided on IBScanner for barcodes and OpenALPR for number plates.
@Running number plate recoginiton in FotoWare Digital Asset Management
How do you think the image recognition feature will help your customers to achieve their goal? Which industry will reap the greatest benefit from it?
Users who are starting with a large collection of assets without much metadata will find this very useful. This can remove an objection that clients may have, where they feel that they will have to abandon their current collection.
Image recognition works well on 'Stock' type images, so users who are in industries like tourism will find this very useful. This is because the AI will quickly tag images with words like 'beach', 'forest', 'mountain', 'trail' and so forth.
Image recognition can also be used as part of the workflow. I am sure the technology will continue to improve, and we will find new and exciting ways to use it.
What is the proudest integration you have built for a customer?
There are several FotoWare uses in Australia who are museums and galleries. Pivotal built an integration with their Collection Management Systems (CMS) that make it very easy for them to quickly upload assets and make sure that the assets always have the correct metadata.
We have built integrations with the two main CMSs used here (in Australia), Vernon and Emu so that users can directly upload images and other graphics to their CMS, without having to leave the browser. This is a simple integration that delivers enormous benefits to the clients.
Watch the full video on how the image recognition feature works in a FotoWare Digital Asset Management solution!
If you want to learn more about the magic behind Metadata, download our free guide today!