Thomas Cook is one of the world's largest travel companies, with branches operating in over 9 markets across Europe. We caught up with Pontus Wallin, Group Head of Image and Film, to see how Digital Asset Management is used by this retail giant.
What does your role at Thomas Cook entail?
I'm the Group Head of Image and Film within Thomas Cook group. I have a team of 14 people which includes everything from colour re-touch, pre-press & design to photographers. Our main purpose is building image and film for the group, for all markets.
How important are images for Thomas Cook, and how are they used?
We have three different types of images: hotel images, destination images and brand images.
Hotel images are the biggest part of what we do. We have around 240,000 of those images in our DAM. Using metadata we create a sort order for them, then we send them out through all kinds of distribution systems. For example, in the Continental Europe markets we have a system for their brochure production and web production, so they get the images sent in the sort order that we have agreed on and they can then publish straight to web or in brochure pages.
Destination and brand images are mostly used in marketing communications and social media, so all the social media managers and marketing departments have access to our DAM. There are different teams in the different countries and they're able to go in and search for what they're looking for and can download the approved images and use them immediately.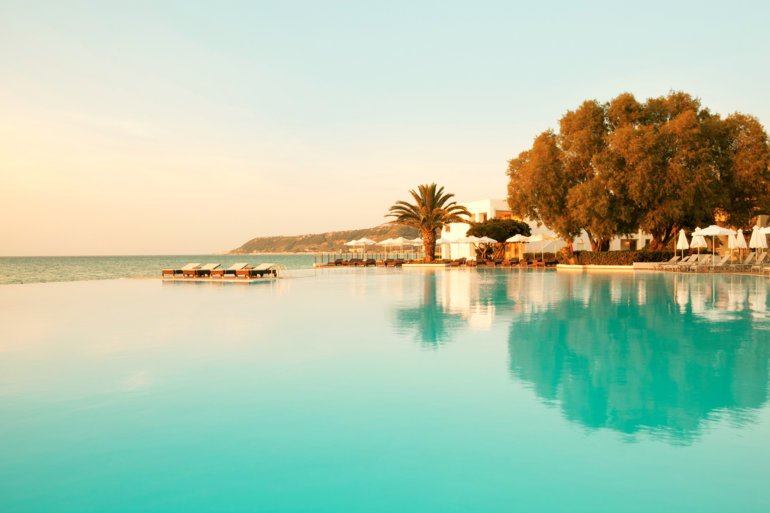 How many photos and videos do you currently have archived?
The total is 306,000 images in the DAM to date, and that includes all the three different kinds – hotel, destination and brand images. Every day my team also does about 1,200 changes on the images in the system.
How long have Thomas Cook been using DAM?
We have been using DAM for almost 14 years now, but before that we were using colour slides in folders on a server. For most of the years we have been using DAM at Thomas Cook, the different markets within the Thomas Cook group were using independent DAM systems. We wanted a common system so that we could have all our images in one place.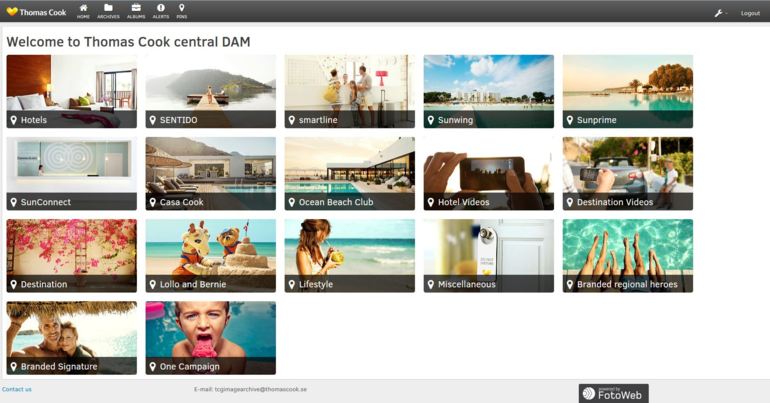 What problems did you have working without a central DAM system?
One of the biggest issues we had was the way hotel images were being handled. The same hotel has content for a lot of different places, and if the hotelier wanted to change anything they had to talk to each market to get it corrected. Now they only get in contact with us and we fix it and the all the markets get the information that they have a new image and can use it. We can now work at least five times faster in this area. Before, it could take a few hours to make all those changes plus a lot of communication and investigating who to talk to, but now making the changes takes less than 15 minutes and it saves time for the hoteliers too.
For social media and marketing it was a lot about the brand consistency. Everybody would be using different images for the same brands, so it wouldn't look the same everywhere which affected the brand guidelines.
What has been the biggest impact of up-scaling to a central DAM system for the Thomas Cook group?
If an image is wrong we can now fix it instantly in the DAM and everybody can make use of the right image. Now, there's much more consistent use and all the websites for each market use the same images. On social media you get a more common look and feel for the brand.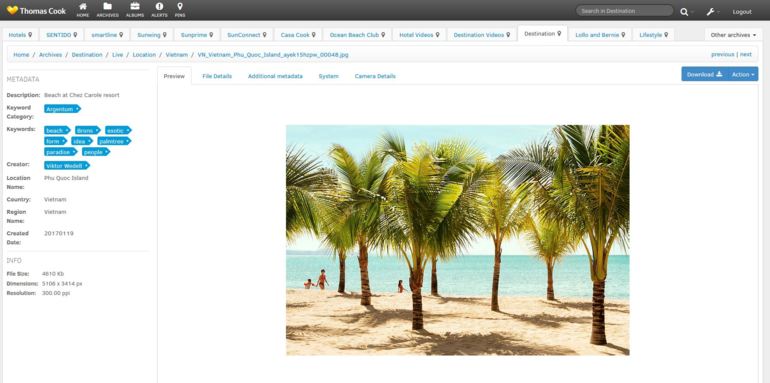 How did you decide which DAM solution to use for every market across the Thomas Cook group?
There was an evaluation and it was narrowed down to 5 companies. The reason why we went for the system we have now, which was being used by Thomas Cook Scandinavia, was because we had a good track record and we had proved that the business model would work. In Scandinavia we had been using the DAM for Norway, Sweden, Denmark and Finland, so it demonstrated the business model with these countries using the one system.
What was the process of up-scaling the DAM across all the markets in the Thomas Cook group?
Last summer (2016) we migrated over the images from the different markets to the central DAM. To do this we took on 10 new staff and set them up with the DAM and then we had the UK team and the continental team sending all their images of the hotels over. They would then have to compare the images, choosing the best and most recent versions, and then upload those to the DAM. This took about 4 months in total to complete.
Want to learn more about Digital Asset Management? Go Behind The DAM and subscribe to our blog to find out how other organisations manage their assets, saving time and money in the process.