The rapid changing market demands during the pandemic crisis have forever changed the way we think about tech
By Bettina Berntsen
on August 13, 2020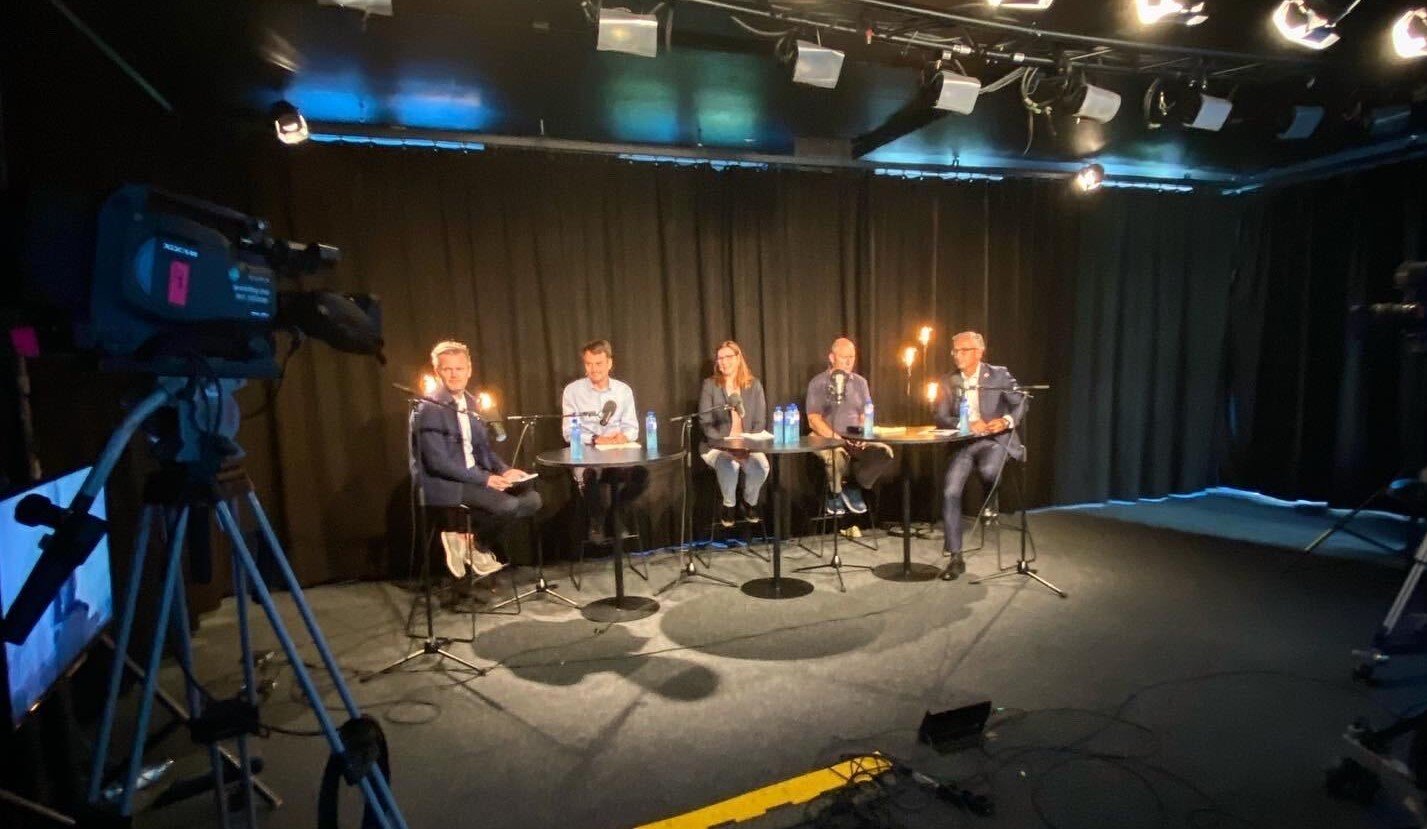 The global pandemic has affected businesses, organizations, and people around the world, changing working habits and demands literally over-night. The need for change is about more than just technology, it's about innovation, leadership and sustainability. There is a question that comes to mind in all of this: are we better at change during crisis? Yesterday, FotoWare CEO, Anne Gretland, was part of a high-profile panel in a live podcast hosted by Atea Norway and Oslo Business Forum. The podcast was part of IKT Norway's digital alternative to the annual Arendalsuka, where politicians meet business leaders from private and public sectors around Norway.
The panel consisted of Michael Jacobs, CEO of Atea Norway, Jonas Slørdahl Skjærpe, Director of IT at NAV, Tor W. Andreassen, professor at NHH, and Anne Gretland, CEO of FotoWare, and was led by Christian Brosstad, Communications Director at Atea. Here, we've summed up the discussion in English, as this topic goes beyond the borders of Norway.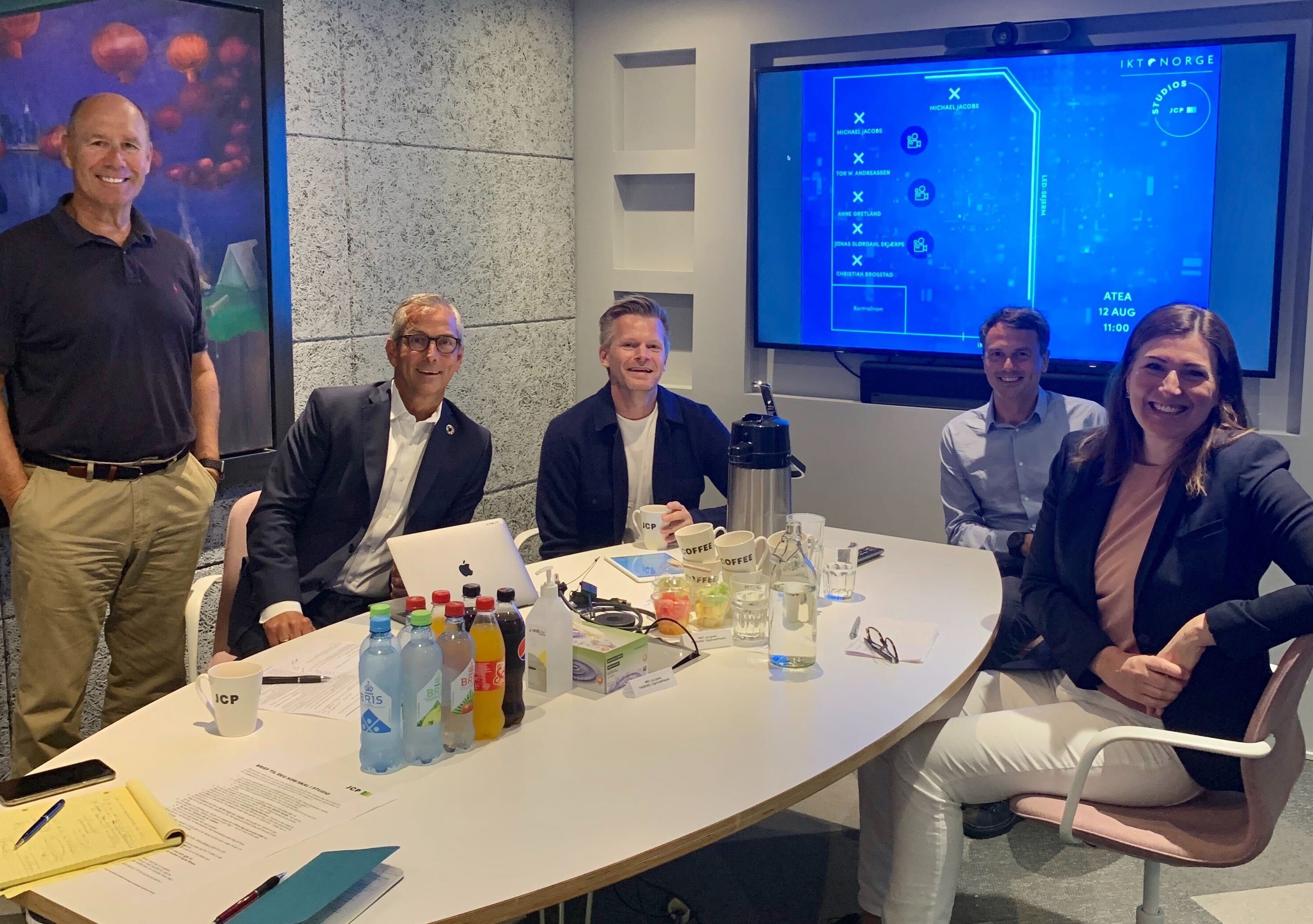 From left: Tor W. Andreassen (NHH), Michael Jacobs (Atea), Christian Brosstad (Atea), Jonas Slørdahl Skjærpe (NAV), Anne Gretland (FotoWare).
Over the course of one weekend in March, the Norwegian Labour and Welfare Administration (NAV), which employs about 19,000 people, moved from traditional office work to home office.
"Such a vast change makes you wonder how an operation like that would look in a normal world", says CTO of NAV, Jonas Slørdahl Skjerpe. In retrospect, things went much better than anticipated, and one important factor might have been that both leaders and employees shared the same perspective. "We all knew what needed to be done and why. This made everyone more positive to the change that was forced upon us and had to happen. Seeing it from a technological perspective, the fact that we had the platform to execute an operation like this, was crucial."
External chock is a driver for innovation
- Professor Tor W. Andreassen at NHH

In FotoWare, we noticed a clear increase in our customers' willingness to change in several aspects. Quickly jumping on to, and mastering online meetings, has, despite the situation, been very inspiring. And some of our customers requested to be moved from FotoWare on-premise to cloud.
"This situation has given late adopters the perfect opportunity to digitally transform in an environment where almost everybody is trying tools like Teams and Zoom for the first time. There is also a unique sense of togetherness, because they did it together with every other late adopter out there. The collective forced digitalization that happened gave many companies a new sense of confidence in regard to using digital tools."
- Anne Gretland, CEO at FotoWare

Atea, one of the largest IT-companies in the Nordics, saw differences in maturity in their customer group – from the already highly digital, to those who needed help to physically unlock their laptop from their docking-station in order to bring it to the home-office. What they all had in common is that they wanted the guidance and the service from professionals – a guiding hand to steer them in the right direction.
"The adoption of technology is important" says Anne, "and during the past five months it has skyrocketed. Hopefully, this trend will continue and be a driver of increased use of cloud technology, which again leads to digitalization and availability, also outside the office walls. Customers will hopefully remember the feeling of accomplishment and pride they felt this time and apply it next time."
Customer obsession
Today, we talk a lot about customer obsession and seeing challenges from the customer's perspective. How do we become customer obsessive in practice? Firstly, we need to learn what our customers need, but also what our customer's customers need. And we need to steer our innovation towards segments; meaning that there's no longer one-size-fits-all.

NAV administers a third of the Norwegian national budget through schemes such as unemployment benefit, work assessment allowance, sickness benefit, pensions, child benefit and cash-for-care benefit, so being focused on the user is crucial. At NAV, they set their focus on a certain happening in their users' lives and what their users need at the time and build products and services around that. Working in interdisciplinary teams has made a great difference in using this approach, because it reduces the time spent in meetings and thus reduces time-to-market.
At FotoWare, we want to create solutions to solve problems that our users don't even know they have. By showing customers how we can give value both right now, and in the future, we are showing them we care about their long-term growth and innovation. It is important to find a good balance between challenging our customers about long-term strategy and future needs, and understanding the context they are operating in right now.
Pandemic or not, being able to understand the customer from their own perspective has become increasingly important. Regardless if you're a vendor of software or hardware technology, having in-house competency and experience on the everyday-life of the industries and the roles you serve are key. As an example, "Atea has hired teachers over the course of several years to better understand and serve the educational sector in Norway", says Michael Jacobs, CEO of Atea Norway.

How have leaders coped with the over-night change of the pandemic?

Being a leader during a pandemic, with customer and employee demands changing overnight, has been a challenge for many organizations. However, there are some similarities the panel noticed during the pandemic:
Having a clear vision and framework is key, and giving teams enough room within that framework to solve problems themselves is vital in an ever-changing market.

Having a strong culture helps in times of uncertainty.

Being open and honest about what you know and what you don't know is important.

Being clear and precise in your communication with employees is also essential, while informing and communicating often.

You should try to involve your employees whenever and wherever you can.

In this setting it is ok to be vulnerable as a leader and be honest about not having all the answers.

"Many leaders have had the opportunity to rise to the occasion during this time and take the company and its employees through it. Maybe for the first time, both leaders and employees are getting the same information at the same time – we are all in this together, and the leader's job is to create security around the situation and make sure employees feel taken care of", says Anne.

It has also shown us how important it is to understand technology, no matter which leadership position you have. It is not only technological people that buy technology – the users are everywhere, within every field of work. "Diversity helps with this too, as the more representation you have, especially when it comes to experience, education, gender, nationality and age, the more capable your company will be at making decisions that benefit a wider variety of customers and prospects", says Michael Jacobs.

Conclusion
Seeing how quickly the world can change overnight has affected the economy, the digitalization rate, the pace of innovation, the willingness to change, and technology adoption. What has become clear during the last few months, is that we need technology platforms that are capable of handling change at speed, and the ever-changing demands from our customers, our employees, and the society around us.
If you want to watch the full episode, visit IKT-Norway's page here. The episode is in Norwegian.