The Importance of Automation, Consistency, and Diversity for Pracedo [Interview]
By Alex Kronenberg
on October 2, 2019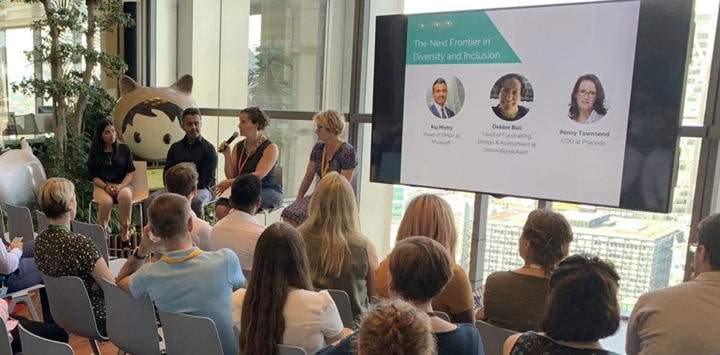 At FotoWare, we believe in championing diversity to bring out the best in our industry, our business, and our people. We recently caught up with Safiyyah Gareeboo, Marketing Manager at Pracedo, who hosted a panel on Diversity in the Workplace, run by the Salesforce consultancy earlier this year. Discover how Pracedo's focus on diversity and inclusion has impacted the business and see Safiyyah's suggestions for how organizations can implement their own inclusive initiatives.
Featured image: Pracedo
What is your role at Pracedo and what does it involve?
I'm the Marketing Manager at Pracedo, which is a combination of leading on the marketing for us as a business and consulting our customers on marketing automation, through Salesforce and Pardot. Salesforce has products for higher education, charities, financial services and lots more – at Pracedo we cover almost all of them!
What are some of your biggest challenges as a Marketing Manager?
At the moment, it's content creation! We have a wealth of knowledge but getting that across to Salesforce and our potential customers is a challenge because of the time it takes to collate the information from a range of sources. We've just hired a Marketing Apprentice though, so I'm really looking forward to him supporting in this.
We're at #chaselive2019 @theBreweryVenue with @SalesforceOrg today. Come and say hello! #powerup #nonprofit pic.twitter.com/TSGJuU5spN

— Pracedo (@Pracedo) July 4, 2019
What methods do you take to ensure brand consistency in the content you create?
Good question! We're in a bit of a transition phase as I'm working on a new website. At the core though, we focus on a few colours (each one represents a different aspect of the company) and the same font throughout. That's fairly basic at the moment, so going forward I am working on more of a style guide and a heavier focus on high quality images that better convey what we're about.
What tools do you use to manage your digital assets?
Pardot allows us to host images for our forms, landing pages, emails and social posts which is useful in terms of consistency. There's not loads of storage on our plan though so things like event pictures are currently stored in Google Drive until we need them. Presentations and notes are a combination of Google Slides and Quip, a Salesforce Product.
How does automation help you in your role, and why is it important for marketers to adopt?
I use a tool called Pardot, which I am also certified in as a consultant. It underpins all the marketing we do and the biggest way in which it helps me is through segmentation. Using the data in our own instance of Salesforce, I can pull together key information about my target audiences. Everyone in marketing knows that it's more important now than ever to know your customer and make sure the communications you have with them are relevant. When I am consulting other marketers, this is always something that Pardot improves immediately for them, as having a connected system ensures that all their customer data can be used in the best way possible.
What are some of the common problems you hear about marketers struggling with marketing automation?
The biggest problem is often that data is spread out across multiple systems. This is often why people come to Pracedo for Pardot support or even begin a Salesforce implementation. It really is a connected system that can bring in multiple points to one useful platform. For marketers this means that where with the previous silos they had gaps in what they knew about their audience, by having a single view they can understand much more about demographics and behaviours.
Happy #InternationalWomensDay from the team at Pracedo!

We're proud to say that as we continue to grow, this year's new recruits have been 50% female, taking up key roles across the whole business.#PowerUp #FestaDelleDonne #WomenInTech #WomenInSTEM #IWD2019 pic.twitter.com/wm0kdIOXaJ

— Pracedo (@Pracedo) March 8, 2019
Are there any trends you see emerging in your industry over the next year?
As data becomes more and more integral to people's work, I'm seeing a wider range of customers invest in their CRM and Marketing Automation. This plays into a much wider information trend and the reason behind it is that customers now expect a level of personalization and knowledge from every business they work with. It's simply not acceptable any more to send content that isn't timely or relevant so there is a definite growing trend in organisations taking steps to fully understand their target audience throughout their lifecycle.
You recently hosted a panel on diversity in the workplace - why do you think it's important and beneficial for organizations to be diverse?
From a personal perspective, I think it makes for a more comfortable work environment. It means that there are a range of perspectives in the office which increases the likelihood that everyone will feel they can be themselves, whilst being respectful to their peers. It's also important for the organisation, especially one like Pracedo because we work with different people all the time, both internally and with changing customers. Having the ability to draw from and understand different perspectives makes us a stronger team who can deliver better projects.
Thanks to our panel guests yesterday afternoon, Raj from @MuleSoft and Debbie from @intalert who joined @PennyMTownsend to talk about #Diversity in our workplaces. #PowerUp pic.twitter.com/JdzBtKLZrH

— Pracedo (@Pracedo) July 25, 2019
What can organizations do to ensure they provide an inclusive environment?
I've included a slide from the talk our CEO, Matthew Schutz did before the panel discussion. It summarizes the steps he has taken at Pracedo and I can vouch for the fact that we do them all! On our internal communication channels, we make a point of praising our peers for their work. Rather than feeling forced or cringe-worthy, it is so clearly from a good place that it now feels normal. This really helps those who are less willing to shout about their achievements and encourages them to eventually self-promote. I also really value the different social activities which allow people to get involved in the things they enjoy - by mixing it up we ensure that people aren't excluded. Doing the same thing all the time like 'Friday Bar' can be exclusionary to people who don't drink or enjoy pubs, so I think Pracedo has got it right by doing different activities each time.

The best thing that an organisation can do though, is to decide what's essential and be accommodating everywhere else. Making what you can flexible will be the most effective first step to being more inclusive, as you give people the room to make work fit them. For example, if you have a developer who isn't client-facing and prefers working 12am - 8pm, then provided the work is getting done – ask yourself if you can be flexible there. The key thing is to specify what's essential – perhaps they need to be in at 10am once a week for a company meeting – and then be accommodating elsewhere. Ultimately, people know themselves well, so give them a chance to find a good working arrangement that also meets the business needs.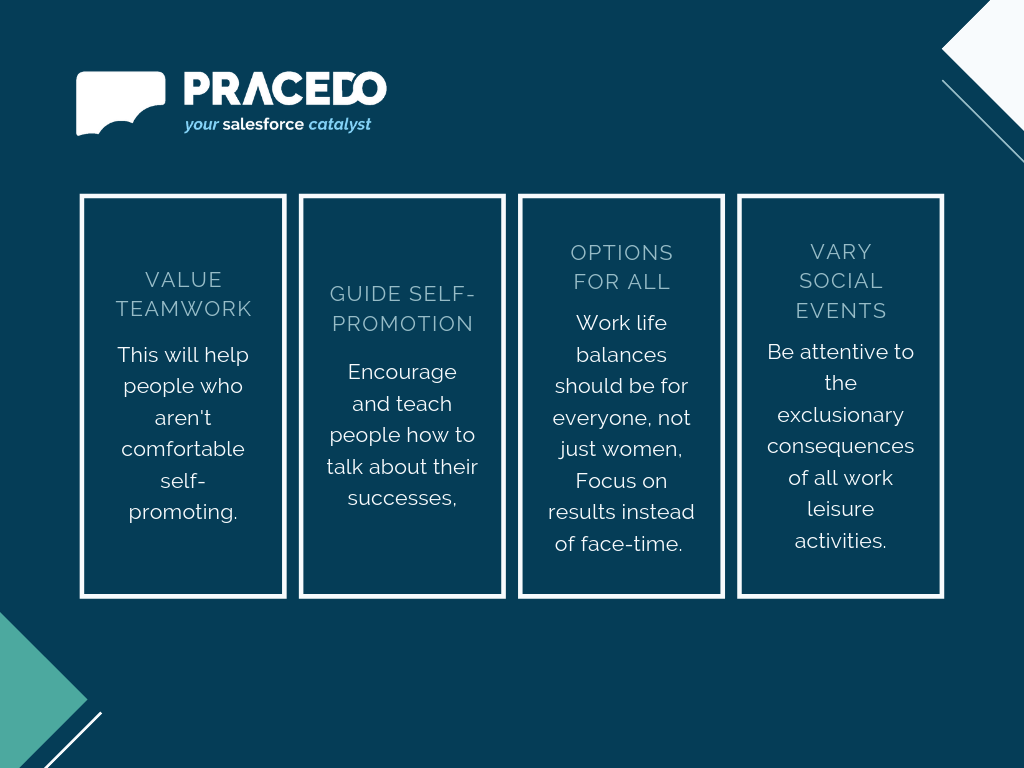 Why does Pracedo value diversity and how has it impacted the company?
I think this goes back to Matt's belief that diversity of thought is what makes for a strong project team. Having people who can understand different perspectives and communicate them clearly, means we will be able to predict, build and troubleshoot the CRM systems that we build in a way that works best for our customers. To get to that level of diverse thought you need to start with the basics, so looking for people from different social, ethnic and class backgrounds is a good first step. We also have a strong apprenticeships program, which means that our consultants are always teaching and learning. This is essential for our work as consultants and having younger people on board who are actively studying really encourages that attitude across the whole team.
About Pracedo
Pracedo is a consultancy that focuses specifically on the Salesforce CRM and its associated products, including Pardot and Marketing Cloud for marketing automation as well as many others for different industries.