Telling The History of the White House to a Digital Audience
By Alex Kronenberg
on March 23, 2017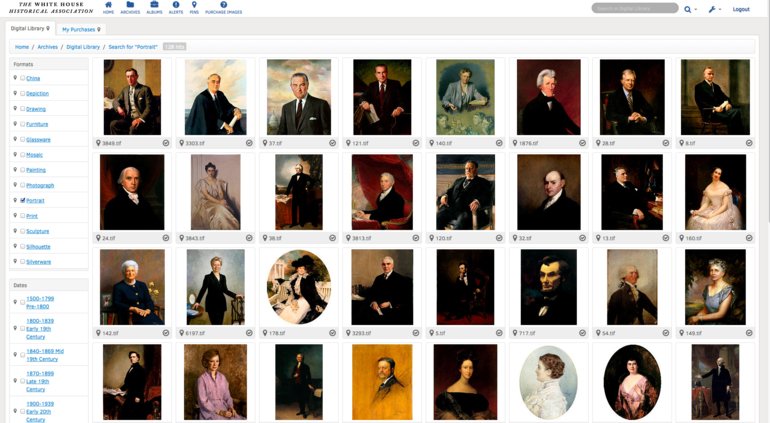 The White House is one of the most famous buildings in the world. The home of the US President is steeped in history, and we caught up with Stephanie Tuszynski from the White House Historical Association to discover how the organization manages to preserve and promote the history of this iconic landmark.
What's your role at the White House Historical Association (WHHA)?
I'm the Director of the Digital Library.
What is the WHHA?
The White House Historical Association was founded in 1961. We're a private, non-profit organisation and we support the White House and the Park Service in the preservation of the White House. We also do educational outreach and work with other non-profits and organisations to promote understanding and the history of the White House. Most of our target audience is in the United States, but we do international outreach as well
The WHHA's Digital Library has been live for just over a year now, what is it and how does it differ from what you had before?
The Association had been planning for a while to launch a more comprehensive online library and were discussing it for about 5 years. What we used to have was a small digital archive of about 200 images that were mostly portraits of the Presidents and First Ladies. It was very small and didn't really get a lot of traffic, and the software we were using to manage it couldn't really do very much. The new Digital Library is much bigger, we've got about 5,000 images in the system right now but we've got a long way to go still. Our estimates for the total number of images we have in our holdings is somewhere between 30,000-50,000. We've got about 25,000 35 millimetre slides that are sitting in cold storage that we're working on digitizing this year!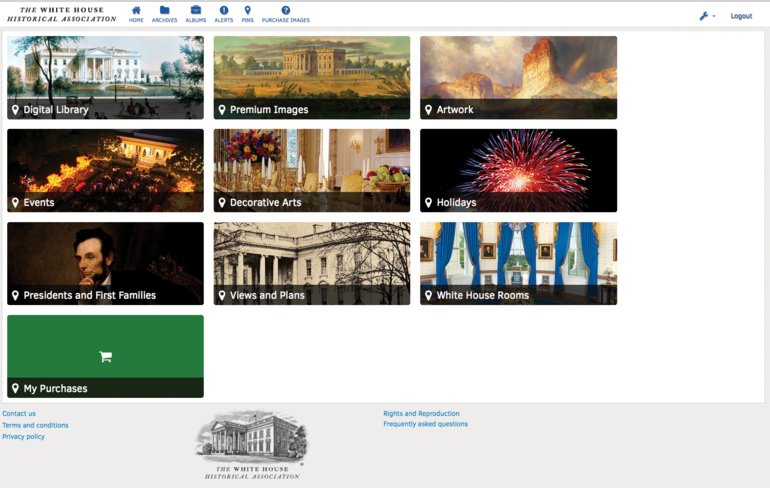 How much of a difference has there been to the traffic generated by the Digital Library, compared to the old archive?
The old system was very static and it wasn't being updated with new material, so there wasn't any incentive for people to come back more than once. The new Digital Library averages about 6,000 page views per month, but in January we had over 10,000 page views because of the volume of interest in the White House with the inauguration. That was way more than we'd expect to get in a normal month.
What were the main problems you were experiencing before moving to a DAM solution for the Digital Library?
The old software wasn't really adequate for what we were looking to do, so we decided to search for something new. It [the previous software] was just an archiving tool, so we could put images up online but it was just there… you couldn't do any downloading, there was no purchasing process and there was also not a lot of control. Everything was in up there in public and we couldn't really keep things secure. We have materials that are part of the White House collection that we've used in publications, but these are still under copyright protection, so while it was helpful for us as an organisation to have them in the system, to be able to access them, they're not things we could make visible to the public. The previous archive was lacking that kind of fine control.
"During the inauguration we were working with most of the major news networks in the United States, as well as other big publications"
How has a DAM solution solved these problems?
It's more user-friendly. Registered users of the Digital Library can now log in and save photos to an album, download images individually and pin materials to save them for viewing later. We have also set up a process for users wanting to purchase images. When a purchase has been made and the payment has gone through we are able to approve it and then they can download the image. None of that was available before. If someone wanted an image from us we had to do everything via email and then send them the file transfer through something like DropBox, which was very labour intensive and cumbersome for employees. Now, it means that something which previously took several days has now been cut down to just a few hours.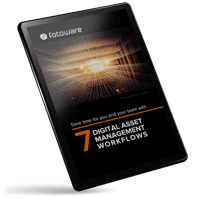 Where does the WHHA source images of the White House and presidents from?
We have a photographer on staff and a media specialist, so sometimes they'll be included in the press pool for events like state dinners, arrival ceremonies or the tree-lighting ceremony at Christmas every year, but we're really concentrating on the house itself. We don't bring in every photo that gets taken of the president because our interest is not in the presidents, our interest is in the house. Sometimes those things will be the same and sometimes they won't.
Do you often receive requests from organizations who want to use your images?
During the inauguration, we were working with most of the major news networks in the United States, as well as several other big publications. There were a lot of stories written about the Oval Office and the West Wing of the White House, because traditionally the new president re-decorates the Oval Office to their own liking. We provided a lot of people with different images of the Oval Office, showing what it looked like under Kennedy or Nixon and so on. We also work with film and television programs as well who are shooting stuff that is set at the White House.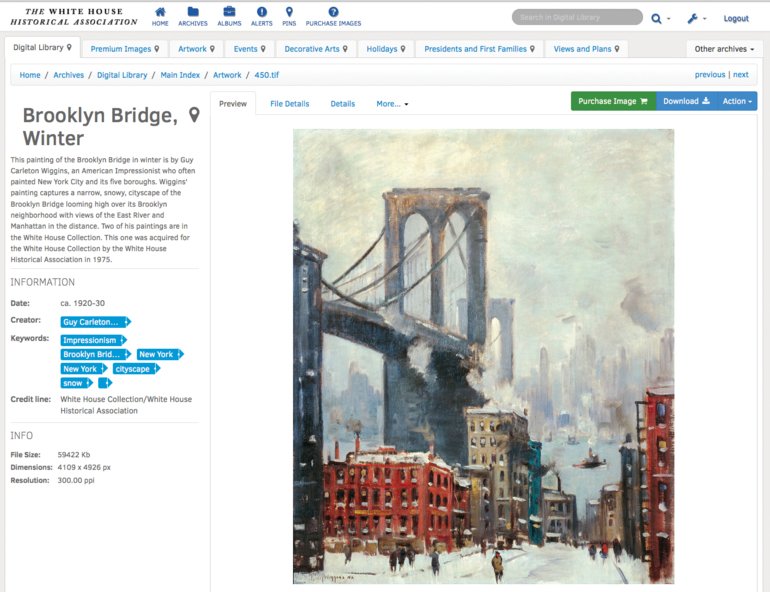 How is the licensing process managed?
It depends on where the request is coming from. We have a marketing and communications department, so if they're working with a specific author or organisation they will tell us internally and we use our DAM to distribute the media to them. Our marketing and communications team have also created albums for certain events which happen every year, which are embedded in a press area on our website. We don't just make things available for download straight up in high resolution because we want to be able to control and know who's taking a high resolution version of a file, but we allow them to download low-res versions for evaluation. If they want a high-resolution version to put into print they have to contact us to get approval.
The WHHA social media pages have over 200,000 followers across Facebook, Instagram and Twitter. How do you manage what media can and can't be posted?
We have a dedicated team that manages our social media posting, so they have access to the library system in our DAM. We train them and explain what to look for with markers designating images with license restrictions on them, which makes it a lot easier. It shows people what not to use because it's got a restriction on it, so that allows the people who do our social media work to be able to manage that without needing to ask us.
We allow normal users who are logged in to our Digital Library to share stuff to their social media for personal use and since it carries the information we input, like rights information, we figure that's not something to be worried about. We do keep an eye on if anybody's using anything in an abusive fashion, so we can stop them and suspend their account, but there's a limit to how much you can police that.
Do you want to work faster and smarter? Book a meeting with one of our experts to see the FotoWare solution with your own eyes!
Do you want to read about other organizations that benefit from Digital Asset Management? Take a look at some of our other customer stories, including San Francisco Ballet, the White House Historical Association and the World Food Programme.