Inspiration Gained from the SHEconomy Summit, Silicon Valley
By Radmila Milenkovich
on April 17, 2018
Last week, FotoWare's CEO attended a highly inspiring technology conference in Silicon Valley together with 35 executives from various industries in Norway.
Top leaders from the private and public sector – in academia, NGO's, startups, technology companies, healthcare, insurance, banking and more, met to learn from some of the world biggest companies, and from each other.
The event was initiated and founded in 2015 by Benja Stig Fagerland and co-founded by Camilla Bakjord. Together, they wanted to create an arena for learning and knowledge transfer for Norwegian executives, to better be prepared for the digital transformation.
They partnered up with Microsoft, LinkedIn, Google, Compello, ODA-WomenInTech, The Norwegian Armed Forces and #ShesGotThis, among others. The leaders from Norway visited Microsoft, Google, Facebook, LinkedIn and Stanford University. They also got speakers from Harvard Business School and Amazon. The program was tailor-made and gave in-depth insight into Digital Transformation, Leadership, Cloud, Diversity, Inclusion, Cyber-security, Machine Learning, AI, Design Thinking and Diversity & Inclusion.
Day 1 – visiting Microsoft, LinkedIn, Nordic Innovation House - topics covered: Digital Transformation, Leadership, Cloud, Failure & Learn, Hiring, Diversity, Inclusion, Cyber-security
The first day started at LinkedIn campus with the GM of Microsoft Norway, Kimberly Lein-Mathisen wishing everybody welcome. She reminded us that we have to fight the change resistance from the digital transformation that we are all now a part of. While we are changing our business to keep up with the future, we cannot also hang on to our tradition - there is no happy middle ground. You have to jump into the new – and let go of the past, even if that feels scary and unsafe. As the old saying goes: what got you here, won't get you there.


Bill Reichert, Managing Director of Garage Technology Ventures, covered various topics, including what venture capitalists look for in new projects. They want to invest in people and companies that want to make a difference, that want to make the world a better place, "a solution that fills a gap in the universe". And when VS's choose new projects to support, they choose with their heart and their gut, more than their brain. He also advised that no matter how big a company you run, you have to hire leaders – leaders who take charge of their area, their field of expertise, and leaders that take responsibility and drive the business forward. Don't just hire only working bee's – hire leaders.

Claudia Roessler, Director of Industry Solutions at Microsoft emphasized how cloud openness and accessibility create possibilities for innovations to happen anywhere. And that the future is all about sharing, because sharing is what scales. Claudia shared how Satya Nadella made Office365 available for iPhone, opening up even for the competition. Nowadays, as the world is changing, companies and their owners must be brave enough to walk away from their cash-cow and venture into the new. How can you enable your employees to find new ways? They must be allowed to try and fail. If we are allowed to fail – we can learn. To be able to learn, we have to share our failures.
Videos from Claudia's presentation: Ecolab: link | Artificial Intelligence: link | Dyslexia: link | Icrisat Agriculture partnership: link | Project Premonition: link
The attendees also heard Jennifer Shappley, Sr Director of Talent Acquisition talk about how LinkedIn works on Diversity, Inclusion, and Belonging. She openly shared their practices on helping people build a sense of belonging and finding their purpose, as well as, tips on finding talent that might not be looking for a new job right now.
Rachel Evangelista, HR Director at Microsoft, and Cathy Campbell, Diversity & Inclusion lead at Microsoft focused on the most important thing in every company: people. What they are looking for when hiring people - skills, experience and potential!
They want their employees to make an impact for the people around you, not just reach your assigned goals. Therefore, you are assessing yourself on three things: 1. individual performance, 2. how you contribute to others' success and 3. what you learn from others. Sharing knowledge and helping others to be successful is key to creating an inclusive culture. Cathy emphasized the importance of the unconscious bias and breaking the bias barrier. This can only be done by addressing the issue head-on, by talking about how to unveil both unconscious and conscious bias. Microsoft 's unconscious bias training is open for all.
Kitty Yeung and Kenny Spade, Program Managers in The Garage at Microsoft, working on Microsoft's latest technology and innovations. They host hackathons and workshops, and share bottom-up ideas from employees in Microsoft with the whole company and the rest of the world.
Kitty's combined passion for art & design and technology drove the innovation for a jacket with solar panels for charging her cell phone. Other creative initiatives, emerging from the hackathons, include AI driven glasses helping blind people navigate better in the everyday life. We also got to try on a HoloLens – which was a lot of fun.
Adrienne Hall, GM, Issues Management at Microsoft addressed a very important topic: cybersecurity, and the importance of having a media management strategy for this. Some of the tips Adrienne shared included:
Know in advance who should address media in the case of an attack
Make sure that you already have a written statement, in general term, that can be updated easily
Be careful about what you say: only give a 7-20-word window. Stick to the facts only. Be short
Have internal routines, so that you know what to do and say
Do regular employee training on the topic – research shows that 5% of every employee will click on a phishing-link about winning money.
In the late afternoon, we moved over to Nordic Innovation House - headquarters for the Nordic Startup Community of peers, partners, investors and service providers. We were fortunate to hear the stories of two amazing, bold and inspiring entrepreneurs. Ulla-Maaria Engestrom, Founder & CEO of ThingLink told us about her journey of building an interactive media platform for information to images, videos, VR. Maria Malavenda, Founder & CEO of Evvemi, started a company that matches a network of hair stylists, with new innovative matching technology. They are really inspiring women that made their dream come true by being brave, innovative, hardworking, and never giving up.
Day 2 & 3 – visiting Google, Facebook, Stanford, Amazon - topics covered: Leadership/Hiring, Marketing, AI, Equal Opportunity, Company Culture, Investors, Start-Up, Design Thinking
The second day started at Google campus, where we were welcomed with a virtual SHEconomy™ welcome banner and a fantastic breakfast buffet.
After some mingling, we met with our host for the morning, the Leader of Digital Transformation at Google, Siri Børsum. Alan Egle, Digital Marketing Evangelist at Google, told us about the importance of involving leaders in the company hiring process. He told us that all leaders in Google were involved in the hiring process, and that they made that a priority. As a leader, it is also essential that you are aware of the role model that you are, and that you have the right values – and that you act and live those values. Do the right thing and choose the best possible scenario. He emphasized on what he referred to as psychological safety: it must be safe to speak up in a company, and everybody must be heard.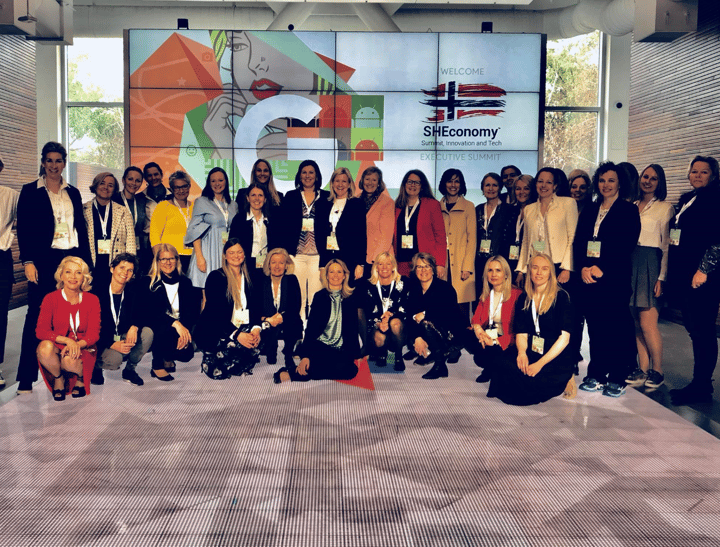 Aprajita Jain, Digital Marketing Evangelist at Google, spoke about the age of the digital assistant, and because the world is changing so fast, so does our behavior. The consumer experience is becoming more mobile, and people are more demanding than ever before. Do we as an organization have a site that is optimized for a mobile phone? Does it load fast enough? People give up after 3 seconds. The average site takes about 25 seconds to upload (on the phone). We are curious and impatient - we want answers now, our way. Search is key for most people these days, and people have started to postpone their decisions. No need to plan ahead, because things can be bought and acquired so quickly – order online and get it on your doorstep the next day.
Wise up – be smart about how you advertise. Be where the customer is and know what the customer care about – are some of the tips we heard from Aprajita. An example is BMW and the launch of their latest model with a smart ad about BMW car drift.
Alexander Mossin, Senior Engineer at Google HQ, showed us a demo of how Google uses AI to search for pictures, recognizing details in photographs and recognizing drawings. AI and Machine Learning helps makes sense in a messy world.
Melonie Parker, People Operations Director, Google, emphasized the importance of everybody in a company to get a seat at the table. They have designated 'Bias Busters' to ensure inclusion in every part of the organization. She spends a lot of her time focusing on equal opportunity for women and men at Google and the diversative representation of cultures. Melonie says that the male aggression behavior is what has traditionally set the agenda – this is what we are measured against, and if you are not aggressive enough then you don't seem eager or can't get your message across. We need to foster all kinds of work styles and leadership styles – not just what men are good at. Every company must foster a work environment for individuals. Hiring, Inclusion, and Environment is key.
After lunch, we went off to the Facebook campus. We were given a warm welcome by our host Brenda Tierney, Head of Policy Visits, Global Policy Programs at Facebook. She took us on an exciting tour around campus, which started in the Instagram Boomerang booth. The Facebook campus is built as a little town, with trees, benches and outside tables. The food is free and there is a coffee shop, a frozen yogurt shop and even a bank inside. That way the employees don't have to rush home to go to the bank or even to deliver their dry-cleaning. They can do it at work. Everything is made to fit the employees and their needs.
James Hairston is Facebook's Artificial Intelligence and Virtual Reality Policy Lead, and he showed us amazing new AI, VR and AR technology that Facebook is working on, including B2B virtual reality marketing tours. Parisa Zagat is Policy Programs Manager at Facebook. She showed us how Facebook is connecting the world for communication among individual users and businesses in the future. Especially the enormous economic impact of small businesses around the world.
In the early evening, we met up with Noah Kindler at Stanford University. He heads up StartX - an educational non-profit that accelerate the development of Stanford's top entrepreneurs through experiential education and collective intelligence. We got to hear how they foster entrepreneurship and commercial success.
Noah shared the priorities of VCs when getting into a new venture. First, they love competing for a good deal, and win. They look for a high performing team that knows each other and have experience working together. Second, they prefer teams with at least one technical person – meaning the group can get started right away. Third, they want the head of the company to start on what needs to be done to take the company off the ground, now. Fourth, the timeline is important: you only have about 1,5 to 2 years to make it happen. If you don't, you are not of interest anymore. Lastly, startup leaders spending their time at conferences, talking to the press, doing speaker assignments, speaking to many investors = he called this "Fake work".
Then he gave a very interesting scenario: if an investor invites you to meet with them in 5-6 weeks and you show up, all prepped with the information they required, and he/she says "great", I will get back to you, lets meet again in six months or a year" – that is a hard "no"! Because if you have time to wait for weeks to meet, then your business is not "hot" enough. VC's want to get in on the "hot" deals.
Our last point on the agenda for the second day, was visiting the D-building at Stanford, where they work with Design Thinking. Brendan Boyle, Professor at Stanford Partner at IDEO, gave us the most inspiring tour of his faculty and told us about creative problem-solving. Every company will need some creative problem-solving in these transformation times. Time to put on the Design Thinking cap.
At our third and last day, we met with Debanjan Saha, GM of Database Services at Amazon, who focused his presentation on innovation at Amazon. His team always start with the customer first, then work their way backward. He said, "customers have a choice – delight them, and they'll stay". He also emphasized on the ability to fail in order to learn. He said that if you are not failing on at least 30% of your projects, your goals are not bold enough. He advised that a project team or idea team should never be bigger than can be fed on two pizzas.

The 3-day conference was packed with learning, information, inspiration, and discussion. The participants got to both expand their knowledge horizon and their network. What an amazing opportunity to take home valuable new ideas and learning. Thanks to great l0ogistics, amazing speakers and engaging participants, the trip was a huge success. Our CEO, Anne Gretland, took away great learning for the future of FotoWare and has expanded her professional network in the process.
Thank you for organizing this learning journey Camilla Bakjord, Benja Stig Fagerland, Kristine Hofer Næss, Inga Kleppe, Kimberly Lein-Mathisen and Siri Børsum.