How Scandinavia's Biggest Women's Tech Network Empowers Women & Girls
By Alex Kronenberg
on April 3, 2018
Inspiration day - Photo credit Gundersen & Meg
We recently caught up with Kristine Næss, a founding member of ODA - Scandinavia's leading network for women in IT, to discuss how the organization began, what their mission is, and how companies like FotoWare can help them make a difference. We are delighted to have recently become a partner of ODA and are committed to doing our bit to create change for a more balanced and diverse tech industry.
What is your role at ODA?
I've been leader of ODA for just about a year, since February 2017, when I succeeded Anne Gretland (FotoWare CEO). We founded ODA together back in 2005, so it's been quite some years!
What was the inspiration for founding ODA?
I started working in the tech industry in 2003 and always perceived it as super interesting and impactful. Even though I have a Master's in Business Administration, I majored in IT management and I thought it was so exciting. I started working for Microsoft right after I finished my studies and we saw that there were just so few other women in the industry.
We read a study from the UK that said women were put off high-tech jobs because of the glass ceiling and not feeling welcome, but we found working in tech great in Norway. So, we organised a similar study in Norway which didn't show those same results at all, but that women were generally very happy in the industry here. We then organised an inspiration day to present the results and after that there were quite a few women who told us that they were the only women in their companies, and they really missed having a network. That's when we started ODA.
BBC News http://news.bbc.co.uk/2/hi/technology/4225470.stm
What influenced you to pursue a career in IT?
During my Master's at St Gallen, Switzerland, I had internships in tech companies and I thought it was super interesting. This was back in 2000-2003, after the dot com bubble when things were picking up, and it was quite an interesting time. I got the opportunity to work at Microsoft, where I thought I could just learn a lot. I got so many opportunities and I really loved it.
How many members does ODA have today and how many people are involved in running the network?
I think we're the largest network for women in tech in the Nordics. We have close to 9,000 members, mainly in Norway. We actually have some members across the Nordics as well, even though our main events are here in Oslo, Bergen, and Trondheim.
All in all, we're around 40 volunteers who work pro bono for ODA, and we're non-profit. It's a really amazing group of women – and some men who help and support us too. We have a big marketing team, a network group team, a team for our ODA Inspiration Day, a team for our initiatives such as the girl tech fest, a mentor team and also teams in Bergen and Trondheim.
Panel debate - Photo credit: Nana Stojanovic
What events and activities does ODA run for members?
We have a number of activities! Every month we have a network meeting that is hosted by our gold partners and platinum partners and we have around 100 participants every month. We have our major conference, the ODA Inspiration Day, that's hosted every Spring and this year it's on 31st May in the concert hall in Oslo. We have 1,500 participants and have had some amazing speakers, from the prime minister to really cool international speakers. We also have a mentor programme and have had 200 participants through this with excellent feedback, and we also run a Girls Tech Fest together with other organizations, such as TENK, ICT-Norway, Norway Makers and the Deichmanske Libary.
And recently, on 8th March, we announced the Top 50 women in tech together with Abelia – the Confederation of Norwegian Business and Industry – in order to show the "hidden gems" and female role models in tech. I get phone calls from head-hunters who say they don't have any female applicants and do we have some names. That's partly why we do this, to show that they are out there!
What do you think is the key to getting more young girls and women involved in technology?
We need more role models to show that tech is a super interesting field for girls! I think it would be really helpful if there was something that could show just how much fun it is not just to use technology, but also to create and solve-problems for society and businesses.
In ODA, we collaborate with a number of other organisations to organise our Girl Tech fest. Last year, in 10 different cities we had 1,300 girls from 10-12 years old, who learnt about technology. One of the tasks that my group had was to try to solve the problem pet owners have when they go on holiday, and also the problem for children who really want a pet but can't have one, using technology. It's not always about coding, it's about understanding how we can use technology to solve real world problems. I think for girls to see that makes it much more interesting than just sitting there coding Minecraft, although all children should definitely learn coding at school as well.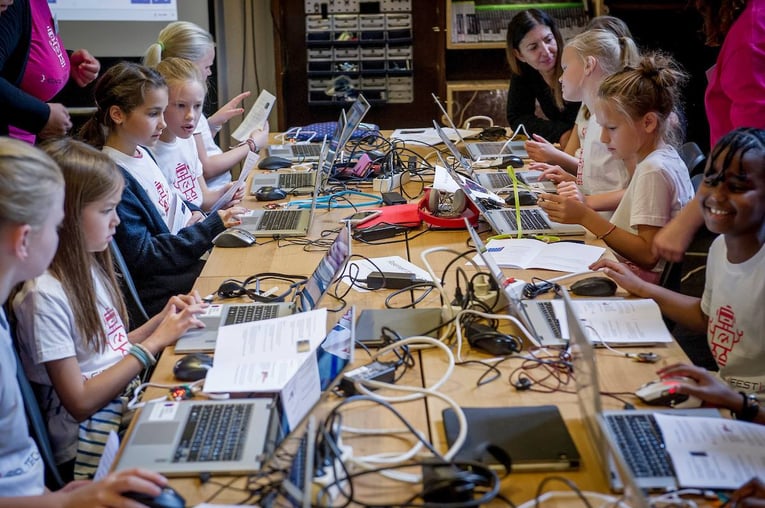 Girl Tech fest - Photo credit: Gorm Kaare
What can tech companies like FotoWare do to help realise ODA's vision?
We have a target of 40% women in tech by 2025. Obviously that's not something we can achieve alone, so we're really reliant on partnering with companies such as FotoWare, who are forward-thinking, and see that diversity is key to the future and key to getting the solutions we need in society. Tech is everywhere right now and is influencing our whole society, and with so few girls and women involved, it's not good. Having a collaboration with partners like FotoWare is super important for two reasons; in your own organisation you can put focus on it and live the diversity values, but also to be talking about it and show from the top that this is something that you are focusing on really helps. In addition, you can volunteer for events such as the Girl Tech Fest.
What is the proudest moment you have experienced as part of ODA, and what is the network's proudest moment so far?
It's quite difficult for me, because there are so many different moments! It was a thrill to be on the stage at the last Inspiration Day for the first time as the new leader of ODA - just feeling the energy and power in that room was incredible! It's also a thrill to see hundreds of girls who are learning to code and have a spark in their eyes at the Girls Tech Fests. Also, kicking off the mentor programme and seeing how grateful people are, telling us how it has really changed their careers. There are quite a few moments!
Last year was the first time where we announced the Top 50 women in tech. In recent times, I think that, and the Girl Tech fest, are really proud moments in ODA's history. I think they really make a difference for the people involved.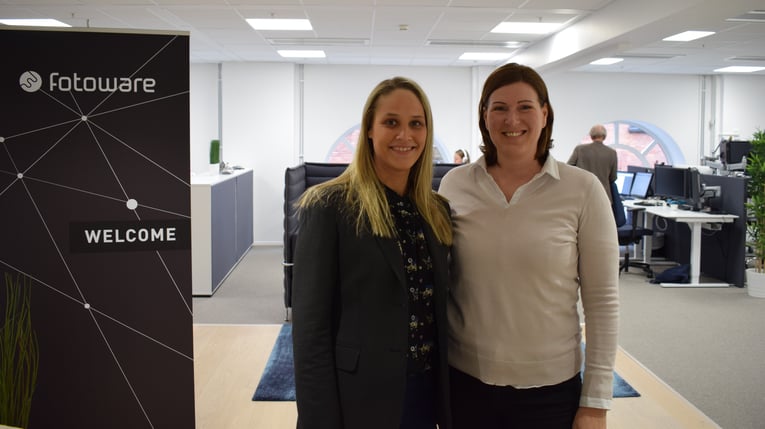 ODA Nettverk co-founders - Kristine Næss (left) and Anne Gretland, FotoWare CEO (right)
At FotoWare, we aim towards having a more diverse workplace. What advice would you give to IT companies about making sure their workplace is equally as attractive for women to work in?
We've been working on diversity in tech for quite a few years now and we've gathered up a big base of experiences, almost like an ODA toolbox and we pair this with a lot of research that we consume. We give advice to quite a few organisations, looking at the situations of companies and what they can do: what are the easy or quick fixes, and what can they do long term.
One thing that is fundamental is that it must be something that top management cares about. They need to care about it and they need to communicate it, otherwise it's super difficult to change focus and culture. It's also important to measure it. What is the diversity index and how do you work to measure it on different levels? Something we still see is that women have more responsibilities at home, so things like being able to leave early and pick up the kids and then work from home is amazing. Having that flexibility is really important.
Transparency is also important - to see how promotions are made and what is the recruitment process like. If all of this is transparent then there's a greater chance for female talent to be involved in those.
How has the landscape changed since you started working in IT?
We can see that there has been an increasing trend towards focusing on diversity and the advantages of it, with campaigns like MeToo and #Addher. Key trends in tech like Cloud, Consumerisation and Phones have given fantastic opportunities and some risks with regards to things like privacy and how we can handle those as a society. Those are some big questions and we really need to work together and step up to ensure we get the best solutions for everyone, not just for the few.
What would your advice be to young women thinking about a career in IT, working for a company like FotoWare?
I think it's definitely the place to be. I've spoken to headmasters at schools because there has been a tendency with girls, especially if they are really good in stem subjects, to push them towards studying medicine. It's about having a positive impact in the world, but if you want to save the world tech is where you can do it! That's also the topic for our ODA Inspiration Day this year, 'Tech for Society'. There are so many possibilities and opportunities that we can all work on and I would definitely recommend it as an amazing field to work in.
Who do you see as current role models for women in tech?
Well, you have an amazing CEO here who I co-founded ODA with, and who used to be the leader of ODA for many years – she is absolutely a role model! Then, there are some key figures, we have a younger girl who is amazing called Isabelle Ringnes. Another one that I look towards internationally is Sheryl Sandberg (Facebook), but there are many others who are super inspirational.
To discover more about Oda and the work they do for women in tech in the Nordics, visit their website at https://odanettverk.no/ or follow them on Facebook and Twitter @OdaNettverk