I'll be the first to admit, I'm not the most organized person. Starting my career as a creative, I found making things to be a lot easier than keeping things orderly. But, as most marketing professionals tell you, being methodical in how you create and manage your work, particularly in the organization of your content, you'll spend more time doing the things you are good at, and less time fussing with the details. If you focus just a bit of your time on organization, you'll improve your SEO and the share-ability of your content, I swear.
When I say 'organization of your content,' I really mean two things:
The actual organization of your content on your website or blog, which includes strategic categorizing, tags, and hierarchy
The behind-the-scenes organization and management of your content that helps you to utilize your content more efficiently
When you create a process for organizing your content, you and your readers will benefit long term.
Organize your content into categories
Categorization are the bread and butter of blog organization. If you do nothing else to organize your content, at least start implementing blog categories. So let's focus on this for a minute:
Use categories for your readers:
Blog categories are the main subjects that your content is about. They typically are the big defining term for the topic of your posts. For example, this post might be categorized under "content marketing," or "content strategy," while a post titled "10 Tips for Closing a Sale" would be categorized under something like "sales strategy" or "sales funnel."
Categories should be keyword optimized, and they let users and search engine bots know what a piece of content is about, much like meta descriptions, titles, and alt text. Not only do categories serve a great purpose for keyword optimization, they act to increase usability - another factor that search engines like Google take into account when ranking sites.
How do categories help usability? Basically, they make your content easier to find. The easier you make it for users to find what they are looking for on your website, the more Google likes you. Create a menu with blog categories, and users can click to see all the posts under that category. When readers have an easy way to find exactly what interests them, the more time they'll spend looking at your content. If they can't find what they're looking for, or don't have an idea of what your range of content is about, they'll probably navigate away from your website pretty quickly.
Use categories for yourself:
Organizing your content by category can also help when you're managing your storage of your content on your computer or data management platform. I personally find that using categories for folder titles will help you to find what you are looking for quickly and easily. Anything that lets me keep a few minutes of my day!
Here's an extra little hint: keeping folders with category titles also lets you know where you are lacking in content. Click your folders to see how many documents are in them. Have only 2 pieces of content in 1 folder, and 58 in another? Looks like you've just found the basis for the topic for your next post.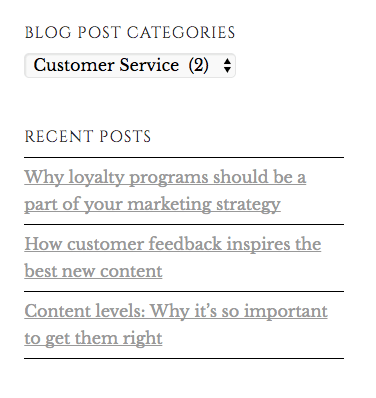 Organize content with categories to help with internal linking
Inbound, outbound and internal linking are also a big part of SEO. Organizing and categorizing content can help you quickly and easily improve your internal linking strategy.
When you have your content categorized, you are better able to find appropriate old pieces of content to link to in your new pieces of content. By using internal linking, you are strengthening the authority of each of the pieces of content to show users and search bots relevancy. Organizing your content behind the scenes, and categorizing your blog will help streamline the internal linking process, rather than you having to search through all of your documents to find an appropriate piece to connect to.
Use organization to streamline repurposing old content
It's impossible to always be creating brand new content, and oftentimes really good content stays good for a long time. If you've written a blog post, created an infographic, or made a slide share, you may find yourself repurposing it multiple times.
Repurposed content is great because you can utilize something already created to generate new views and engagements, without having to scrape the bottom of the barrel for new ideas. But repurposing content can become problematic if you don't have efficient means of organization.
Like I mentioned before, organizing your content folders by categories can help show you where there are gaps in your topic coverage. And just the same, they can show you what types of content you should create. If blog posts in a certain category do exceedingly well for views, clicks, and/or shares, there are two things you should do:
Try to discover what is the compelling element of that category and see how many ways you can cover it differently,
and look to see how you can repurpose that content in different forms, ie, making a blog post into an infographic, or repurposing a webinar for Instagram posts.
By using categories to see not only the subject matter, but the types of posts, you'll know when you have too many pieces of one type of content for a specific category.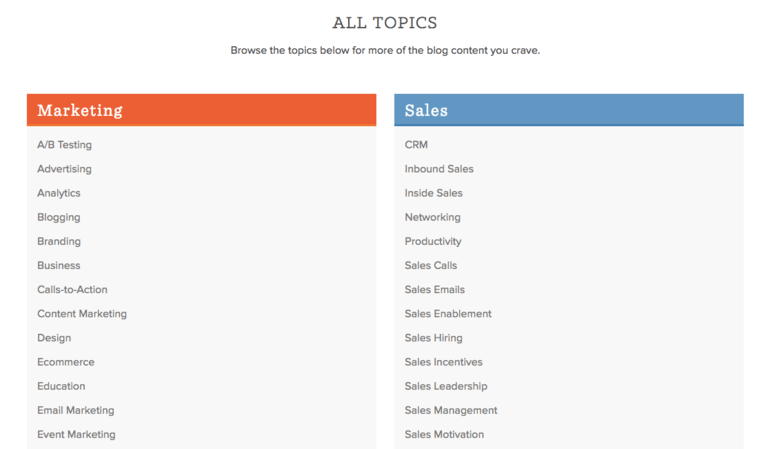 Organization of content can help with your share-ability
Ok, now here's the part you're probably most interested in. How in the world can organization of content help with reader sharing? Stay with me for just a minute…
Content share-ability and SEO actually have a lot to do with one another. Strong SEO can actually be a fairly good indicator of share-ability. That's because when content is deemed valuable, easy-to-read, authentic, and authoritative, (which is actually what SEO is) it's the kind of stuff that people love! Now of course SEO isn't always a good indicator that your content will be shared, but there's a few other scenarios that come into play here also. To maximize your organization to help with social sharing try these:
When you see who likes your content, suggest to them other pieces of content based on categories and tags. That type of useful targeting is seriously impressive to the average user.
Use social sharing as a gate-keeper. Suggest more relevant content to a reader if they share a post or graphic. On the thank you landing page, unlock a load of content that will be useful to them based on their interest.
Organize your content into a 'trickle-down' strategy for social media. With one piece of content, schedule posting on your various social channels over the course of a week or two. It maximizes the amount of times people have a chance to see it, and let's you test what performs best and when. You can potentially create recurring events for certain types of content and categories, like Website Optimization Wednesdays. By creating something people can come to expect, you increase your chances of sharing.
I hope you now can see how organizing your content can really benefit you and your content strategy long term. And to be honest, there are really no downsides to organizing content. Getting the process implemented may take some work, but once you do it, I promise you'll never look back.
More on content marketing coming soon, so make sure you subscribe.