How a Global Marketing Agency is Succeeding with Daily Vlogs
By Alex Kronenberg
on August 9, 2019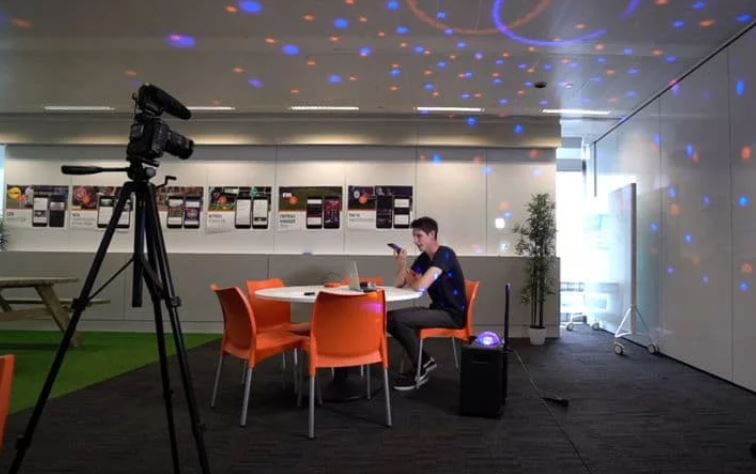 In the age of the content explosion, cutting through the noise is getting more difficult by the day for B2B companies. Yet, one leading global influencer marketing agency has found success in filming every second of office-life, to produce a daily vlog that has resulted in tens of thousands of views, increased the number of job applicants, and is even bringing in new business.
We caught up with Matthew Wyatt, resident vlogger, videographer, and office nuisance at The Goat Agency, to find out why it all began, the demands of daily vlogging, and what impact it has on the business.
Why did the Goat Agency start a daily vlog?
The guys at Goat decided that as an agency they wanted to practice what they preach. Producing content is a big part of what they're selling to clients, so they thought it didn't look good if they weren't doing it themselves. They saw it as an opportunity to really get ahead in the market and be one of the very first agencies that vlogs.
What reaction did you get from clients and staff in the beginning?
At the start, that was right at the forefront of my mind. It was very uncomfortable. Filming people in the office was difficult because they'd never had a camera shoved in their faces before – I mean, I don't particularly like have one shoved in mine either! Now we've done 126 episodes [at the time of writing], and it's all now slotted into place in terms of people feeling comfortable with it.
How did you find making each daily vlog interesting, with a narrative that makes people want to watch?
That was one of the most difficult things, and it still is difficult, but we've definitely found our groove. My main job is to elevate the day to day, but there's always stuff going on, especially when you've got a business of 120 people. There are lots of stories there to tell, often its not whether there's something going on it's whether you can pinpoint the most interesting thing. It's also just about having fun and being a bit slapstick sometimes. So, whether you're doing an interview and you've got a disco light playing, or something like that… it's just finding creative ways to make mundane things seem interesting. At the start, I would explain to my friends about the job that its like the feeling of being at university and having your dissertation deadline, but you haven't written anything, and you've got one day to write it. It felt like that every single day, whereas now it doesn't feel like that at all.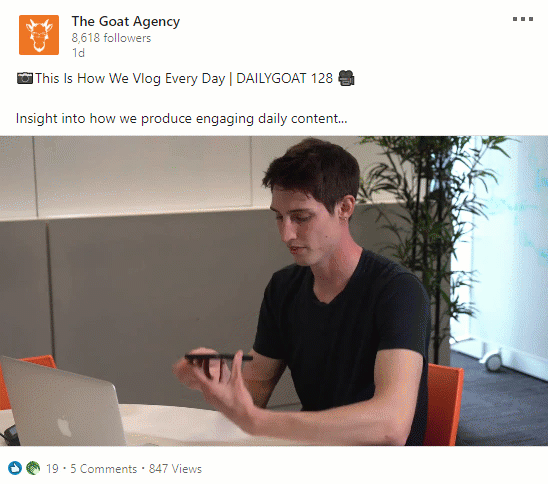 Why did Goat decide to do a daily vlog instead of weekly?
It was always a daily project because it needed to be prioritized. A weekly thing becomes something that's put back in the guys' minds, but they really needed it to be something that was shoved in their faces. We've seen with the metrics that the daily vlog engages people a lot more than a weekly piece of content. It gets people into a routine of watching it, getting familiar with characters, and keeping up to date on our journey. Just like people get addicted to watching Instagram stories, its because of the repetition.
Do you want to stay up to date with what's going on in the world of marketing? Subscribe to the Marketing Moments of the Month newsletter here
What have you learnt since starting the vlog?
With every single job I've learnt a huge amount, but this has been the biggest learning curve I've had at any job. Mainly because of the speed at which we're working. We have to ask the right questions and know when to approach people, and it's those interpersonal skills that I've learnt the most.
Who is the vlog team made up of?
It's all edited by a full-time editor, Tom Freeman. This wouldn't be a good product without an editor as good as him, he's the best person I've ever worked with. He has to sit through and watch everything. That's 100GB per day! It means that I'm given the freedom to film, so I can focus on finding the story and Tom works on editing the vlog from the previous day. Now, we've also got our assistant editor, Craig, because it's not just about releasing one video every day – we're filming so much content that we'd be losing so much extra material that could be going out if we only edited the vlog.
What does the day-to-day process look like?
After filming, I take all the footage and put it on LaCie hard-drives – we've got so many now that we've numbered them all! The files are then put into folders for each day, and that's actually something we need to try and improve on. We've got one hard-drive for all the podcast materials and 2 main editing drives, one that we call the float that 'floats' between myself, Tom and the assistant editor. Because the vlog is filmed a day in lag, it means everything that's filmed from the international offices is uploaded to Google Drive and we download it, but it's quite slow. We're based in London, so we leave that to download before we leave the office.
Are you struggling to manage high volumes of content? Discover the Top 5 reasons Marketing Managers need Digital Asset Management
If you want to go back and find a specific video clip in your archive, how do you do that?
It's hell… We have an in-depth calendar system and we'll just look on the calendar at when an event was and go back into the rushes, so it's an ok method. We keep everything, and because of the speed at which we're working we're constantly being asked to go back and grab something from an event or someone speaking somewhere, so the rushes are all very important. The company is basically paying for that content, so it's not just all about the final polished piece of content – at some point the other footage can also be useful.
Not sure where to find your content? Check out the Top 7 Signs your team needs Digital Asset Management
What advice would you give to other companies wanting to start a vlog?
The whole point about filming the vlog is that you've just got to keep rolling. Because its digital, you can always just delete later. I used to have a trigger finger, and would try to capture just what I needed. I put something up on LinkedIn the other day of Arron throwing a ball and accidentally hitting me in the face – it was just a funny moment, but it's a prime example of the fact that you never know what you're going to get unless you're rolling as much of the day as you can be. It's not about catching people off guard, but allowing them to feel more comfortable.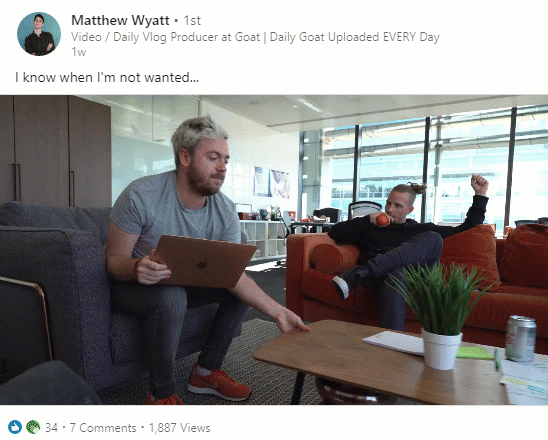 How has daily vlogging impacted the business?
The main benefit that we saw at the start was that it was driving new applications, so we went from 100 applications a month to 500 a week, which was great! Internal communication has also improved, because we have offices in London, New York, and Singapore, so it has helped with connecting the teams and just showing that these people exist! But that's only one aspect of why they started the vlog – it also has to drive business. They're putting a lot of money into it, they're paying a team of 4 people, buying thousands of pounds worth of equipment, sending me on trips with them, and so it needs to be generating business. At the start we were just thinking about making it, but right now we've started to see clients coming in, messaging us, and directly referencing the vlog as something that has caught their eye and attracted them. So that makes my running around doing stupid things seem justified!
What has been the greatest moment so far for Goat's daily vlog?
The trip with Arron to Paris, and having a private tour round the Louvre, was pretty special. Vlogging that trip, when me and him were left alone with the Mona Lisa – which I think was due to a mistake with the security guards – just encapsulated this whole experience since we started.

What are your hopes for the vlog in a year's time?
I absolutely want to fly some drones! …in London…and have them taken down, probably…
We've just passed our 6-month milestone, which was really great. It's amazing to look back at our highlight reel, to see how amazing everything is in an agency like this, where you've got people innovating. It's a pleasure to work with everyone. Coming from a background where I didn't know anything about influencer marketing, I really respect what they're doing, and feel really honored to work with people that are leading this space. So, I guess I just hope to be putting my camera in front of more peoples' faces!
Do you create a lot of content in your business? Is it a struggle to efficiently store, manage, and find it when you need it? Download our E-Book to see how successful Media & Entertainment companies are coping with the content explosion!