The largest conference on Digital Asset Management - Henry Stewart - took place during the first week of May in New York. FotoWare was proud sponsor of the event and part of the main conference agenda. FotoWare want to share what they learned during the two-day event, focusing on industry trends, DAM tips and inspiring user stories.
It is undeniable that the industry is changing. We are observing a growing interest into Digital Asset Management products and an increase diversity in the industry, ranging from local production companies to global manufacturers and retailers. Diversity can now be observed not only in terms of industries, but also in gender diversity, with a great number of female speakers and industry leaders present.
On a global scale, the technology landscape is getting more competitive, leaving users with the difficult task of choosing the right technology stack. Tony Byrne, Founder of the Real Story group raised the question of what does the broader and deeper technology stack mean for digital and media asset management. Buyers need to be even more aware about how their chosen vendor integrates the rest of the technology landscape.
The technology stack is complex and technologies need to interact in order to be successful. Customer hub datacenter is at the bottom of the technology stack to avoid silos and this customer hub should be tightly connected to the DAM. It is like an orchestration system, referenced Tony Byrne.
It is great to see that there is a large space in the industry allocated to non-profits. Our team at FotoWare is driven by the value of making a difference in people's lifes. We believe technology educate, increase democracy and provide the means of information sharing. Therefore, we were happy to see that the Henry Stewart team organized a dedicated panel discussion for NGOs.
FotoWare's CEO, Anne Gretland, and The White House Historical Association Director of Library, Stephanie Tuszynski presented together how Digital Asset Management can be accessible to millions of people worldwide. Cloud is what connects technologies and enables us to reach everything we want. Knowledge and education are now available for more and more people as everything is connected via cloud solutions.
New technologies like Machine Learning and Artificial Intelligence are already part of our society and our Digital Asset Management systems. We saw the excitement about this technology from the session of Thomas Eusterholz, Co-founder, AI Integrations. AI is not only part of DAM offering already, but is predicted to change the marketing industry and will require lots of data and simple ways to acquire data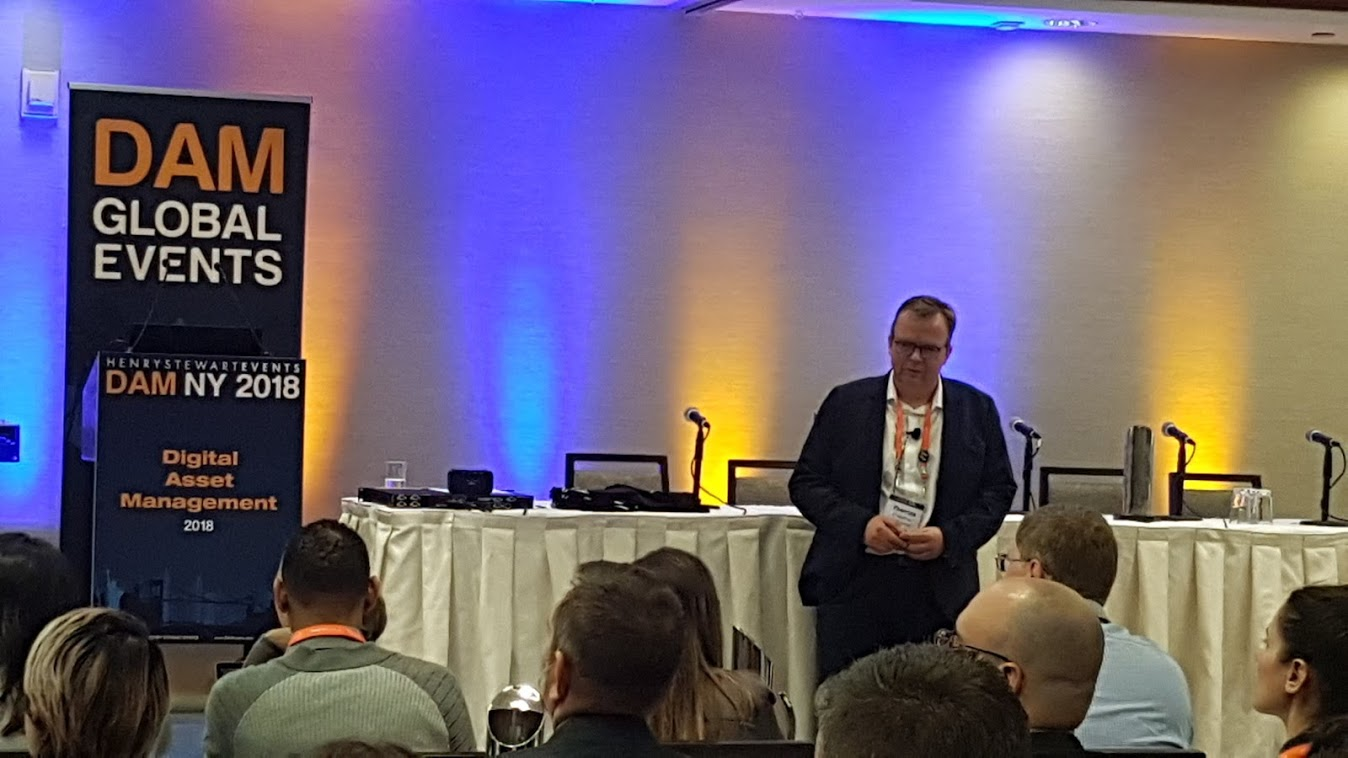 The conversation about DAM is no longer only at a departmental level - users demand going to enterprise solutions. There were a lot of interesting conversations discussed at the panel debate which was lead by Theressa Regli, including Jaclyn Barcewski from Facebook, Barb Hayden from P&G, Doris Sanocki from General Mills and Anjali Yakkundi from Aprimo. Jaclyn, the Design Program Manager at Facebook, highlighted how important it is to show the whole organisation the redundancy that they are experiencing. Secondly, when all the graphics and documentations are in the hands of the users when they need it, Digital Asset Management can secure you a quicker time to market. It is like placing your product in front of the consumer and telling a cohesive brand story.


There were several dominant trends of Digital Asset Management presented at the event, both at technological and consumer level. Jarrod Gingras, Managing Director and Analyst at the Real Story group highlights several trends to watch out for in 2018, of which we see the following three as predominant:
DAM is now critical for every marketing department

DAM is no longer just a tool for finished asset, but also a large part of creative workflows

PIM is not your DAM, digital asset management should manage your internal knowledge
One of the sessions that always gets a lot of hype is the DAM Bake-Off. Due to its competitive nature and interactive format, it attracts a highly engaged audience. This year, FotoWare took the 1st place at the Great Bake-Off this year, after a fierce competition of 4 great contestants. FotoWare received very positive feedback from the jury for many aspects including fast processing, user interfaces and integration with Social Media. If you want to see how the full process from photo ingestion to distribution is handled with FotoWare in less than 10 minutes, check out the recording below.