Building Meaningful Brands and Making an Impact in Women's Football [Interview: Xavi Bové]
By Alex Kronenberg
on September 4, 2019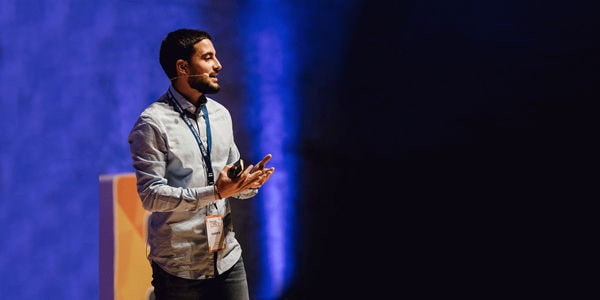 Women's football is currently experiencing extraordinary growth in the wake of hugely successful international tournaments over the past 6 years. After another record-breaking FIFA Women's World Cup in 2019, we spoke with Xavi Bové, a Sports Marketing Consultant working with women's football players, clubs, and competitions to create meaningful brands. Discover why sponsorship of women's football represents incredible value for brands, why consistency is crucial for building a brand, and how innovative clubs and sponsors are leading the way.
Featured Image: Xavi Bové
How did you begin your journey into marketing?
It all started with my uncle explaining to me how they cared about every detail to improve the customer experience at the restaurant chain he worked for in Barcelona. Since then, I studied for a Marketing Management degree in Barcelona and Plymouth, United Kingdom, and have worked on plenty of projects within sports and women's football aiming to help building meaningful brands. The first of them was an internship at Nàstic de Tarragona, a 2nd Division football club in Spain.
Why did you decide to specialize as a Marketing Consultant in Women's football?
Looking for purpose and opportunity, I wondered where I could have the most fun and make the biggest impact. Since 2015, I was following women's football and it promised a significant growth at all levels, so I decided to jump in and provide the marketing I thought the sport needed and deserved. Working as a Sports Marketing Consultant allows me to have freedom at a professional level and learn and contribute to a wide range of projects.
What did you learn from your experience working in marketing at UEFA Euro 2017?
It was definitely a priceless experience - a coveted "MBA" in women's football, with some of the top professionals in the industry. I learnt that behind an outstanding tournament lies a great group of people, caring about each other and showing up to deliver a remarkable experience for fans. I also felt the closeness, fair-play, and purpose that makes women's football special. It enabled me to learn a lot behind-the-scenes about the branding, sponsorship activations, and youth programs.
Do you have any particular favorite projects that you've worked on?
I seek to help taking women's football to the next level by empowering business professionals with content and insight through my blog, and to provide marketing services that allow players, clubs, competitions, and other stakeholders to make an impact. One highlight is the work we do with 'Rocky' Rodríguez, a Costa Rican player at Sky Blue FC in the American NWSL. She has a special story about giving back and sharing tools to help others reach their dreams. We recently created an Instagram TV to share her #SeedOfTheDay, weekly thoughts about personal growth at many levels.
Why is it important to have a consistent brand, especially for those looking to build their brand in women's football?
It becomes crucial when we try to build a long-lasting brand that can make an impact in other people's lives. Frequency and consistency are key elements to position brands within any target market successfully. Regarding players, showing the same personality, values and interests on and off the pitch builds trust and credibility. Same with clubs, leagues or sponsors; as fans we look for honest and vulnerable content and when, for instance, messages spread in social media don't match real life experiences, we just don't trust. And, trust together with attention, are precious assets to be taken care of.
LEARN MORE: Building a consistent brand
Why does women's football right now represent a good opportunity for brands to get involved?
There are many reasons through which brands can leverage women's football momentum, even though it also depends on what objectives sponsors have. Women's football allows brands to partner with prestigious clubs with a lower investment than they would in men's football, relating to the same values and status. Players, clubs and competition also offer a unique opportunity to tell a different story to engage different niche markets. For instance, when Avon signed with Liverpool FC a three-year front-shirt partnership with the women's team. Another reason is investing in undervalued assets, allowing your brand to be the first and retain the first-mover advantage, as Iberdrola did sponsoring Primera Iberdrola in Spain.
How important is content marketing to help the growth of women's football?
Content marketing is a great strategy to keep growing women's football as we need to address many mindset issues throughout society. Letting people know about players' stories, competitions stats or clubs day-to-day is vital to awaken interest that leads to engagement among fans. Women's football is at a business growing stage in many markets and strengthening its visibility through content is a useful strategy to get stakeholders involved into the conversation. Plus, content is the kind of information we consume the most throughout today's digital platforms.
What is the best example of a federation, league association, club, or player who is succeeding with their marketing in women's football?
Portland Thorns has been global benchmark for many years, it's the capital of women's football worldwide. Why? They have built a strong emotional connection with fans through shared values, a consistent philosophy and bold actions. They average the highest fan attendance in a women's football domestic league, last season they hosted 16,959 spectators per game and this season they have broken a club record with 22,329 fans for a women's team match. If we have a look at the main domestic leagues in Europe, Spanish top clubs don't register a higher season average attendance than 5,000 spectators.
What progress do you hope to see over the next 4 years with the build-up to the 2023 World Cup?
After FIFA Women's World Cup 2019, I believe the top clubs as Manchester City, Olympique Lyon, Wolfsburg, Barcelona or Bayern will take the lead and have a greater role in growing their respective women's football markets. With the recent arrival of Real Madrid and Manchester United, women's football will attract more interest and media impact, leading to more revenue opportunities for big and small clubs. In my opinion, I hope in the next 4 years we will see a bigger change in stakeholders' mentality, perceiving, respecting and treating women's football as it is, an entertaining and beautiful sport.
About Xavi Bové
Xavi is a Sports Marketing Consultant from Barcelona, Spain whose mission is to build meaningful brands in women's football. Visit Xavi's website to gain access to resources about Marketing, Branding, and Business in women's football and watch interviews with women's football business professionals.