5 Tips & Tricks for Running a Photo Contest with Digital Asset Management
By Eunbyeol Koh
on October 24, 2018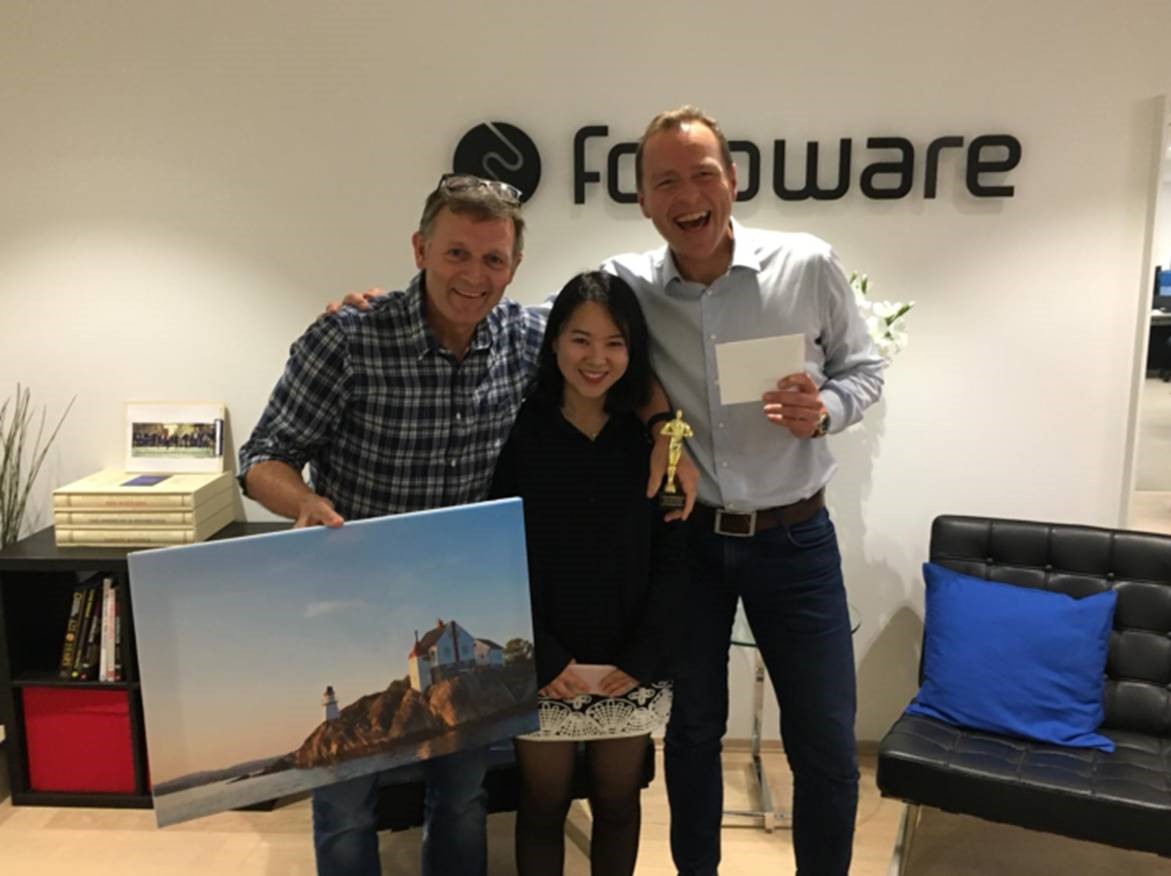 Over a billion photos are uploaded and shared every day across social media. While many brands are looking for new and creative ways to reach their audiences, a user generated content (UGC) campaign, such as a photo contest, is a great way to engage with your consumers and get quality content. Organizing and managing content is key to running a successful UGC campaign but this can be a daunting task without the right tool - this is where Digital Asset Management comes in. I ran a photo contest with a FotoWare DAM this summer, and here I've selected the 5 most useful features and lessons for you to use.
About the FotoWare Employee Summer Holiday Photo Contest
FotoWare employees love traveling, and are keen photographers. I'm often surprised when checking out their Instagram feeds. At the outset, I was looking for professional photographers that would be willing to contribute content to our FotoStation - the photo management software we make here at FotoWare - site. I soon realized, though, that we didn't need any external support since we already have outstanding resources within the company! This is the short story of how I got to run an internal photo contest using our own brand ambassadors' photos. The FotoWare Summer Holiday Photo Contest was held for 2 months, July and August this year, and I used FotoWare Digital Asset Management as the main tool to run the contest. After the campaign, I've realized that DAM is even more useful than I expected, and I want to share the main highlights of our extraordinary product that I used.
1. A centralized location for all
There are several ways to transfer an image file in today's digital world. Likewise, there are many options for submitting an entry for a photo contest: sending an email or message on messenger, sharing via a cloud-service like Dropbox or using team collaboration tools like Slack. However, the most efficient way for a photo contest like this is having a single centralized location, a DAM, where contenders can submit photos and the jury can review entries at the same time. Once a photo is submitted, it's organized right away. As a jury, you don't have to collect and store photos submitted to a multitude of locations - you'll never miss a single photo!
Tip: Everyone who has access to FotoWare can see how many photos each of the other contenders have submitted - this helps to spark the competition even more!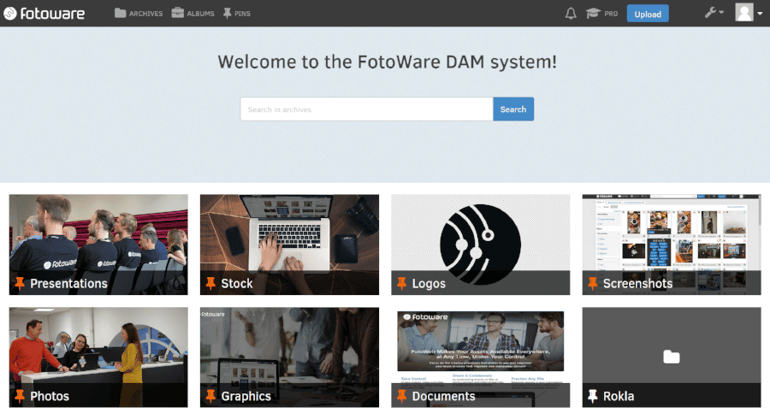 2. Tagging - A single tag will do
All contributors to the contest on FotoWare were asked to add a single tag to all uploaded files: the tag 'photocontest2018'. Tags are similar to Instagram's hashtags (#) - short, descriptive keywords that are stored as metadata. File details like username, file name, resolution, size and even the camera detail automatically comes along when uploading an asset to FotoWare, so you don't have to fill in anything except for that one simple tag. Submitting photos using a mobile phone is even easier. You can directly share your photo from your mobile to FotoWare by simply filling in the tag. I found that people had submitted their photos in the middle of a national park in Africa, lying down at the beach in southern France or at the top of a mountain in Norway!
Tip: Making it easy to submit pictures for the contest will boost participation!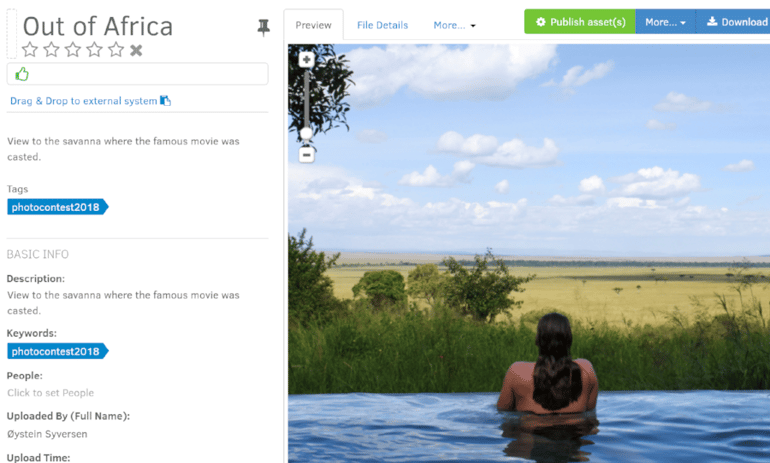 "I loved that it was so simple to join! I only had to add one keyword to enter the contest! Moreover, I also enjoyed checking the keyword from time to time to see all the amazing photo submissions"

- Bettina, a FotoWare employee
3. Search - Get all you need at once
Search is especially where FotoWare shines. You can sort out all the photos submitted to the contest only by one single search: #photocontest2018. No matter when or which category of picture people have shared, all the files with that particular tag will be found in a second or so. If there are too many photos, you can also filter them - by location, date, file type, etc - using a taxonomy. It's even easier for FotoWare Pro users as you can create a clickable bookmark that executes a search for the tag in question. That means all competition entries are only a single click away.
Tip: Still too busy to search? Set an alert for a specific search result and you will receive a notification at your preferred frequency – from immediate to monthly basis.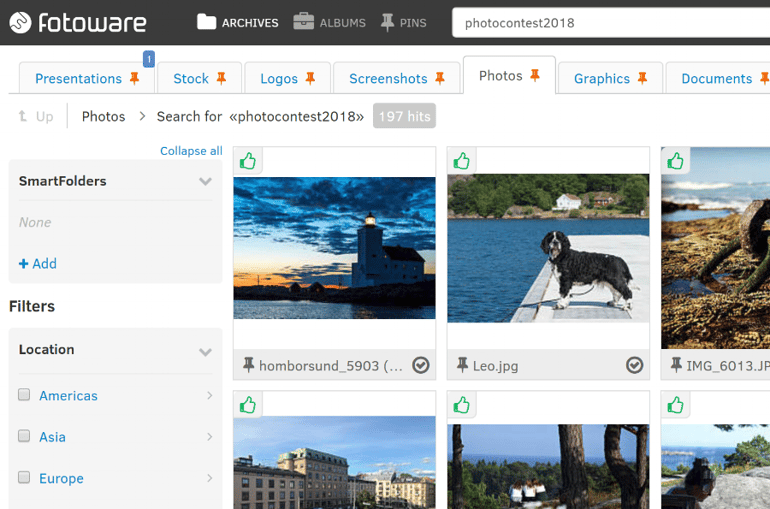 4. Album - Use just like a folder
Once entries start coming in, you you can create an album where you keep a collection of photos. I ran the Summer Holiday Photo Contest for nine weeks, and a winner was selected every week. I had organized photos submitted each week to the according album so they didn't get mixed up. Another benefit of that is Album sharing: You can easily share the whole album with others, even those that don't have an account on the FotoWare system, via email or link, complete with access control on preview and download rights.
Tip: Albums that you share can be updated with new content when new submissions come in.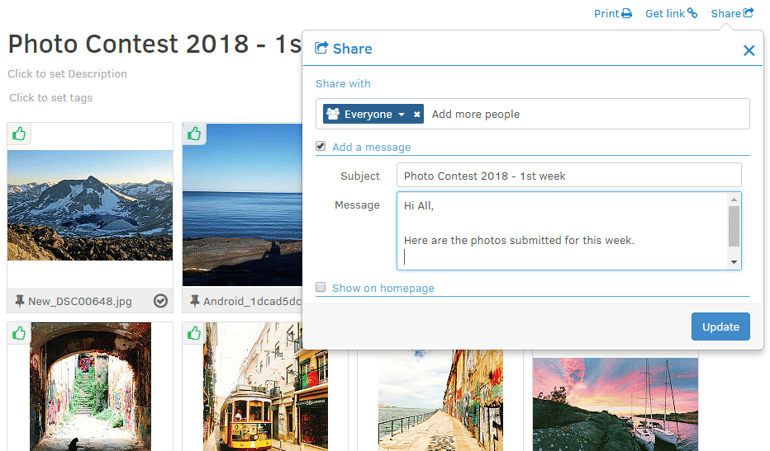 5. Plugins - A seamless workflow for your creative processes

Last but not least, every marketing activity wouldn't exist without proper performance verification and reporting. Creating a report can be quite a time-consuming task. With FotoWare Digital Asset Management, you can use your files from FotoWare directly in PowerPoint, Word or Adobe InDesign. Images and graphics are inserted in a suitable resolution directly into the presentation. This helped me easily create reports after the grand final winner was finally announced.
Tip: Using WordPress on your website? FotoWare integrates with WordPress and you can easily embed photos directly from FotoWare.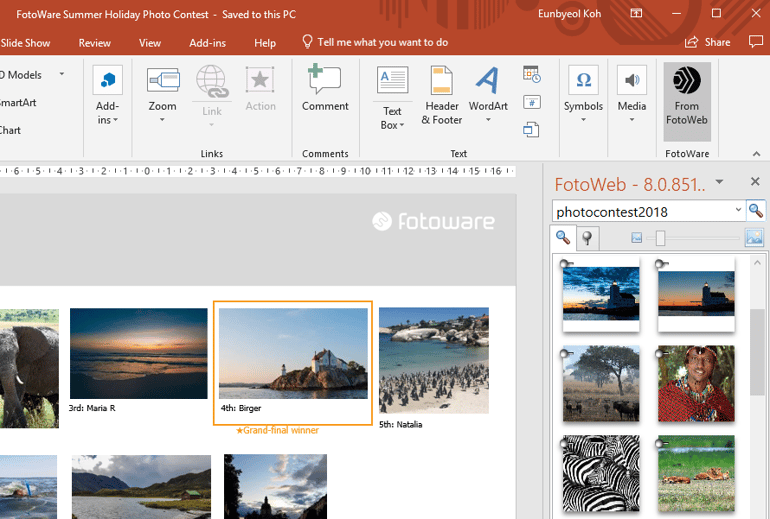 After nine consecutive weekly contests, a total of 203 amazing photos had been submitted. One winner was selected every week, throughout the 9 weeks of the contest, and the Grand-final winner was selected through an employee vote. And one more surprise award was revealed - as I wanted to give a special thanks to the person who had delivered new entries every week.
Here I introduce the glorious winners!
Grand-Final winner: Birger Øvensen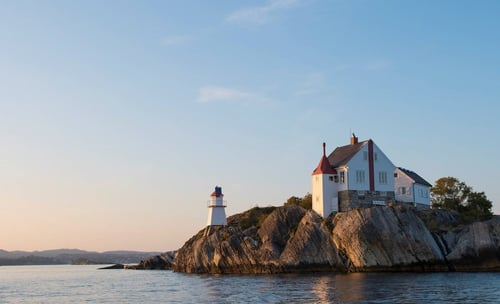 Participation winner: Øystein Syversen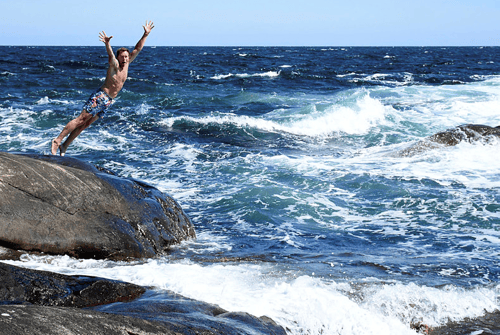 All the photos submitted for the contest can be found at FotoWare Summer Holiday Photo Contest 2018
Want to learn more about Digital Asset Management? Download our Ebook dispelling the 7 biggest myths you may have heard about...